Each cruise line has their own private island, which serves as a quick destination where travelers can swim, snorkel and even get a massage on the beach.  Often located in the Bahamas or close to Florida, these secluded havens are great because there isn't normally a charge for chairs, food or some of the activities, which is nice for vacationers looking to stay on budget.
Looking to step up their game, Norwegian Cruise Line announced this week that they would be creating new luxury spaces on Great Stirrup Cay for their cruise passengers.
Guests looking for some excitement will be excited to hear that there will be a new zip line course that features more than 1,000 feet of zip line, gives guests a bird's eye view of the island and the sea as they soar through the air. The island's two parallel zip lines offer the chance for some friendly competition and high-flying races. Guests will also be able to snorkel through the island's new mystical underwater sculpture garden using a waterproof map as a guide.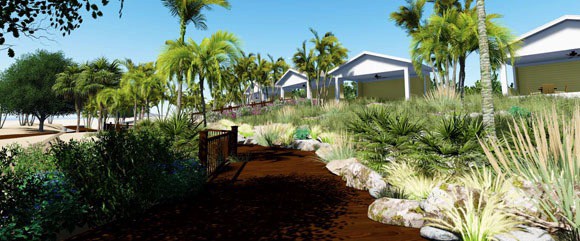 All dining and bar venues will be updated island-wide, adding new resort-style decking, shaded areas, high-top seating at all bars and family-style seating that will add 50 percent more seating capacity at all dining outlets.
A new complimentary taco bar, Abaco Taco, will be added near the island's entertainment hub, where guests can create their own favorite tacos. The island's 8,500-square foot buffet will be redesigned to provide faster and more efficient service for guests, and the deck surrounding the buffet will be expanded so guests can enjoy their lunch at new seating areas. The center of the island will feature a shaded lounge area with modern chic furniture and bar service, for guests who want to enjoy paradise in style.
Building on the brand's exclusive partnership with Jimmy Buffett's Margaritaville, Great Stirrup Cay will also feature a LandShark Bar & Grill. Inspired by the traditional beach bars of the Atlantic Coast, LandShark Bar & Grill offers the perfect mix of casual dining, free-flowing drinks and fun with panoramic ocean views and indoor and outdoor seating. Menu items will be available à la carte.
Guests seeking the ultimate island luxury will experience a retreat like no other at Great Stirrup Cay's exclusive lagoon enclave, beginning in Summer 2017. This private area of Great Stirrup Cay features a secluded, pristine beach; oceanview restaurant; a posh Mandara Spa; sheltered family area; and 22 air-conditioned private villas available for reservations, ranging in size from studios to two-bedrooms. The lagoon will be available on a complimentary basis to The Haven and Suite guests, along with guests who purchase an on-island Mandara Spa service. In addition, a limited amount of passes to the Lagoon will available for purchase on each sailing.
The Lagoon experience begins as guests are welcomed by staff at a modern, air-conditioned reception area complete with beach chic décor that features floor to ceiling windows overlooking the area's expansive private beaches. From the reception building, guests can reserve activities, rent equipment, or relax in the shade on the outdoor terrace or an additional shaded seating area nearby that can be accessed by the lagoon bridge. The center of the lagoon will feature a floating swim up bar for guests to enjoy their favorite cocktails without ever having to leave the water. Both children and parents will enjoy a shallow, partitioned family beach area along with grassy areas with swing sets, and picnic tables. Those guests celebrating a special occasion or traveling in a large group can reserve an expansive, well-appointed private room for private functions of up to 75 guests, with food and beverage service available. Guests looking to refresh and recharge during their private island getaway can indulge in the full range of treatments offered at the lagoon's luxurious Mandara Spa, with four treatment rooms offering signature spa services.
Guests who purchase a reservation for one of Great Stirrup Cay's luxury beach villas will enjoy a completely pampered experience from ship to shore, as they will be whisked away by one of several air-conditioned shuttles running from the tender marina to the lagoon reception area. Studio villas feature an outdoor terrace, private bathroom and living/dining area, and can accommodate two to four guests. One bedroom villas accommodate four to six guests and feature a bedroom, private bathroom, living and dining areas and outdoor terrace with a hot tub. The ultimate island escape, Great Stirrup Cay's two bedroom villas can accommodate up to 10 guests and feature two bedrooms, two private bathrooms, living and dining areas, and an expansive outdoor terrace with a dining area and hot tub.
Exclusively for guests of the lagoon retreat, the two-story Silver Palm restaurant will offer complimentary dining in a stunning setting, with both indoor and outdoor seating, as well as a rooftop terrace overlooking the area's expansive ocean views. All luxury beach villas will also include food and beverage service for guests who wish to enjoy refreshments in the privacy of their villa.
Al of these new spaces and experiences are expected to opening in the Spring 2017, except for the cabanas, which will open in the summer.