Norwegian Cruise Line's Norwegian Dawn arrived in Boston this morning a new lady!   Following a month-long dry dock, she received enhancements to every part of the onboard experience, from two brand new restaurants and three new bars and lounges, updated design and décor in all public spaces, to a refurbishment of all staterooms including a complete makeover of the ship's signature Garden Villas, some of the largest suites at sea.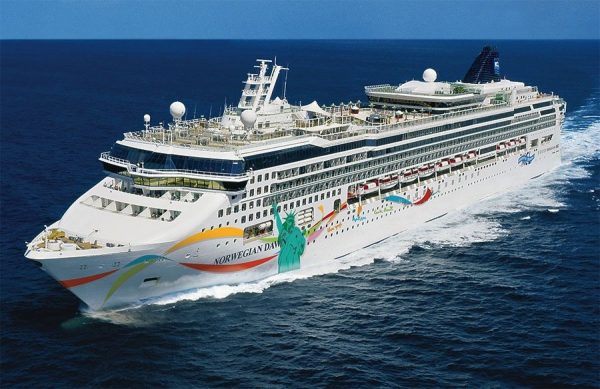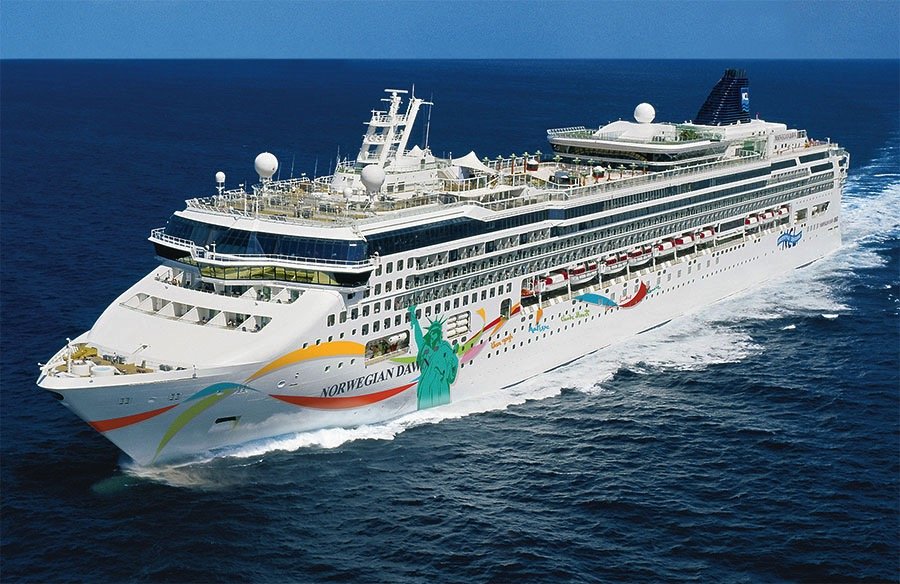 The ship's extensive renovation is a part of The Norwegian Edge™ program, a $400 million investment that will add some of the new technologies and designs that are available on the new ships to existing vessels.
"As with each of the ship refurbishments in the Norwegian Edge program, this was not your average dry dock," said Andy Stuart, Norwegian Cruise Line president and chief operating officer. "Norwegian Dawn was brought down to the steel in many spaces and rebuilt to evoke the look and feel of the newest Norwegian ships, allowing guests sailing on her to enjoy all of the freedom and flexibility that only Norwegian offers, along with a more premium experience from bow to stern."
A new concept for the Norwegian fleet, Los Lobos Cantina is an upscale Mexican restaurant that offers a modern take on traditional favorites like guacamole prepared tableside, al pastor tacos, enchiladas de mole and hand crafted margaritas, all available à la carte. Los Lobos Cantina will open on July 1.  O'Sheehan's Bar & Grill is making its debut on Norwegian Dawn today, and features signature sports bar décor while offering favorite pub fare and beers on tap. The former Pearly King Pub has been completely transformed into The Cellars, a Michael Mondavi Family Wine Bar.  Guests can choose from more than 15 varieties of Mojitos at the Sugarcane Mojito Bar or enjoy a cocktail at the Bliss Lounge.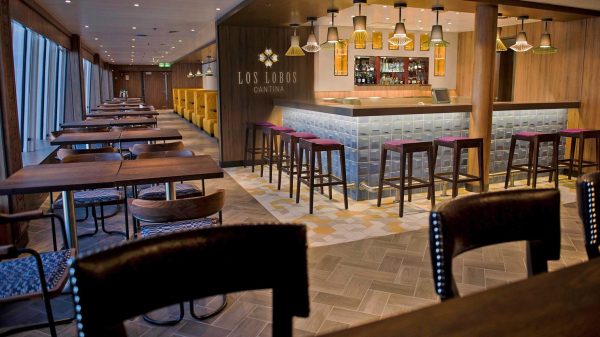 The Venetian and Aqua Restaurants both feature a completely new look, with enhancements including new wall coverings, carpet and hardwood flooring, entry signage, artwork, ceiling finishes, reupholstered furniture, lighting, and window treatments. The Dawn's Bamboo Asian Restaurant also has undergone a complete refurbishment with fresh carpet and hardwood flooring, new furniture including tables, barstools and chairs, updated artwork throughout the space, new decorative and architectural lighting, along with window treatments and wall finishes. The Garden Café has undergone a redesign with new layout for smoother service that features upgraded flooring, artwork, decorative lighting, wall finishes, signage and furniture.
Le Bistro and La Cucina have exchanged locations, with each space presenting a premium dining experience that is brought to life with new décor including updated carpet, furniture, decorative lighting and signage. Moderno Churrascaria has been moved to Deck 13 adjacent to Sugarcane Mojito Bar and features all new décor, furniture, window treatments, wall coverings and artwork that evokes the restaurant's Brazilian theme. Teppanyaki restaurant was completely renovated and doubled in size with two additional tables, new flooring and décor and the addition of a divider between Bamboo and Teppanyaki for a more private experience.  Cagney's Steakhouse now has a modern look with new décor, furniture, updated artwork, new carpet, wall finishes, decorative lighting and modified, more open layout where guests can enjoy Certified Angus Beef® steaks and delectable truffle fries
Every stateroom on the ship received new carpets, bedding, drapery, artwork and furniture. Additionally, the ship's two Garden Villas, now featuring a more clean and modern look with brand new flooring and furniture inside and out, new ceilings, lighting, bedding, décor and flat screen TVs.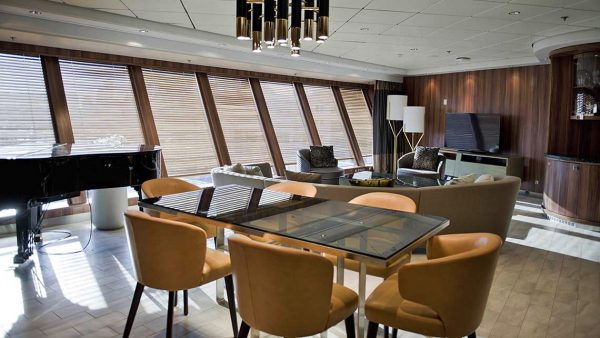 Not to be left out, the Norwegian Dawn's public spaces, elevators and restrooms were refreshed from top to bottom to receive an updated look with new contemporary design, as well as new lighting, flooring, wall coverings and wall sconces to give the full ship that "new ship" look and feel.
The ship's Atrium features a new modern and clean look with plush carpet and new lighting, chic furniture and a new lounge seating area, as well as enhancements to the Guest Services reception desks. 

The ship's pool deck was completely refurbished to create a brighter and livelier atmosphere for sun-seekers with new decking and new awnings to give the open deck a sleek, yacht-like feel. Additionally, the main pool deck received new exterior showers, upgraded pool loungers, and a fresh look to all exterior corridors. The Bimini Bar overlooking the main pool deck was completely refurbished and now features a completely new design and look. Kids and kids at heart sailing aboard Norwegian Dawn can now enjoy an upgraded Entourage teen space and video arcade with built-in entertainment areas, new carpeting and wall finishes and new modern furniture.
The Mandara Spa received a new look and layout– elevating the spa experience with refreshed sleek décor, updated treatment rooms and newly added spaces including a barber shop, nail salon, spa pool and eight heated loungers in the luxurious thermal suite.
Norwegian Dawn will sail from Boston to Bermuda each week through October, spending three nights in port, and from New Orleans to the Western Caribbean — including a call at Harvest Caye, Belize, the Caribbean's premier resort-style port of call — during the winter season, beginning in November.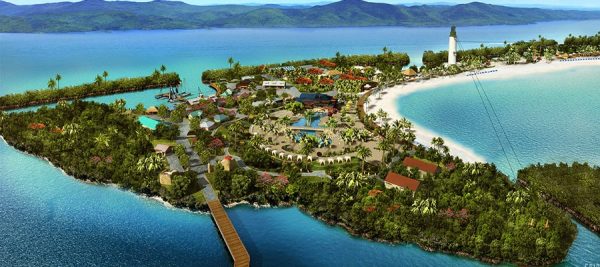 In recent months Pride of America and Norwegian Sun have been refreshed.  Next Spring 4 of their ships, Sky, Spirit, Pearl and Jade will go into drydock to be revitalized.