Because this week is March Break here in Ontario I decided to plan a trip to the Royal Ontario Museum(ROM) to keep my guys busy for a day.  Located in the heart of Toronto, the ROM offers something for visitors of all ages.   As luck would have it, the Ultimate Dinosaurs exhibit was still running so I knew it would be the perfect place for my boys to explore.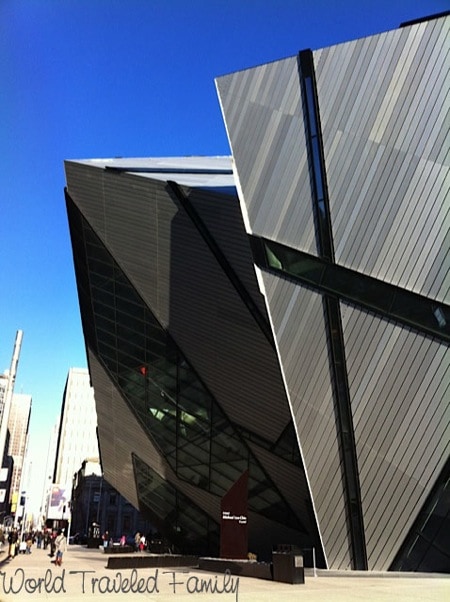 Getting to the ROM is relatively easy, but finding parking, is another story.  After circling the block around the museum, we settled on an underground lot just North of the museum.  If you are able to, the easiest way to get there is by subway.  In fact the stairs come up right in front of the museum.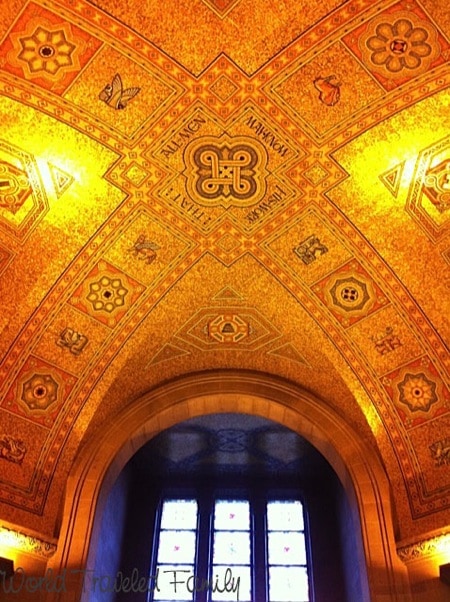 General admission is $15 adults, $12 kids 4-14 and $13.50 for seniors and students.  Admission to the Ultimate Dinosaurs exhibit was $10 more for and adult and $5 more for kids.  After a quick calculation I realized that it would be $59 for the three of us to get in and started looking online for coupons.  The only thing I could find was a 35% discount for entry after 4:30, which was fine.  Our date to the ROM would be a dinner one and I would save $18!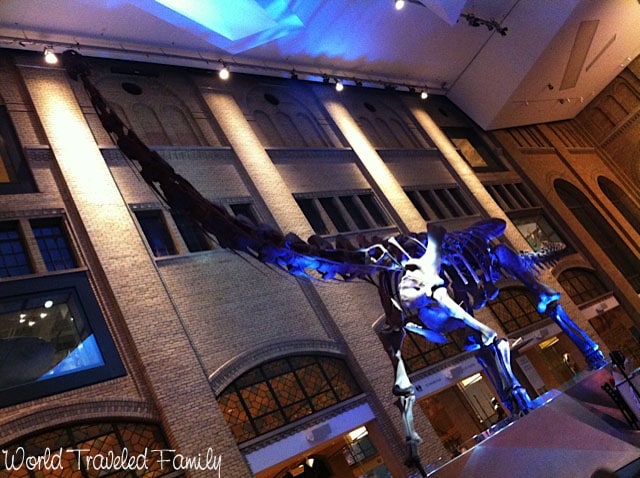 As soon as we arrived our first stop was the basement where the Ultimate Dinosaurs exhibit is being housed.  The ROM did a really great job of displaying a variety of dinosaurs and information in an interactive way.  In front of every dino skeleton, there was an iPad that had videos in french and english to explain about the characteristics of each one. All of our favorites were in attendance including the most popular – T-REX and Giganotosaurus(last image).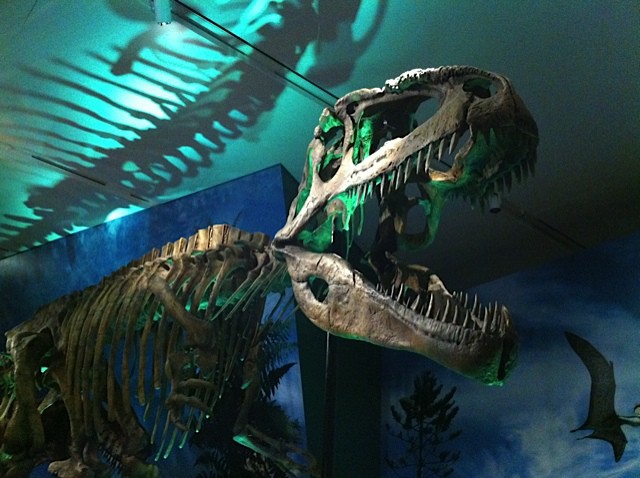 After spending over an hour in Gondwanaland, we headed up to the main floor where the Bishop White Gallery of Chinese Temple Art Gallery is located.  This beautiful exhibit features murals from the Yuan dynasty (AD1271 – 1368), and sculptures from the 12th to 15th century.
Here we also saw some beautiful Chinese Architectural pieces like this carriage, which would have been used from the 17th to early 20th Century.  It was in great condition and had been constructed with wheels that had been reinforced by 423 iron nails.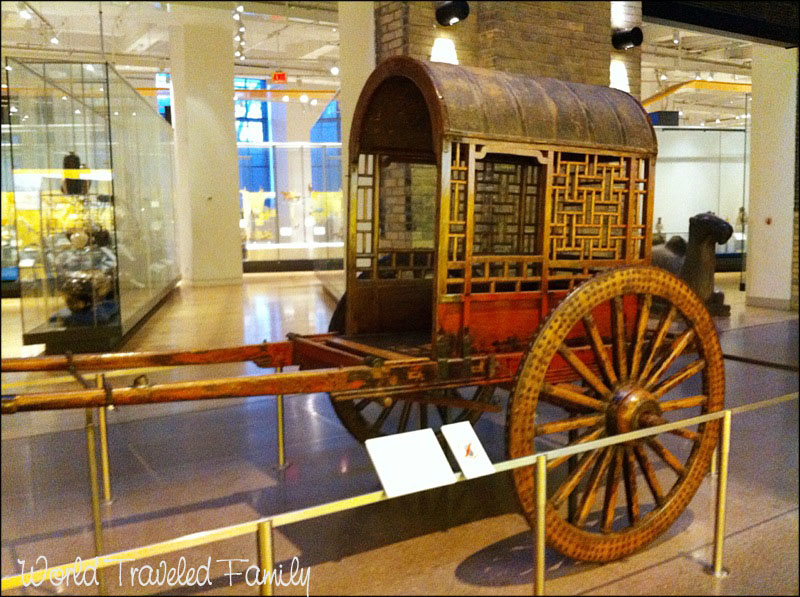 Next we moved up to the third floor where we visited the gallery dedicated to Ancient Egyptian culture.   Walking through this section of the museum gave me the opportunity to teach my boys about mummification and early customs.  Seeing all of the artifacts created such an interest for my oldest that he insisted that I find him more information on the Ancient Egyptian culture and the pyramids when we got home.  And while they were a little taken back at first, seeing a 'real' mummy was a highlight for both of them.
A must for me was visiting the Patricia Harris Gallery of Textiles and Costume exhibit on the fourth floor.  Recently refreshed to include some new pieces, the Textiles & Costumes exhibit 'features forty objects – both historical and contemporary – gathered from the ROM's extensive collections showcase from around the world. The pieces range from Egyptian clothing to 18th- and 19th- century western costumes to 20th-century haute couture. Some have never before been on display.'
As you walk through the door, John Galliano's Passage # 5 gown welcomes you. This gorgeous masterpiece took 500 hours to make and 175 metres of cloth.  It was created just one month before Galliano's controversial anti-semitic comments, which caused the designed to be fired from his position as head designer at the fashion house.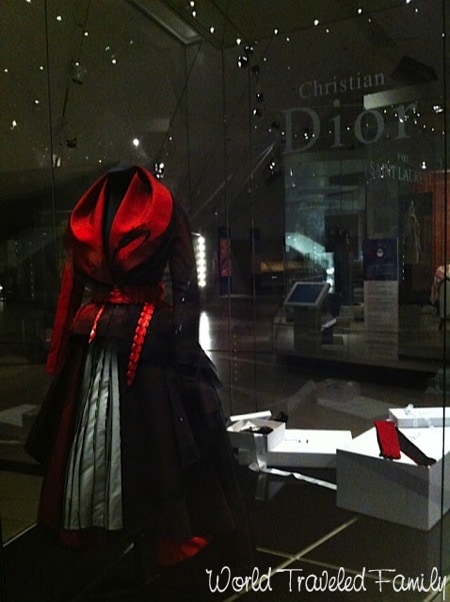 Vivienne Tam's "Water sleeve" evening gown is also on display.  Created with digitally printed textiles, this gown is only 1 of 17 produced.
A dress from Tom Ford's last collection for Yves Saint Laurent, which was just one of three created, was also featured.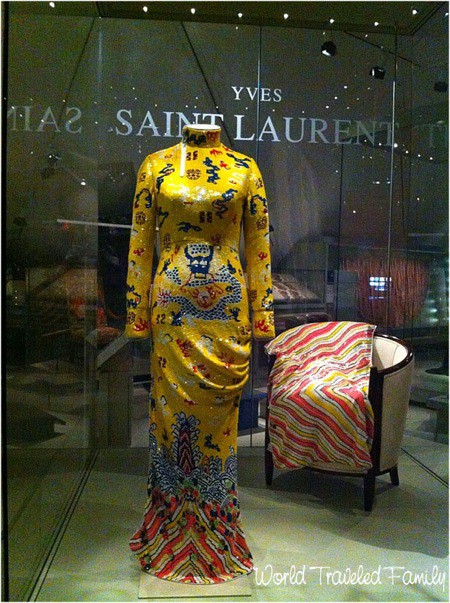 I liked a silk sleeveless dress that was not as high profile as the high fashion pieces that it accompanied, but was carefully created from rich velvet and lavish gold and silver embroidery.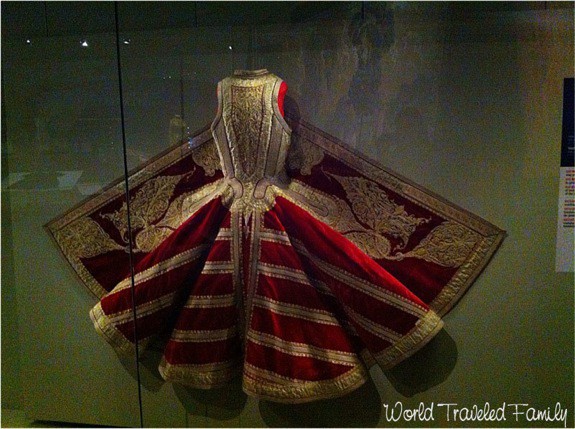 The kids were less interested in Textiles & Costumes exhibit than with the others, but they found a spot on a couch in the corner and watched a video on a felt yurt being constructed.  The display actually had quite a few videos on various textiles, which they enjoyed.  This bought me some time to walk around the room and appreciate all of the pieces.  Thankfully it was also very close to closing time so it was just the three of us in the room.
During our visit, we were only able to see a very small percentage of the exhibits that were on display.  If my boys were older I would say a full day would be in order, but in their case 4 hours was more than enough history for them.  I plan to go back this Summer to see what will be replacing the Ultimate Dinosaurs exhibit and hopefully visit to the rest of the floors to see the Teck Suite of Galleries: Earth's Treasures and Samuel European Galleries.
If you want to see the Ultimate Dinosaurs exhibit you need to go quickly.  It closes on the 17th of March.  For more information, please visit the ROM's Website.
---