While at the TBEX conference a couple weeks ago I stayed at the Intercontinental Hotel at Front/Simcoe Street in Toronto.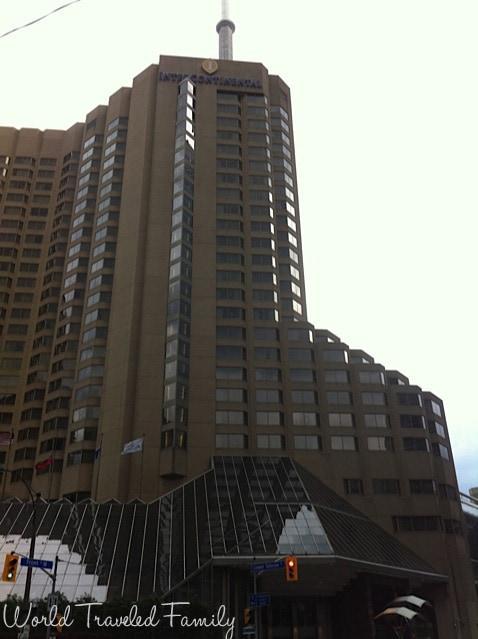 Toronto is a big city, but this hotel is situated perfectly in the middle of quite a few attractions. The Rogers Dome, CN tour and are literally right outside the door.  Roy Thompson Hall is one block up and the ferry to head over to the island(the view from the island at night is below) is just a short walk away.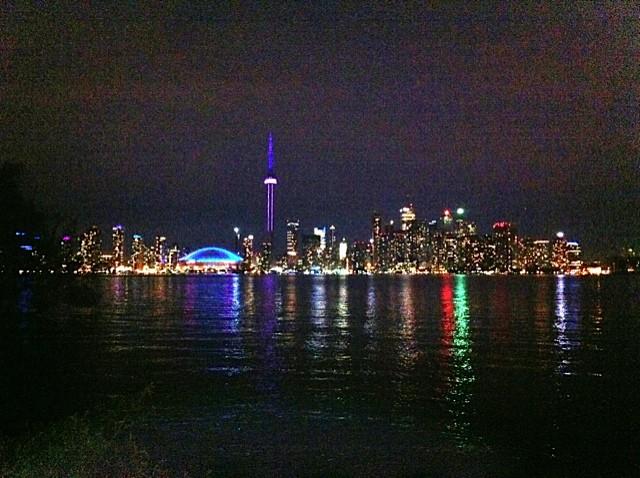 I was travelling with another writer who hadn't been to Toronto before so I requested that our room face Lake Ontario as opposed to overlooking the city.  The hotel was completely full during our stay but the manager at the front desk was able to find a room with a beautiful view.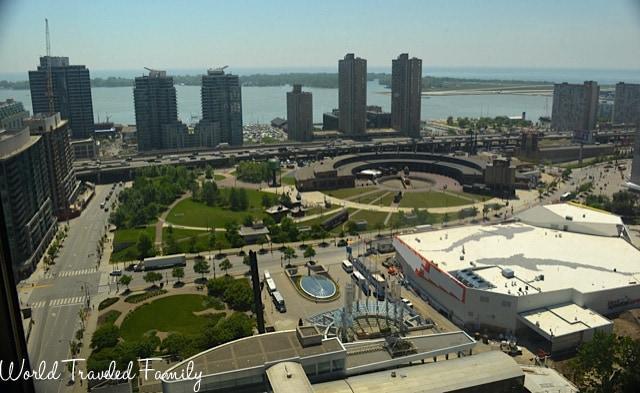 Pretty right?  The area has been developed quite a bit over the last couple years to be very tourist friendly.  There will even be an aquarium close to the hotel very soon(the building below with the 'sharks' on the roof)!  Across from it is Roundhouse Park, 'a permanent home for a live steam miniature railway and other outdoor exhibits illustrating Toronto's railway heritage.'
Our room, which was located on the top floor (25th), was a standard hotel room with two Queen beds.  Like most rooms it had a flat screen TV, desk and sitting area.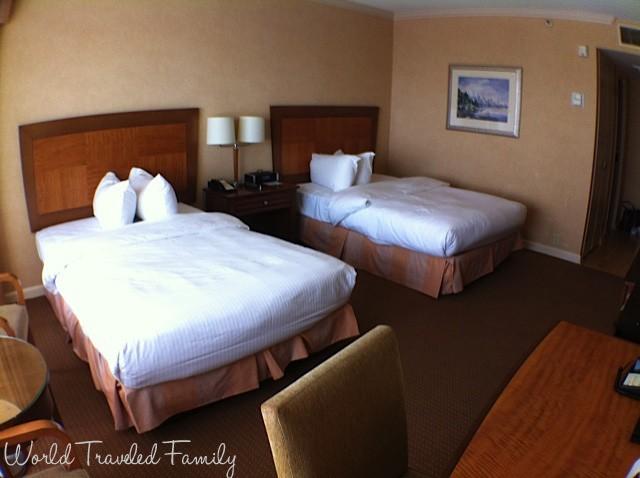 The bathroom was modern with a long counter and a tub in the shower area.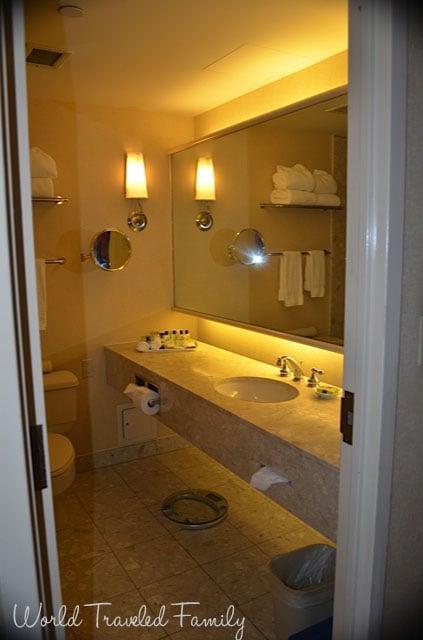 In recent years I have noticed that hotels are cutting back on toiletries from travelers.  The Intercontinental, has laid out quite a items for you convenience including a couple I had never seen like a scrunchi for your hair and a cuticle pusher.(love!)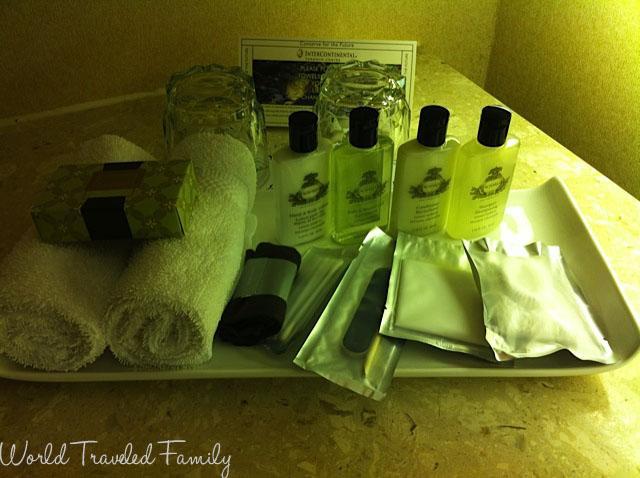 The room was also equipped with a Keurig machine, which made me very happy because I am a little addicted to the one in my kitchen so it was nice to be able to brew a warm beverage in the morning.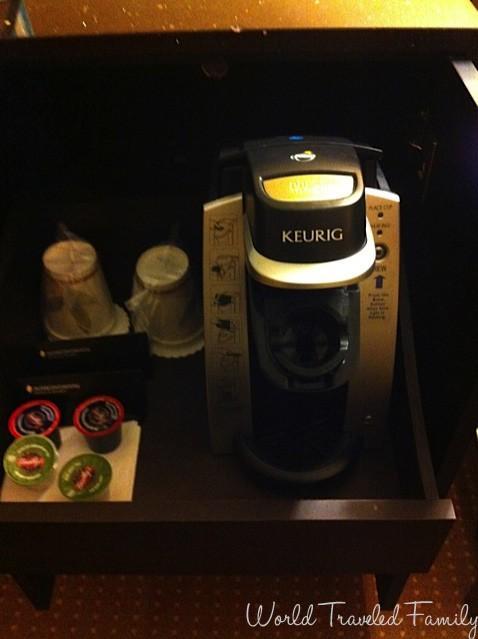 Somehow I booked a club level room which gave us access to the club lounge from 7am to 10pm.  This really was the highlight of our stay as this gives you entrance into the lounge at various hours of the day the intercontinental offers food and beverages for hungry travellers.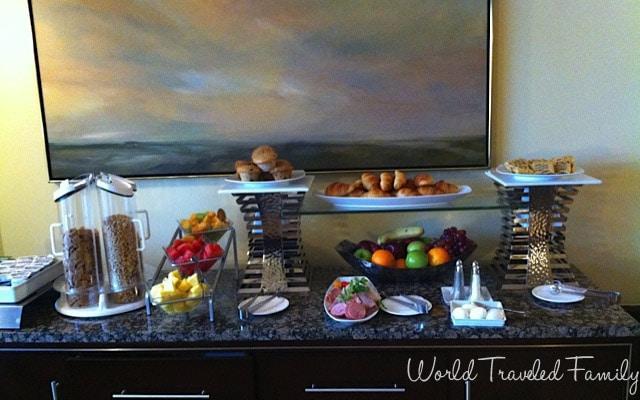 Guests with access to the lounge can come in at all hours of the day to grab a cold drink or warm beverage.  There is also a bar area where you can purchase mixed drinks, beer or bottles of wine.
I love to eat so my favorite part was the snacks.  For breakfast they offer warm oatmeal, sausages and fresh fruit,  There is also a nice variety of bagels pastries and cereal. The afternoon snack has some cookies, scones, chips & Salsa.  In the evening they offer a nice variety of warm hor d'oeuvres, a cheese platter, veggies and dip and some sweets to round out your meal!  At all times of the day guests can help themselves to a cappuccino, tea, coffee .  I will fully admit that we didn't leave the hotel once without stopping by the lounge.  It is the best perk ever!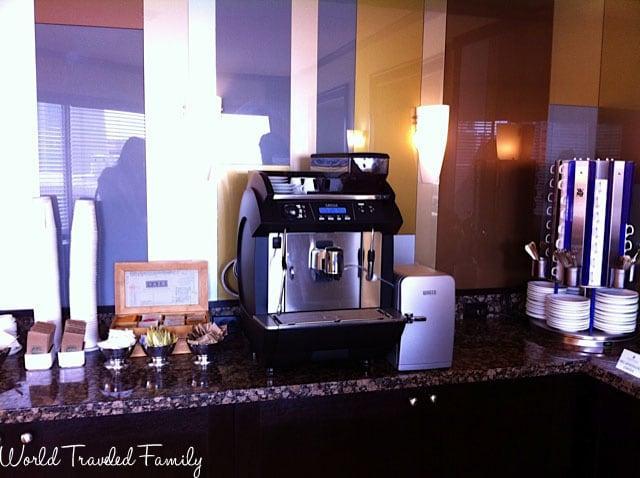 If you are looking for a restaurant the Intercontinental Toronto has a beautiful one that looks onto Front street called Azure.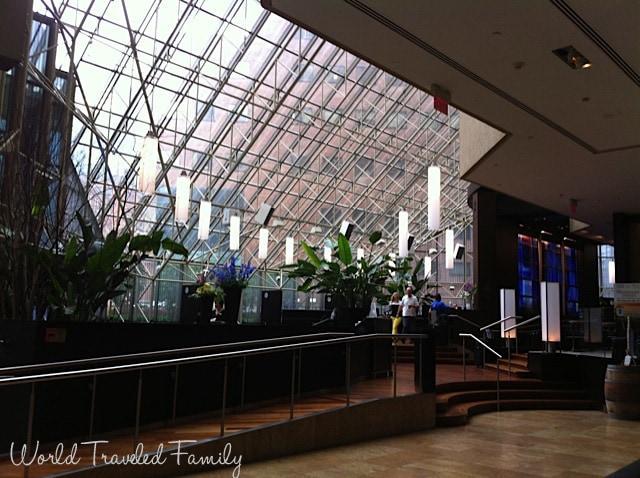 Our package also included a buffet breakfast for two, which was quite good. Azure offers everything you are looking for in a buffet including bacon, sausage, waffles, home fries, pastries, fresh fruit and even a omelette station.  I believe the cost is somewhere in the range of $25 per person, which is standard for a hotel buffet.
The big bonus about this hotel is that it is connected to the Metro Toronto Convention Center so if you are attending an event there, it is the most convenient accommodation.  Plus, the shuttle to the island airport is just a block down front street.
During our stay the staff was courteous, our room was clean and the food was good.   At $225 a night, it was also reasonably priced, but would have been a bit better had I booked it a little sooner…