During a visit to San Antonio for a press event last week, I had the chance to stay at the Omni La Mansion del Rio. Situated along San Antonio's famous Riverwalk, this hotel is rich in history and character.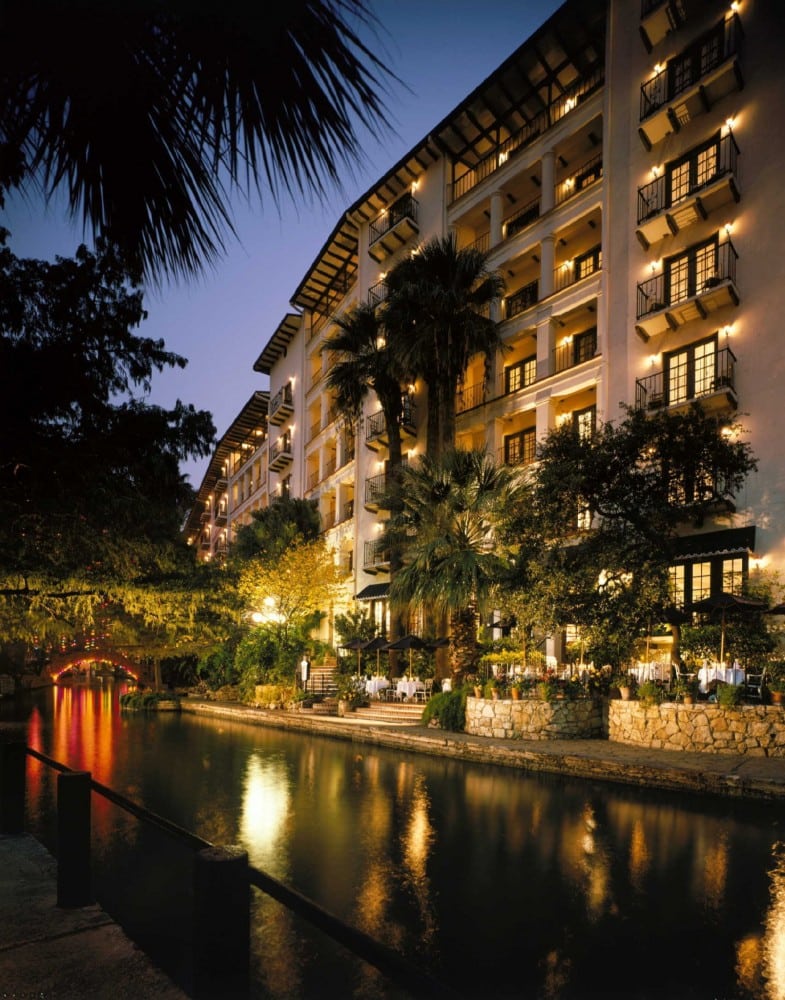 This was my first trip to San Antonio so I was excited my hotel was so close to all of the action!
Built in 1870, the Omni La Mansion del Rio previously served as St. Mary's College. But by 1966 the college had outgrown the building and relocated to a nearby campus. At that time it was purchased, an addition was added and it was re-opened as La Mansion del Rio.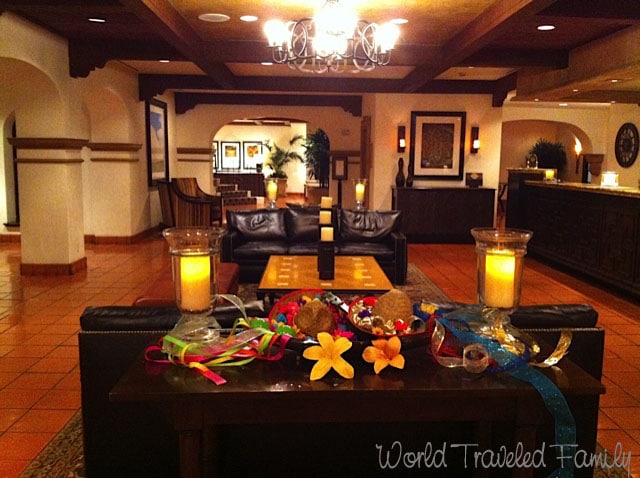 When I arrived I was struck by the quaint European feel of this property. The lobby has beautiful rustic tiles through out, many of the doorways are rounded and the whole building is full of lush vegetation that gives you the feel of being in the tropics.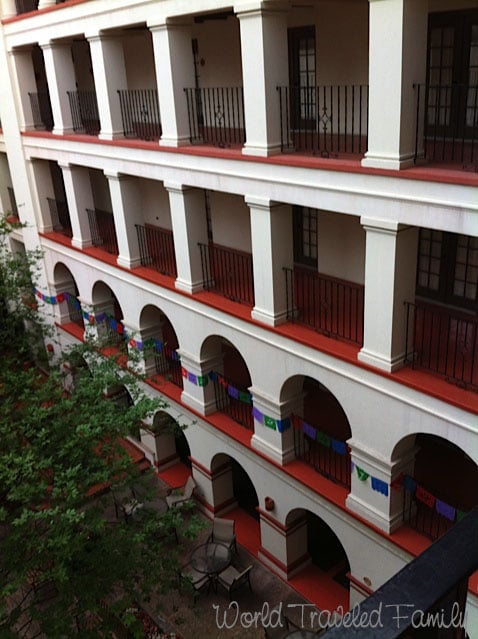 Because I was travelling solo my room(420) was equipped with just a King Bed. Bigger rooms and suites are available for families who are looking for more space.
My room was both rustic and modern.  Along with wooden beams, there was also exposed brick on the one wall.  And while it had a cottage-y appearance, it was also equipped with a flat screen TV, a stocked mini bar and a hot beverage station so I could get my morning fix.
Most importantly, the bed was comfy and the linens were soft and luxurious.
The bathroom has a nice modern look with marble countertops and a large travertine tiled shower.
A set of french doors at the back of the room led out to a shared balcony, which overlooked the River Walk(image below is exact view). I will admit it was weird to hear people mulling about outside my door at all times of the day, but the view of the city more than made up for that.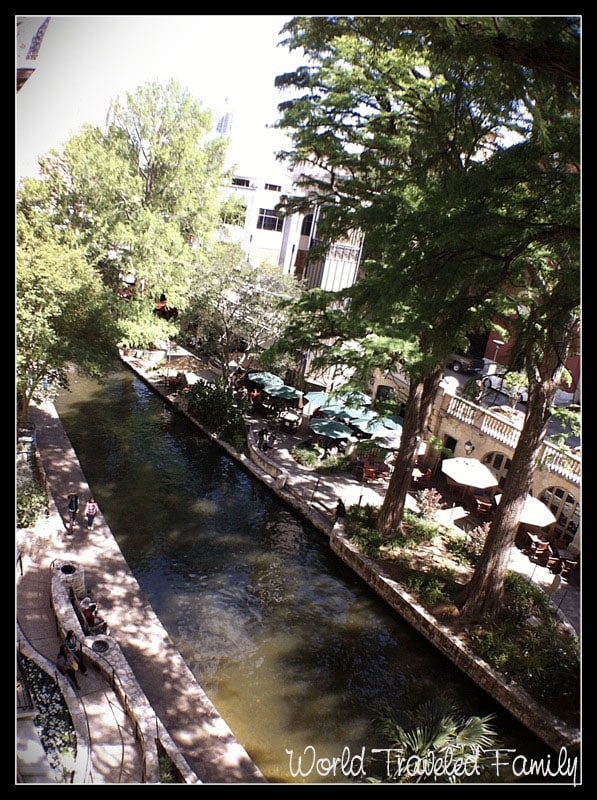 Not all of the balconies are shared, however. A friend of mine, who was 9 doors down the hall(429), had her own juliet balcony. I guess it just depends on where your room is positioned in the building.
In the middle of the property there is a pool area that is perfect for an afternoon dip. It is not a massive pool, but more than enough for a hotel this size.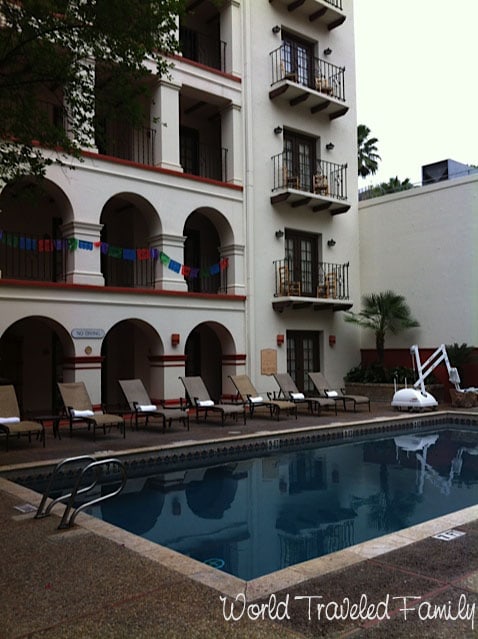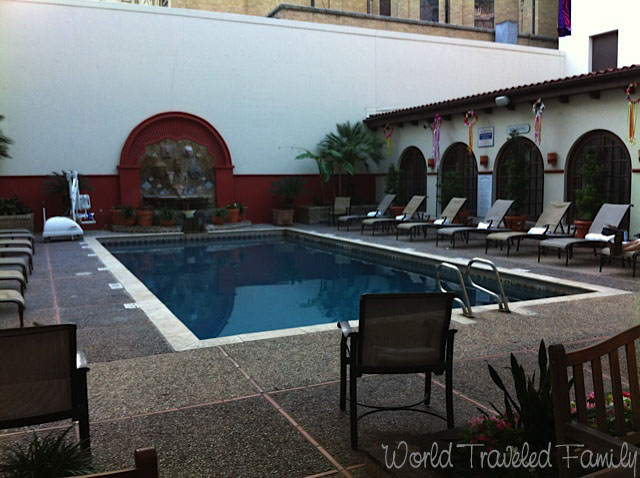 On site the Omni La Mansion del Rio has Las Canarias restaurant, El Colegio bar, Ostra Restaurant, a rooftop cafe and a small coffee shop in the lobby called Morsel's.  In the room there was a room service menu that listed an extensive list of options for every time of the day.  I loved that this menu included items in various price ranges and also some lower priced items for kids.
Parents who are travelling with kids will love that there are so many family friendly activities close by like the Tower of the Americas, The Witte Museum, the Alamo and the San Antonio Children's Museum. Also, a short drive is the San Antonio Zoo, the Natural Bridge Caverns, SeaWorld San Antonio and Enchanted Springs Ranch.  You could easily find enough to do for a full week.
Whether you are visiting San Antonio for business or pleasure, the Omni La Mansion del Rio is the perfect hotel for all vacationers. It is centrally located, beautiful and equipped with everything you will need while you are away.