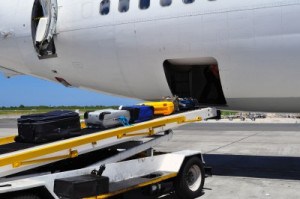 Just in time for summer travel, Valco Baby introduces the Stroller Roller Universal Travel Bag ($100): the perfect answer to the airlines' new restrictions on gate checking strollers!
After years of traveling, I've learned that the baggage employees don't treat your gear with the care that you would.  We've had handles damaged, strollers come up wet from bad weather and gear that's been dirty from lord knows what.
The  Stroller Roller is padded to protect strollers and designed for easy transportation (parents simply roll the stroller behind them) and the Universal Fit is compatible with most Single Strollers including: all single Valco Baby models, Baby Jogger City Mini, Bugaboo Bee, Bugaboo Chameleon (without bassinet), Uppa Baby Vista (without bassinet), Icoo Pacific, Icoo Targo, Hauck Malibu, Mamas and Papas Urbo, Bob Revolution, Mountain Buggy Swift, Phil and Teds Explorer (single and with doubles kit), Bumbleride Indie, Baby Jogger City Select (single and double).

When you spend good money on a stroller its important that it arrives at your destination clean and in good working order.  Keeping it covered will ensure that the important parts are protected.
For more information please visit Valco.com