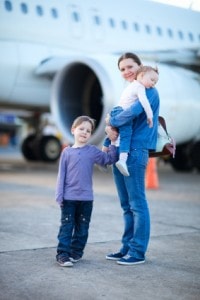 Traveling with a baby is work. There – I've said it. But the truth of the matter is, the work is worth it. The trips and adventures we've had have as a family have given us the most cherished memories. To make those memories means you have to get there first, and that's where all your prep work will come in handy. The more organized and prepared you are, the easier it is to get through your travel day.
And that's (usually) all it is. A day. That day often starts with an early wake-up or ends with a late bedtime, but so long as you plan in advance, your organization will pay off.
You'll need to invest in a good carry-on bag. It needs to have pockets and sections for storage, but not so many that you can't remember where you put stuff. And you'll have lots of stuff!
But amidst all of it, do not forget these 5 things:
Wipes: You can never have too many of them. Diaper wipes clean faces, sticky hands, icky public bathrooms (don't flush!) and questionable eating surfaces. Don't just fill your little plastic sleeve before you venture out. Make sure you have a solid supply of wipes that will last the duration of your journey and beyond.
Diapers: This may seem obvious, but don't skimp on the number of diapers you bring for your travel day. A good system for me is 1 per hour of my journey plus 2 more to be on the safe side. Don't tempt fate by bringing the minimum. Clean diapers weigh almost nothing and you can use them to cushion the contents of your carry-on.
Food: Again – this may seem obvious. But surely you've heard the horror stories of people trapped on the tarmac for hours on end, either before or after a flight? I usually pack at least double the amount of food and/or bottles I think I'll need. Delays happen. Being prepared with extra on hand means you don't have to sweat them.
Toys: There is no need to spend the bomb on brand new stuff that will get broken or lost along the way. Hide old favourites for a few weeks before your trip and baby will be delighted to see them. Dollar stores are good sources for inexpensive trinkets that will occupy baby for little expense. Don't forget a few books as well. Keeps baby busy and you'll have them for storytime once you get there.
First Aid Kit: Because you never know when a fever will strike or your child will get hurt. In a small pencil case I include a bottle of children's Motrin, Boiron's Camelia (for teething) a thermometer, bandaids, Antibiotic Ointment, Antiseptic wipes and a backup bum cream.
And lastly… Patience and/or Coping Strategies: Our kids pick up on our moods, so if you're in a foul one because the ticket agent was snippy or you forgot to pack socks, your child will pick up on it and (mis)behave accordingly. Cautiously optimistic is the way I like to play our travel days. If we expected everything to go completely smoothly all the time, we'd be sorely disappointed.
Be sure to cram a change (or two) of clothes for baby and you in with everything – use a good carry-on packing list so you don't forget anything. And, for goodness' sakes, have a blast on your first trip with baby! – Corrine McDermott