While in Orlando for a cruise a few weeks ago, we decided to extend our stay and enjoy Disney with the kids for a few days.
Because we hadn't been in about 10 years I pooled my friends for tips and decided to stay at one of Disney's properties.
Not knowing where to start I called the Disney line and spoke with one of their reps, who helped me chose the right resort for our family.
On the day of our arrival we traveled from Port Canaveral by taxi($115) to the Animal Kingdom Lodge.  Not knowing what to expect, we were pleasantly surprised when we arrived.  Disney excels at details and that was evident everywhere we looked.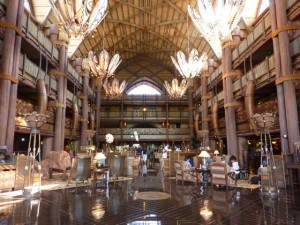 From the unbelievably gorgeous thatched roof to the gazelles that adorn the balconies, Disney's Animal Kingdom Lodge is a beautiful resort that feels like it was dropped in the middle of a game reserve.  Entering the 4 story lobby is awe-inspiring.  The wide-open space is filled with authentic artifacts including hand-carved furnishings, rich wood and a mud fireplace.
We opted for a Savannah view room so that the kids could enjoy the wildlife from our balcony and it was a hit with both my boys.  To their excitement Zebras and giraffes milled about outside of our room unaware of the frenzy they put my two into.  In our room Disney provided us with a checklist so that we could keep track of all of the mammals and birds we spotted.
The room itself had 2 double beds, a big TV, a desk and for our youngest, a pack and play playpen.  While the layout is similar to rooms we have stayed at in at many hotels, Disney, once again, excelled at the details.  The beds had curtains overhead, the light covers looked like wooden tiki's and the massive wooden headboard resembled a piece of art that had been carved by an artist.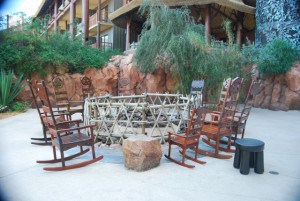 Families who choose a standard room shouldn't worry about not being able to see the animals.  The resort has quite a few lookout balconies complete with wooden rockers.  There is also a walk out area that features the Arusha Firepit and a full view of the Savannah.
The pool area at the Animal Kingdom Lodge is great for kids of all ages.  We liked that there was a large walk in area for our toddler to play in while my oldest enjoyed the waterside. Because we visited in January the weather was a little chilly but the pool was still heated to the perfect temperature (82 degrees, a standard across all of Disney's hotels).

To make the trip easier I purchased the meal plan – 1 snack, 1 fast dine option and 1 sit down meal/ per person per day.  The 'meals' include a drink, entree and dessert.  The snacks can be purchased throughout Disney's parks and hotels and are items like popcorn, ice cream, a 20 ounce bottled beverage or 22 ounce fountain drink.
While traveling with our boys I don't like to have to go far for dinner so it was nice that The Animal Kingdom Lodge had 4 dining options.  For lunch on our first day we chose the Mara.  Located close to the pool, this Fast Casual dining restaurant has a good selection of quick food choices for those of all diets.  We had the burger, a pita and chicken fingers.  Dessert choices are plentiful – we chose a brownie, chocolate chip cookies and carrot cake.
For dinner we decided on BOMA.  This African marketplace is served buffet style with many authentic dishes .  As a rule, I am a very simple diner.  I love classic food but don't dine outside of my 'box' very often because there are so many foods I don't like. I was pleasantly surprised that there were quite a few items that I really enjoyed.  A couple dishes that I loved were the salmon, the Durban-spiced roasted chicken and the cilantro chicken salad.  My husband was very fond of the prime rib, hummus dips and stew.  Also on the menu were kid friendly options like mac & cheese, chicken fingers and pizza.  Not to be missed is the dessert table.  Homemade cookies, tarts, tiny cheesecakes and their signature Zebra Domes are a nice way to end a good dinner.   After wards our boys and some of the other guests danced along with the staff to the live African drum music.
Located just across from BOMA is an a la carte restaurant – JIKO – The Cooking Place.  This premium dining option fuses the bold flavors of traditional African, Indian and Mediterranean cuisine.
We had initially made plans to eat at JIKO until we realized that it was 2 sit down dining credits per person.  While I am sure that it is a fabulous restaurant, I had hoped that our credits would last us for our whole visit so we chose to stay with the buffet.
A shop that shouldn't be overlooked is the Zawadi Marketplace.  This general store, which located just to the right of the front entrance, stocks necessities like diapers, sunscreen, toiletries and refrigerated items.  It also sells a large amount of unique Disney souvenirs including clothing, toys and other interesting finds.  I could have shopped in this store for hours, had my suitcase not been overweight already.
One of the things we loved about staying on property was the convenience of being able to use Disney's transportation system to get around.  The bus from our hotel went directly to the Magic Kingdom(20 minutes ride) and dropped us off right outside the entrance.  On the day we were leaving, the Magic express coach picked us up at the front door of the Animal Kingdom Lodge and shuttled our family to the airport(1 hour ride) for no additional charge.  I did, however, need to pre-arrange the trip to the airport with the concierge, but that took just a few minutes after dinner on our first night.
Because we were only visiting for 2 nights we didn't have a chance to take advantage of Simba's Clubhouse kids' club(for kids aged 4 to 12) or the storytelling at night.  This gives us a reason to come back soon.
Before we arrived at the Animal Kingdom Lodge we were just a family looking to relax and experience something new.  We left loving all that Disney has to offer and look forward to visiting again!
---