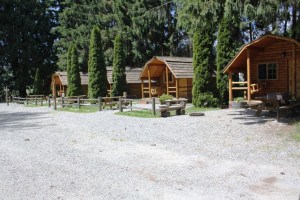 Champagne wishes but ginger ale money, is a situation that has become familiar to a lot of families in recent years. Desperate for a summer getaway, but faced with a lean bank account, more and more of us are turning to campgrounds as a solution to our holiday conundrums.
Campgrounds are usually less expensive than hotels and motels and also give families the option to self-cater at least some of their meals. This can take a big bite out of the cost of a holiday.
Keeping travel plans simple and easy, takes a lot of the stress out of vacationing and can further reduce the cost of the trip. Many campers only travel a few hours, or even a few kilometres from home. Lately, according to Jim Rogers, CEO of KOA, more than 50 percent of people staying with the chain woke up at home, the day of their arrival. That statistic has jumped 25 percent in the last seven years.
Rogers attributes the shift to a number of factors including; occupational demands, busy family life, and soaring gas prices. He says, "(People) just want to stay within reach and go away for shorter time periods."
RV parks and campgrounds offer a lot more than a clearing in the woods and a fire ring, these days. Chains like KOA and Yogi Bear's Jellystone Park, along with myriad other privately owned campgrounds, recognize that the families they are attracting are not necessarily trying to, "get back to basics." Most families are there simply to relax and have a good time.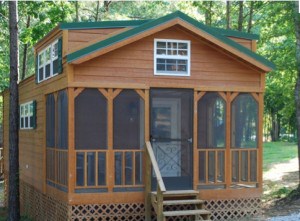 As a result, many private parks have evolved into family holiday resorts and go out of their way to take some of the roughness out of "roughing it." The park I stayed in last weekend had granite countertops and under-mount sinks in the restroom; pretty swanky if you ask me.
Many parks offer a selection of accommodations, for guests who have not invested in all the trimmings and trappings of the camping life. Possibilities include cabins, yurts, cottages and daily RV rentals.
These shelters come with a range of amenities, from basic abodes with little more than beds and a heater, all the way up to self-contained cottages with full kitchens and bathrooms.
Beyond convenience, and affordability; campgrounds and RV parks are an attractive option for families because they're fun. Kids have a great time; in fact, the whole family has a great time.
Jeff Crider, spokesman for the National Association of RV Parks and Campgrounds says,
"more and more campgrounds across the country are offering organized activities that could range from nature walks to special themed weekend events like holiday events or Father's Day events. You can still find plenty of campgrounds that offer a natural setting and a nice environment for kayaking, fishing, or river tubing, but what the parks are finding is that more and more families want things to do. And fun activities are a way to get kids away from computers and iPods and do something as a family."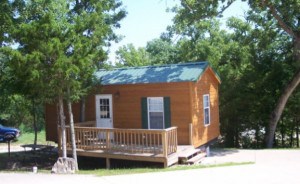 They're certainly giving the people what they want. These places have everything, nature trails, movie nights, ice cream socials, pancake breakfasts, flashlight candy hunts, giant chess boards, hay rides, Christmas in July…and that's just a start, I could go on…hot tubs, heated swimming pools, playgrounds, gym equipment, doggie playgrounds, bike rentals, mini golf, arts and crafts, giant cartoon mascots – you get the point.
Even if you've never considered a holiday at an RV park or campground in the past, you may, upon closer inspection, find that they suite your needs better than many other types of accommodation. Vacations don't start and end at the Four Seasons. There are all kinds of options out there. Who knows, there may be a campground 2 hours from your house, just calling your name.
Now, you're likely to encounter the odd purist who will argue that this type of recreation doesn't count as "real" camping and, in a way, they're right. It's not camping, it's "glamping" and in my dictionary, glamping sounds way more fun. – Jen R, Staff Writer