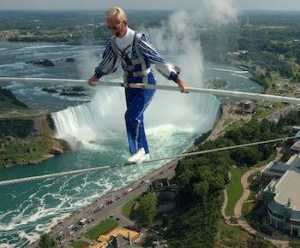 Niagara's thirst for the high wire hasn't been satisfied yet. Beginning June 29th, Jay Cochrane will begin Skywalk 2012.
Jay's Skywalk 2012 is a high wire attraction that spans the 340 m from the top of the Niagara Fallsview Hilton Hotel North Tower to the top of the Skylon Tower. The wire height will range from 177 m to 160 m.
Jay will walk the wire at 7 p.m. every evening to hopefully complete his 88 scheduled performances. If all goes well, he will walk in excess of 30 km, between the two buildings, all the while chatting with and wowing the assembled crowed below.
Back in 2005, Jay was the high wire performer in "Skylon Tower Skywalk" travelling the high wire from the Niagara Fallsview Casino to the Skylon Tower.
In 1995, Jay completed The Great China Skywalk over the Qutang Gorge, crossing the Yangtze River at a height of 408 m for a distance of 640 m. It was viewed by a crowd of 250,000 people, at the gorge and about one-billion people at home on TV.
Jay holds a number of World Records for his various high wire accomplishments and is excited about Skywalk 2012.
"This walk approaches the grandeur of my Great China Skywalk across Qutang Gorge above the Yangtze River. I'm excited to give a spectacular performance that will draw attention to my home country of Canada and inspire people to visit Niagara."
The Niagara Region, which is replete with natural wonders, historic sites and fun attractions, has been given the designation of #1 Family Holiday destination in Canada by Trip Advisor.
Anyone interested in meeting Jay and trying out the wire for themselves, will get their chance at events like Fort Erie Friendship Festival (June 29 to July 2) and Canal Days (August 3-6). He will present the "Wirewalking Experience" and don't worry, in this case the wire will only be one foot off the ground so even if you fall, you'll survive to tell the tale. – Jen R, Staff Writer
IMAGE CREDIT: ©Mark D Phillips