Watching you and your child's favorite Disney characters on screen can be a lot of fun, but what if you and your family could be a "part of that world?" Now you can!
The newest Disneyworld Resort hotel, Disney's Art of Animation Resort, opened its doors for the first time on May 31. Guests can now experience the world of Finding Nemo like never before in any one of the 320 suites.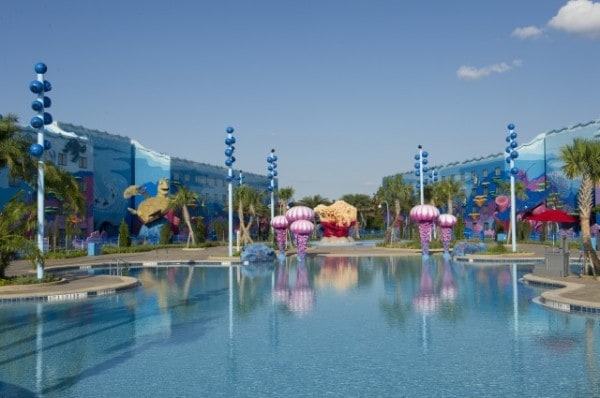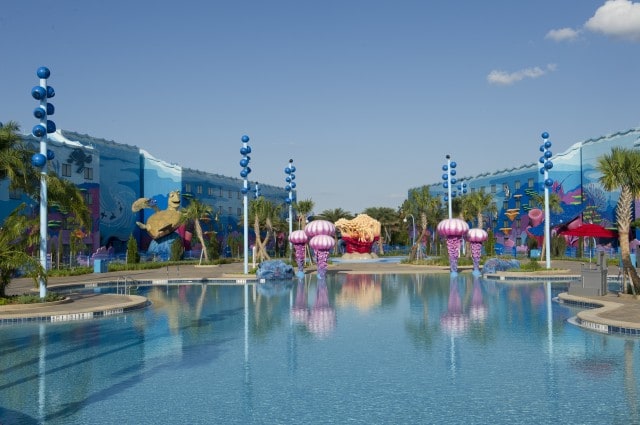 Three more wings will be added to the resort hotel, all of which feature a different Disney favorite. The "Cars" wing, comprised of 480 suites, will open June 18th; "The Lion King," comprised of 320 suites will open August 10th; and "The Little Mermaid" wing, comprised of 864 suites, is set to open on September 15th.
All four wings aim to give guests a full immersion experience through storytelling, characters, original art sketches, bigger than life statues, full wing theming and playfulness almost amazing enough to keep guests firmly planted in the hotel itself.
"Our goal was to make guests feel like they have been immersed in the artistry and enchantment of Walt Disney and Disney Pixar animated classics," said Walt Disney Imagineer Frank Paris.
The entire experience begins before you even enter the doors. Pixilated patterns and wavy ribbons of bold colors adorn the exterior of the building. The entryway of the hotel is filled with pencil drawings of Disney favorites like Lightning McQueen, Ariel, Nemo and Simba. The lobby features a chandelier of 77 different animation storyboards. Guests will even find bigger-than-life characters before venturing off to their rooms: a large and ominous Mufasa as well as a 35-foot-tall King Triton.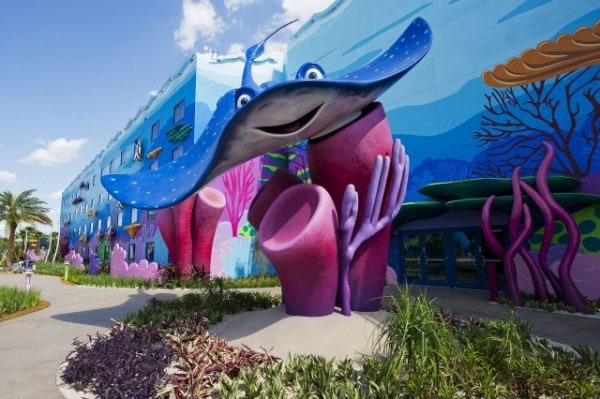 The journey only gets better as guests head off into their wings. Each and every detail has been tied into the theme of each wing. In the "Cars" wing, guests will travel down a freshly paved road to the Cozy Cone Motel, complete with cone-shaped cabanas and a Cozy Cone pool.
In "The Lion King" wing, guests will journey through the elephant graveyard play area and find Zazu perched on their headboards.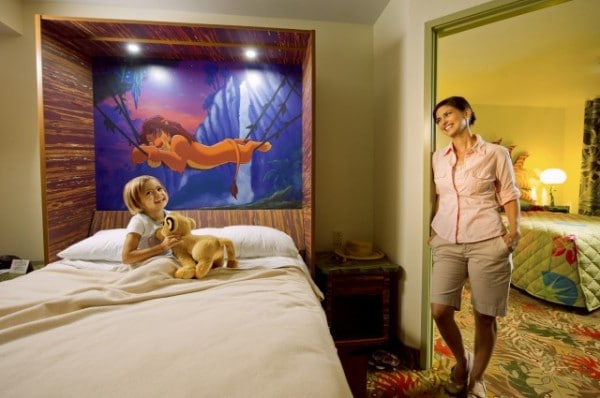 "The Little Mermaid" guests will find "gadgets and gizmos" in Ariel's Little Mermaid courtyard.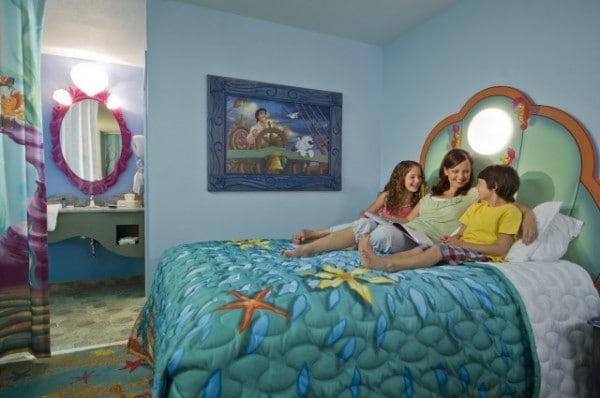 "Finding Nemo" guests will find everything from bubble ceiling lights and coral shaped chairs to the largest resort swimming pool at the Disney World Resort, the "Big Blue Pool" were kids of any age (yes, that means adults too) can receive periodic messages and music from Dory and the lovable Nemo. Parents and children can pose for pictures with Mr. Ray or Crush. Children can spend time in the children's play area with Squirt at the Righteous Reef.
The Resort hotel also features the Pixel Play Arcade, Drop Off pool bar, and Ink and Paint gift shop. A daily character artist can be found in the "Finding Nemo" lobby and guests can even enjoy nightly movies poolside.
Of course, no experience is complete without great food.  Of course, Disney thought of that too. A poolside snack bar and the Landscape of Flavors food court can all be found within the hotel itself, both of which offer family friendly cuisines. But even if you can't find something on the menu to tease your taste buds, a pizza delivery service is available.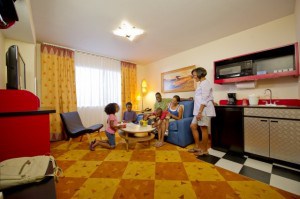 Classified as a "budget" hotel, up to four guests can stay in a standard room for rates starting at $94 a night. Family suites, which feature two bathrooms, a kitchenette and three separate sleeping areas for up to six guests can be booked for rates starting at $248 per night. Guests at the Disney's Art of Animation Resort will also enjoy complimentary transportation to and from the theme parks, extra Magic Hours and other benefits available to only Disney Resort hotel guests.
"Disney's Art of Animation Resort is part of our continued investment in Central Florida and helps keep our region squarely on the map as the world's premiere family vacation destination," said Meg Crofton, president of Walt Disney Parks and Resorts Operations, US and France. "As more families travel and make memories together, they also want to stay together, which has created demand for family suites."
The whole experience sounds downright enchanting and fun! Immersion experiences can also serve as highly educational for young (and not so young) minds. And since the experience is offered at a budget hotel price, I can't imagine any parent planning to head out to the Land of Mouse this summer passing the opportunity up. But to be honest, I'm excited about more than just the hotel. What I love most is that the spirit of Walt Disney continues to live on, creating magic in our lives, in our hearts and in our worlds.
---