I just added a new location to the list of places I want to visit with my family. If you have a little dino-junky in your house, you may want to add The Royal Tyrrell Museum of Palaeontology to your list too.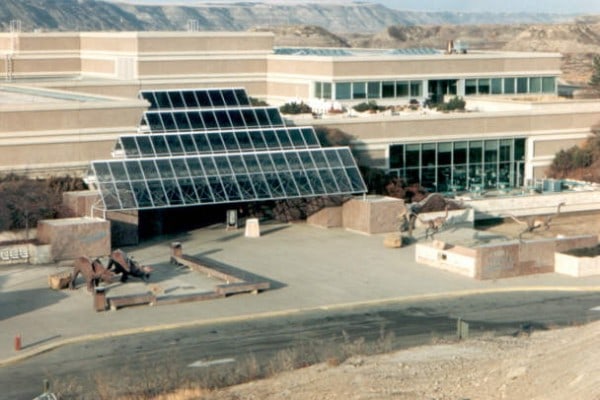 My four-year-old eats, sleeps and breaths dinosaurs. I now consider him the household authority on the subject. The other day, he requested a trip to Mongolia, so he could go on a real dinosaur dig.
I explained that he probably has a better chance of visiting Alberta, also famous for its fossil deposits, seeing as his aunt and uncle recently moved to Calgary. I told him I would look into the Alberta dinosaur situation for him.
I was pleasantly surprised when I uncovered the Royal Tyrrell Museum and the variety of programs they offer to visiting children.
The Royal Tyrell is reputed to be the world's finest palaeontology museum. Located in Drumheller, Alberta, a 90-minute side trip from Calgary, the museum is situated in the unusual, lunar-esque landscape of the badlands. Drumheller is home to the most abundant fossil deposit in North America. You're practically tripping over dinos out there.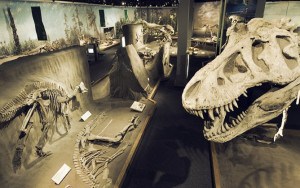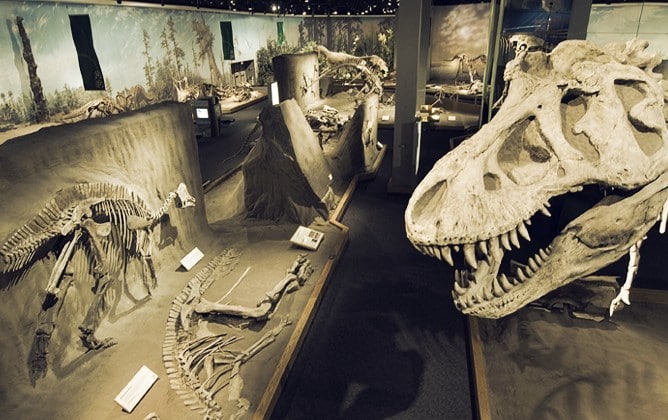 The museum is the namesake of Joseph B. Tyrell, the man who discovered the menacing hunter, Albertosaurus. The Tyrrell Museum pays homage to its prehistoric collection by creatively displaying dinosaurs, including Albertosaurus and T. Rex, in realistic, mid-action tableau. The museum is in possession of thousands of fossil specimen. Visitors view the very best of the best.
The programs offered at the museum offer rare experiences to children. There are several all ages programs and a variety of others beginning with three-year-olds and becoming increasingly involved, progressing through the teen years.
There are guided hikes into the Badlands, realistic dino digs and investigation of authentic dinosaur fossils. Kids can make casts to replicate dinosaur remains and take a behind the scenes look at the museum. Children aged 5 to 13 can bring a chaperone and campout in the museum over night! Imagine the thrill of waking up in a room full of prehistoric giants.
There are countless reasons dinosaurs captivate young and old alike. It's incredible that they ever roamed the earth at all. They are fascinating, and not just to four-year-olds. Time spent at the Royal Tyrrell Museum is a trip into prehistory and an experience that won't soon be forgotten. – Jen R, Staff Writer