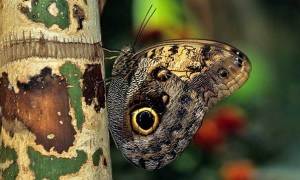 In preparation for San Diego Zoo Safari Park's annual springtime event – Butterfly Jungle, Sarah Jenkins the park's keeper, released hundreds of butterflies as they emerged from pupae on Thursday. Good news for visitors looking to visit the event, this year it runs from April 9 through May 8, one week longer than usual!
Once immersed in Butterfly Jungle, move slowly, allowing thousands of vibrant wings to flap gently past or perhaps land on a shoulder or head. Wear bright colors to attract butterflies. Approximately 40 species of butterflies and 15 species of African birds will flutter about in the Hidden Jungle aviary.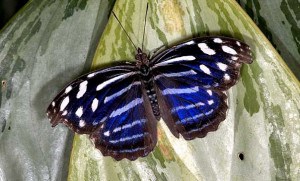 Along the journey to metamorphosis, watch for an opportunity to meet other invertebrates up close including hissing cockroaches, praying mantises and lady bugs. Find the emperor scorpion, back by popular demand, before entering Butterfly Jungle. Try on wings, antennae, and compound eyes and taste "butterfly nectar" at the "What's it Like to Be A Butterfly?" station.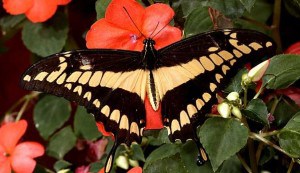 The 1,800-acre San Diego Zoo Safari Park (historically referred to as Wild Animal Park) is operated by the not-for-profit San Diego Zoo and includes a 900-acre native species reserve. The organization focuses on conservation and research work around the globe, educates millions of individuals a year about wildlife and maintains accredited horticultural, animal, library and photo collections. The Zoo also manages the San Diego Zoo and the San Diego Zoo Institute for Conservation Research. The important conservation and science work of these entities is supported in part by The Foundation of the Zoological Society of San Diego.
Butterfly Jungle is included with admission. Admission is $40 for adults and $30 for children ages 3 to 11. Children 2 and younger are admitted free.
---