Thrill seeking families looking for adventure may want to check out this list of new rides and attractions at U.S. theme parks for 2011.  The Orlando Sentinel has listed their top 10 and it looks like it will be a great Summer for vacationers!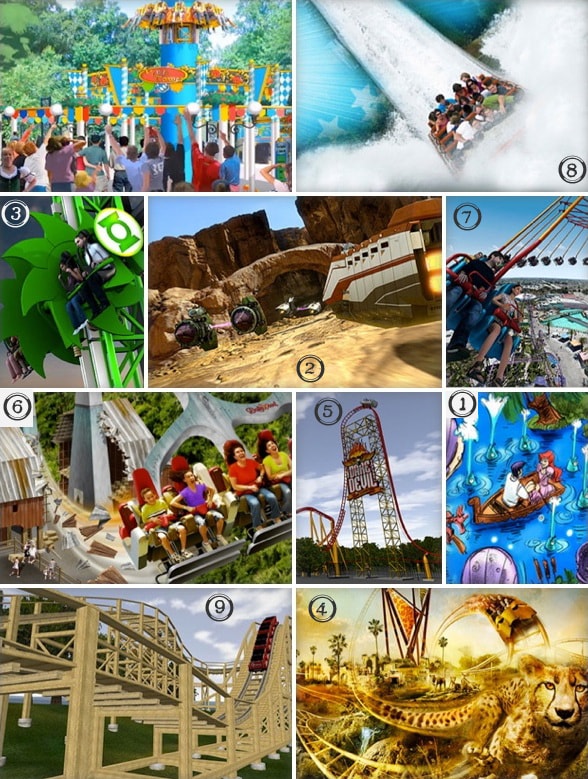 10.  Mach Tower at Busch Gardens Williamsburg – When Busch Gardens Williamsburg opens this Spring visitors will be able to experience it's newest ride – Mach Tower. "The massive spire will lift you 240-feet into the stratosphere, offering a spectacular view of the park and surrounding countryside. But don't get too caught up in the scenery before, amidst a rush of wind and screams, you'll experience a sudden, pulse-pounding drop."
9.  Wooden Warrior at Quassy – Dubbed the Wooden Warrior, this 12 person coaster has a T-shaped layout, with twists and turns and airtime hills for everyone.  After boarding the train dips and turns slightly to the left before immediately starting its climb up the 35 foot tall lift hill. Cresting the lift hill, the track banks to the right and drops down through a horseshoe shaped turnaround, before rising up for the rides big drop. Plummeting to the ground, the tiny trains will hit their top speed of 35 mph as they fly over 1200ft of track.
8.  Alabama Adventure – Opening this Spring, Buzzsaw Falls is sure to keep guests both cool and thrilled, as riders plunge down a five story, heart pounding chute for a massive splash. Enormous sheets of water will shoot in the air as riders make their final descent splashing into a pool of water soaking both riders and on lookers.
7.  SkyScreamer and Windseeker – The tower swing will be the most popular new ride of the year by a landslide, debuting at six North American theme parks in 2011. Ranging in height from 150- to 300-feet-tall, the ride will be called SkyScreamer at Six Flags Discovery Kingdom ( California) and Six Flags St. Louis and will be known as Windseeker at Knott's Berry Farm, Cedar Point ( Ohio), Kings Island (Ohio) and Canada's Wonderland ( Ontario).
6.  Barnstormer at Dollywood – The Barnstormer giant swing debuting at Tennessee's Dollywood in 2011 will soar 80 feet in the air at speeds reaching 45 mph.
5.  Dare Devil at Six Flags Over Georgia – Dare Devil Dive's mission begins as you're pulled straight up to the sky on a special vertical chain lift, then slowly roll to the top of the tower nearly 100-feet in the air. After an agonizing pause at the crest of the summit, you plummet downward at an angle that is beyond straight down — it actually angles inward at a blistering 52 mph. It is the country's first PAUSE element before the beyond vertical drop.  Then you careen through a thrilling combination of diving loops while executing three inversions before you catch air on a zero gravity hill and swoop across the dreaded Immelman vertical U turn stretched high above the ground. The crescendo builds as the car dives toward the ground and up into a Heartline roll before being slowed by the magnetic brakes.
4.  Cheetah Hunt at Busch Gardens Tampa – The Cheetah Hunt triple-launch coaster debuting in 2011 at Busch Gardens Tampa in Florida will feature a 130-foot drop into an underground trench.
3.  Green Lantern at Six Flags Magic Mountain – Debuting at Six Flags Magic Mountain this Spring The Green Lantern vertical coaster features a never-been-done-before completely vertical zigzag pattern track, this new spinning coaster takes coaster riding to another galaxy.  Fearless riders will brave the ride sitting in eight-person vehicles — four abreast and back-to-back,
each rotating independently. The two minute thrill begins with riders going up the 107-foot left hill before spinning their way down through 828-feet of twisted vertical track, featuring three, 360-degree head-over-hill spins.
2.  Star Tours at Disneyland and Disney's Hollywood Studios – Riders aboard the reboot of the Star Tours attraction coming to Disneyland in California and Disney's Hollywood Studios in Florida in 2011 will have the power to change the storyline throughout the simulator ride, resulting in a different beginning, middle and end for virtually every journey.
1.  Voyage of the Little Mermaid at Disney California Adventure – Scheduled to debut on June 3, the $100-million Voyage of the Little Mermaid at Disney California Adventure will take riders in 2011 on a family-friendly musical underwater journey themed to "The Little Mermaid" animated movie. A similar version of the ride will open in 2012 at the Magic Kingdom in Florida.