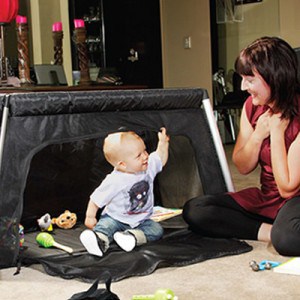 If you're a parent then you've likely had a least a handful of situations when you're going to be away from your home over night and you now need to figure out where you're wee one will sleep.  My husband and I have done a number of overnight trips and holidays with our son and in the past 18 months we've tried out a variety of different sleep solutions.
While my son does like his playpen it's not always convenient to cart around and when you're already taking a ton of other items with you, a big playpen isn't a great space saving option.  We've also had tiny fold up beds that were great when he was really little but now that he's bigger (and can stand up) they are basically rendered useless.  Then I discovered the phil & teds traveller – a sturdy, full size cot that fold ups up so small and is so light weight that you can easily travel with it in your stroller, luggage, or car!
Out of the box the traveller comes in a handy travel bag with a shoulder strap for easy carrying.   Once you open the bag you'll notice that the traveller comes in pieces like a tent.  The first time I tried to assemble it, it took me nearly 25minutes and I had to call in my hubby to use some muscle to get a few of the pieces together.  Some of the pieces attach to each other using a simple "insert and twist until the pin pops through the hole and clicks system".  If I could change one thing about the traveller I would adapt this to be a metal piece like you find on tents rather than plastic – it would function exactly the same but would be slightly easier to manipulate.  That being said, as time has gone on the assembly has become much easier and significantly faster – likely because the equipment isn't as "stiff" and I'm now a seasoned pro at using it.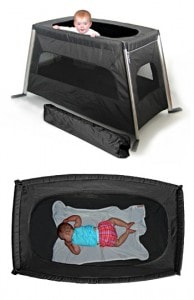 The mattress is a mostly self-inflating air mattress that fits into a pocket at the bottom of the cot.  Note- you can't use a sheet with this system as the mattress is actually placed under the nylon floor.  I wasn't sure how my son would sleep on an "air mattress" but I simply placed a folded single sheet down, and my son seemed very comfortable and slept as he normally would, through the night.
Looking at the traveller the first thing you'll notice is that it doesn't look like most travel sleep systems.  The cot has two zippered openings – one on the top and the other on the side. The first time we used the cot I didn't use the side flap as I didn't want to draw too much attention to it with my son – my hope was that if I could convince him that it was just like his crib it would be an easier transition.  Now that he's a little bigger we do use the side flap which makes it easy for him to get in and out on his own and I don't have to bend over to pick him up.  Plus my son seems to like that it has a "tent like" feel when we use the side flap.   Plus, similar to a tent you can also secure the traveler to the ground with stakes so that you can use it while outdoors in the park or at the beach but it also features rubber feat that will protect your floors indoors.
Like with the first time I assembled it,  the first time I tried to disassemble, it was a little tricky.  Taking the poles apart wasn't the challenging part but trying to figure out how to fold everything back up neatly and get it to fit into the travel bag was the issue.  My hubby and I have since mastered the fold by simply rolling the material pieces of the cot around poles (with feet all facing the same direction) and doing a tight roll.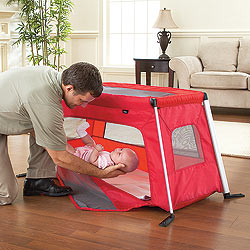 A feature I like about the traveller is it's size.  When it's open it measures 51″ x 24.8″ x 31″ making it long enough that my son has plenty of room to move around and grow, but it is also high enough that he can't climb out and escape!  When closed it's a mere 24.8″ x 8.6″ square packed in its carrying case and weighs only 8lbs!
I also love that is is durable, sturdy, waterproof and features breathable mesh panels.  Plus, parents can use it for newborns up to 3 years old making it a bed that can grow with your child.
Having had the opportunity to use the traveller for a while now I can see why it's won several awards including best travel product (Junior Design Awards 2011) and best portable crib/infant bed (Babble.com 2011).  It's functional, practical, stylish and affordable all wrapped in a light weight package.
Thank you phil&teds for sending us the traveller for review!