Whether you are headed to the beach, the park or grandma's house phil&teds award winning baby bed has you covered.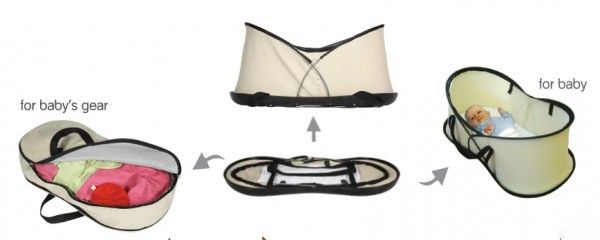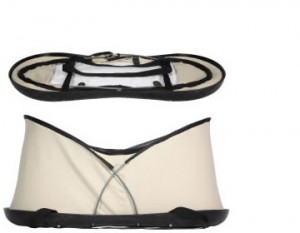 The Nest is a spacious, travel bed that has been designed for babies from birth to 9 months.  In a word, the design of this bed is genius.  It sets up quickly, will tote all of your necessities and it features a hard plastic base with ventilation to keep your baby comfortable and well ventilated.
Plus, a breathable, sheer mesh cover zips onto the rim of the bassinet to protect your little one against the elements if you are out at the beach or on a camping trip. It is also black to help darken the space during nap time.
Out of the box the Nest is ready to go – literally! It even has handles for easy transport.  When it's time for naptime, just unzip the bottom half of the bag, unsnap the handles and pop the support wall supports into place and you are ready to go(30 seconds).  The bed comes with a mattress that is covered in a soft cotton so a sheet isn't necessary  –  just a blanket to cover your baby.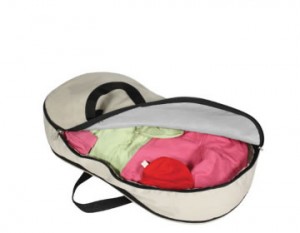 Because the carry bag is divided into 2 sections you don't have to worry about your baby's clothes and supplies getting in the way when you need to set the bed up. Once it's up, you can store the carry bag under a bed and keep the Nest separate at the side of your bed.
The bed is easy to carry and the handles snap into the side to give it more stability.
I highly recommend the phil&teds Nest for parents who need something that will go anywhere, anytime.  The storage area could easily hold enough of your baby's goods to get you through a week long vacation.
phil&teds has definitely hit it out of the park with the Nest.
---
For more information please visit philandteds.com
SPECS:
Weight – 5.5lbs
Dimensions ~ Bag: 31 x 17 x 5″
Dimensions ~ Bed: 30 x 15 x 13″
Storage ~ 40 litres