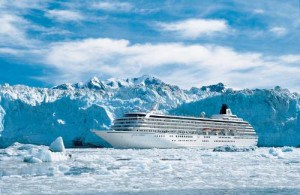 Alaska Cruise Season is almost among us and with multi-generational family bookings on the rise, Crystal Cruises is putting a special focus on "family-friendliness" for its Alaska summer series, with all-ages excursions, an extended Junior Activities program, and an alliance with the National Park Service for a "Junior Rangers" program.
When Crystal Symphony sails through Glacier Bay this May-August, park rangers will come aboard to lead kid-friendly activities and presentations about the area's natural history.  Through interactive projects and activity books, children and teens can become park Junior Rangers, earning official badges and certificates.
"The adult rangers ask kids to pledge to 'help take care of special places,'" explains Vice President, Entertainment Bret Bullock.  "Such innovative and collaborative education gets kids personally invested in the beautiful destinations they're visiting."
Complementing this program will be extended hours of stimulating, tiered, on-board activities for children aged 3-17, led by Crystal-staffed Junior Activities Directors.  Kids can meet for board games or arts and crafts in Crystal's Fantasia playroom, or for Sony PlayStation® 3, Nintendo Wii™ or Xbox 360™ videogames in the Waves arcade, or participate in behind-the-scenes happenings like galley tours, scavenger hunts, sushi-making classes, and backstage costume "dress-up."
Families can also take advantage of Hollywood Theatre movies, Library DVD and book check-outs, piano lessons, babysitting services, or favorite "finicky eater" foods throughout the ship.  On land, there are dozens of shore excursions designated as "family friendly."
Crystal Cruises is offering nine 12-day San Francisco round-trips visit Victoria, Vancouver, Sitka, Juneau, Skagway/Haines, Ketchikan and either Hubbard Glacier or Glacier Bay.  Full per-person, Two-for-One fares start at $4,650, with free air (or $400 discount) from 24 North American cities, plus $500 per-person "All Inclusive—As You Wish" spending credits.  Crystal's Family Memories Program offers additional credits, family photos, and complimentary "third berth" children's accommodation.  Last-minute, standby fares may also be available.
Alaska offers a wealth of learning opportunities for vacationers of all ages.  Cruising is a great way to see many different locations, while staying in the comfort of a floating palace!