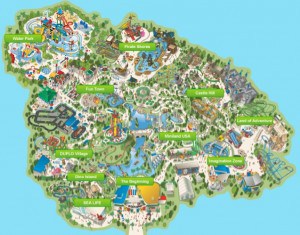 This past month, we had the luxury of joining my husband on a business trip to San Diego, California.  As we were taking our two young children with us (ages 2.5 & 3.5), I thought I should look in to activities we could do while we were there.
After some internet research, I discovered LEGOLAND California.  I can't say that I'd actually ever heard of LEGOLAND, but my son is at an age where he is IN LOVE with his little 'Megablock Man' ,as he calls it.  (These are little, and I mean tiny – maybe an inch tall, Lego people, that his Gramma introduced him to.  She actually still had one of his Daddy's old childhood Lego men, and lets the grandkids play with them.)  So when I saw LEGOLAND, I raised my eyebrows and gave it some attention.
The park is located in Carlsbad, California (only 25 minutes from San Diego).  It boasts 3 parks:  LEGOLAND, LEGOLAND Water Park and SEA LIFE Carlsbad Aquarium.  It appeared to have rides, shows, and other age-appropriate activities for my kids, so I looked at pricing.  Regular admission for the park was $69 adults (13+), $59 for my son (3-12), and under age 3 was free.  You could upgrade to the extra two parks or buy a Park Hopper ticket, best value at $89 & $79, respectively.  I lucked out into 5-day Park Hopper tickets for the price of 1-day.  I looked high and low on the internet and couldn't find a better deal than that, so I grabbed it.  Pre-purchasing the tickets saves you having to stand in line at the park.  I printed my tickets and we were ready to go.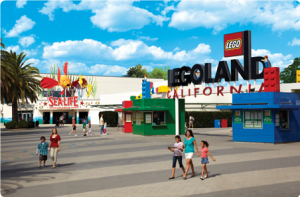 We found a Sheraton property right at the resort and spent our night there.  The property had its own private LEGOLAND entrance where we could walk right into the park.  It took us in the 'back door' and the kids immediately found the Hideaway, which was a multi-level play structure where they could run around, climb ropes, slide, etc.
They didn't want to leave the Hideaway; they would have been happy there all day, but we had a whole park to discover and we needed to go find a stroller, or we'd never make it through the day.  So we sat down and looked at the map.  Ugh!  Stroller Rentals were at the main entrance!  And we were all the way at the back of the park L.  So we wandered towards the front of the park.  In hindsight, it's probably not really that far, it just seemed like it the first time we walked it with 2 kids.
When finally at 'The Beginning', as they call it, we found the stroller rentals.  We grabbed a double for $14 (plus $2 deposit).  They weren't brand name or fancy strollers; it was a double-wide molded plastic seat with a canopy (not quite a wagon), that they could just climb in and out of.  They did have a seatbelt, but they didn't have any brakes.  They served a purpose – my daughter even slept in it sideways, but brakes would have been nice (she rolled away once or twice).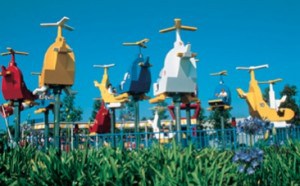 Then off we were to explore the park. Most of the rides had a 36" or 40" height requirement.  Some of them had an age requirement of 4, which saddened my son.  He was tall enough, but when the man asked him how old he was, he held up 3 fingers.  Sorry Buddy, telling the truth is the right thing to do, but doesn't always get you what you want.
There were lots of rides, and things made out of Lego everywhere!  We went on a Safari Jeep ride, and all the animals were made of Lego.  Giraffes turned their heads, elephants even sprayed water!  It was quite something to see.  The lineups weren't awful; I think the longest we waited was in excess of an hour (horrible with toddlers), but that wasn't average.  And the lines that tended to be longer, all had little Lego play areas where the kids could build while their parents waited in line. Once you were near the front of the line, there was a gate for the children to re-join you.  What a great idea!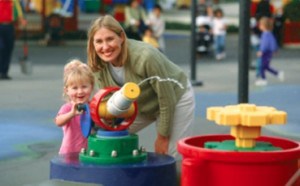 We wandered around the different areas of the park. Each area had its own unique offerings.  Duplo Village had a splash area where little ones could squirt water guns or run in sprinklers or play musical fountains.  Duplo Playtown was another popular area for my kids.  It was a town of little houses and buildings where they could just run around and have playtime.  (They didn't want to leave this area either.)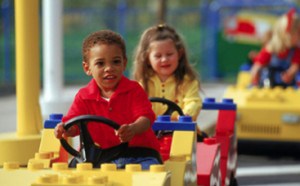 In FunTown, my son got to drive a car and get his very own little LEGOLAND Driver's license.  The ride was nicely broken out into a course for ages 3-5 and 6-13, so the little ones weren't getting pummeled by big kids.  LEGOLAND is sponsored by Volvo, so all of the vehicles were branded Volvo.  (On this note, Volvo vehicles get premium parking in the lot at entry).   There is even a life-sized Volvo XC90 on display, built on an actual chassis, made entirely of Lego!
We toured the Lego factory, and ended up in the store (of course).  However, in that store was a table there for kids to build their own little 'Megablock Men'.  Mix & match bottoms, tops, heads, hair/hats and accessories.  My kids were in heaven.  Every combination you could imagine.  And there was a promotion to buy a set of three and get the second set free, so we came home with 6 spanking-new Lego people. (Try keeping track of those in a hotel room).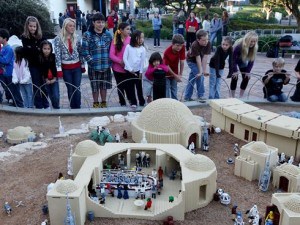 There were so many other areas to see.  Miniland USA had several little villages, mock-ups of cities (New York, New Orleans, Vegas) – everything made of Lego!  New this month was the Star Wars exhibit.  All episodes represented with miniature Lego displays, quite intricate, from battle ships to life-sized characters.
We saw as much as we could and called it a day and returned for naps.  Unfortunately, returning the stroller meant heading back to 'The Beginning' and then walking back to the back-door to return to our hotel.
The next day, we found out that the hotel had a shuttle that would take us to and from the front entrance, so we didn't have to walk to the stroller rental.  So after breakfast, we checked out and did that.  It was a different experience this way.  Photographers waited for visitors at the entrance to snap pictures for later viewing (and purchase).  The main entrance was also flashier than the subtle back entrance.  You experience more of the 'feel' of what the park had to offer.
More tomorrow on Day 2.