This past month, we had the luxury of joining my husband on a business trip to San Diego, California.  As we were taking our two young children with us (ages 2.5 & 3.5), I thought I should look in to activities we could do while we were there.
After some internet research, I discovered LEGOLAND California.
On our first day at the park we explored DUPLO Village, Playtown, Funtown and the LEGO factory.
Day 2 took us back to some favorite areas, and some new ones.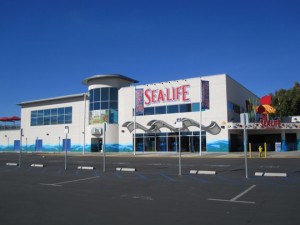 When I originally decided on LEGOLAND back in the planning stages, we had toyed with the idea of SeaWorld.  Being that our kids were so young, we felt they wouldn't get much value out of such a big experience, and SEA LIFE would give them a taste of fish tanks and sharks, etc.  My expectations weren't huge going in to SEA LIFE.  But I thought the kids would enjoy it.
Well, I was pleasantly surprised.  After a short introduction video, we headed in.  The kids saw some small tanks and some large ones.  There were Lego divers and Lego submarines in the tanks, with sharks and stingrays swimming all around.  Then the path took us outside, and I thought we were done.  But outside was a little interactive area where the kids could reach in and touch urchins, starfish, etc.  After a whole lot of "no, I don't want to", we continued on and found that we weren't done at all.  The aquarium continued, tank after tank, with Jelly Fish (my son's favorite) and other various sea creatures at every turn.  The best part was the spots the kids could crawl under and come up into a bubble that put them in the middle of the actual tank.  Sharks swam around their heads as they had a fish's eye view of the sea.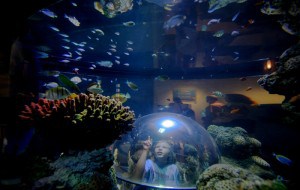 The aquarium actually had a second floor, with more fish tanks, a tank of stingrays, and a viewing window where you could see down into the tanks you viewed below. There was one more interactive area for the kids to touch creatures and then the exit into a café, where you could rest, snack, or exit into the giftshop.
The kids loved the aquarium.  I was impressed at how much it had to offer.  We visited again the next time, and saw things we had missed the first time.  There was even a small theatre that showed a Lego people movie where divers discover the Lost City of Atlantis (which, by the way, is a Lego display in one of the tanks).
After a great day the time had come for the kids to have their naps.  So we headed back to our hotel for the night with plans to return for a third time to visit the Water Park.  More on that tomorrow!