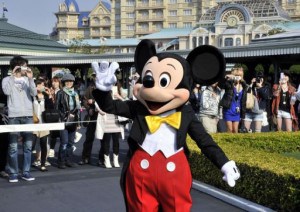 There is some good news in Japan today. Five weeks after the devastating quake and tsunami  hit the country Tokyo Disneyland re-opened its doors again, bringing some welcome relief to thousands of disaster-weary families.
Mickey Mouse was on hand to greeted and hugged many of the 10,000 visitors who waited, some of them all night, outside the Magical theme park.
'I'm delighted that the park is open again,' said Ms Hiroko Ichimura, 35, visiting with her husband and daughter. 'We made reservations six months ago to celebrate our daughter's birthday here but we had almost given up on the plan.'

'We have been waiting impatiently for the park to reopen,' said another Disney fan and parent Kazuhiro Sugiyama, 34. 'My little daughter is overjoyed and just keeps saying: 'Mickey, Mickey!"
A day at the park was a much needed getaway for Japanese families who have been faced with a long list of unfortunate events lately.  To celebrate its reopening the park put on a colourful musical parade of floats featuring Disney characters at the facility located on reclaimed land on the outskirts of Tokyo at Urayasu in Chiba prefecture.
'I was touched and encouraged to see the happy smiles of our guests,' said Mr Kyoichiro Uenishi, president of Oriental Land Co, which operates the Tokyo Disney resort under a licence from the Walt Disney group. He said while some people thought it was too early to go back to normal, 'we were also prompted by many to reopen early, to create an environment to cheer people up'.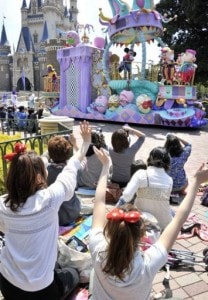 The March 11th earthquake stranded almost 70,000 people at the park. Shortly after that it was reported Tokyo Disneyland sustained only minor structural damage and there were no injuries thankfully.
While it was business as usual Disney did take steps to conserve wherever possible. Some lights were switched off amid a nationwide electricity saving campaign prompted by damage to atomic plants and the power grid.
Some fountains and waterfalls were also not running, the air-conditioning systems turned down, and the hours have been shortened by four hours to only accommodate guests between 8:00 am to 6:00 pm.
The only major attraction at the park to be closed for now was "Big Thunder Mountain," under repair because of quake damage to its rock surface.