Prepare to scream your way through the most chilling Halloween event of the year! Universal Orlando Resort has just revealed the heart-stopping lineup for Halloween Horror Nights 2023. Get ready for five bone-chilling haunted houses and five terrifying scare zones that will leave you trembling with fear.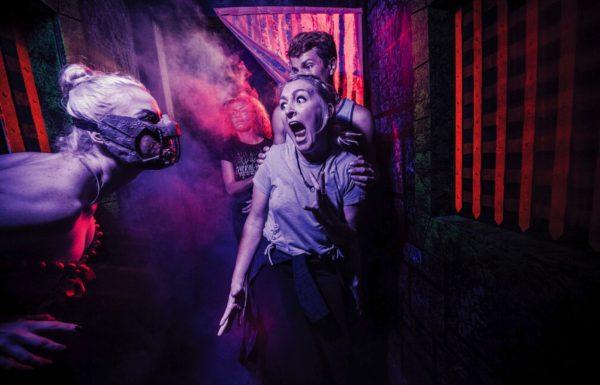 In its 32nd year, Halloween Horror Nights promises an unprecedented 48 nights of pure terror. Step into the madness of the twisted circus led by the evil ringmaster in "Dr. Oddfellow: Twisted Origins." Experience a horrifying battle between Fire and Ice in "Dueling Dragons: Choose Thy Fate." Face bloodthirsty monsters in the deep mountains of "YETI: Campground Kills." Witness the dark consequences of "The Darkest Deal" as souls are sold for fame. And beware the colonial cult seeking sacrifice in "Bloodmoon: Dark Offerings."
As night falls, the streets of Universal Studios Florida become a haunting playground. Dr. Oddfellow himself emerges from Halloween Horror Nights past, unleashing hordes of scare actors in five new scare zones. Encounter the legend in "Dr. Oddfellow's Collection of Horror." Experience the twisted transformation of the zodiac signs in "Dark Zodiac." Explore the nightmarish creations of "Jungle of Doom: Expedition Horror." Party with bloodthirsty vampires in "Vamp '69: Summer of Blood." And brace yourself for the escaped monsters in "Shipyard 32: Horrors Unhinged."
But the horror doesn't end there. Enjoy an all-new live show, "Nightmare Fuel Revenge Dream," where dreams turn into nightmares. Immerse yourself in the terrifying world of the original horror comic book in the mysterious Tribute Store. Visit the Dead Coconut Club for a themed drinking experience. Indulge in a monstrous menu of food and beverages, including fan favorites like Pizza Fries and new delights like Bloody Campground Poutine. And don't miss Peacock's Halloween Horror Bar for themed libations and photo opportunities.
Universal Orlando's hotel guests also get exclusive access to the fear. Enjoy Early Park Admission to the theme parks during the day, priority entrance to Halloween Horror Nights at night, and complimentary transportation to the parks and Universal CityWalk.
Halloween Horror Nights runs select nights at Universal Orlando Resort from Friday, September 1 through Saturday, November 4, and at Universal Studios Hollywood from Thursday, September 7 through Tuesday, October 31. For more information and to purchase tickets, visit www.HalloweenHorrorNights.com. Due to popular demand, event nights are expected to sell out and tickets should be purchased in advance.