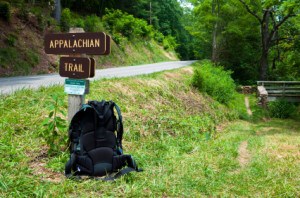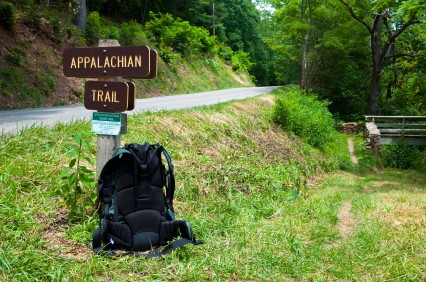 Wandering through a place like Harpers Ferry, West Virginia, you expect to be surrounded by travellers.  It resonates with history and natural beauty so, understandably, it draws a crowd.
Most are typical tourists, equipped with cameras, strollers and sturdy, museum touring sandals.  But, thrown in the mix, is a different sort of wanderer; a little more dishevelled than the rest, toting backpacks and striding along with determination and a pair of those ski poles people use when they take their walking really seriously.
This group is just passing through, as they hike the Appalachian Trail. Harpers Ferry is one of many unique points along their path.
The Appalachian Trail isn't an ordinary hike; it's a "super trail"; winding its way over 2,180 miles of Appalachian mountain range; from Main in the north, to Georgia in the south.
Each year, thousands attempt a thru-hike. If they accomplish it, they enter the ranks of the 2000-milers; people who have hiked the entire length of the A T in one shot.  It is a journey that can take as long as six months.  Only 25 percent of those who set out, in a given year, will complete the entire thru-hike.  It is quite an achievement.
The majority of people are section-hikers.  They may eventually hike the entire length of the trail, but will take it in doses.  A section-hike takes place over a series of trips, often over a period of years.  Hikers accomplish the length in manageable sections.  This means they don't have to take a sabbatical from their job and they have the added advantage of timing hikes, in specific areas, to correspond with the best weather, or some other seasonal event.
Hiking the Appalachian Trail is a completely different sort of getaway for many of us.  All too often, we speed through life and race through our travels.  We come back home more frazzled than we were when we left, without really seeing or experiencing much at all.
Hiking is an inherently slow, meditative activity.  Tripping down the AT, you go at your own pace and take everything in – every sight, every sound, every tree, and every sunset from Georgia all the way to Maine.
Hike it "thru" or hike a section, the Appalachian Trail is an unforgettable journey and a feather in the cap of any hiker who manages to complete it. – Jen R, Staff Writer