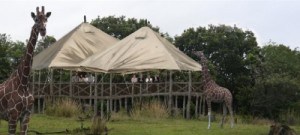 Your next trip to Disney's Animal Kingdom in Orlando could easily seem like a trip to Africa as the creators of the park are all set to launch a new tour called Wild Africa Trek.
The real attraction of this new tour for visitors will not just be the theme that has been thought to revolve around Africa, but the real life experience of going over the river and through the woods to previously restricted areas of Animal Kingdom's Pagani Forest and Harambe Wildlife Reserve.
Visitors will also be able to see animals like hippos and crocodiles as close as they can get, by hanging on to a cliff attached with a lifeline. Because of the elasticity of the cord, the trekkers will be able to stretch towards the animals without leaving the ground.
The tour also offers passing a rickety rope bridges positioned above the Safri River, a croc-filled ravine, and dirt trails, through the real and living forests.
The initial tour price has been set as $ 129 per person with tours happening at regular intervals. A group has been limited to 12 people aged 8 years and above. It would be a 3 hour long adventure.
The starting point is an outfitters shack in the Harambe village, where visitors will be strapped into a harness vest with clamps. They will also be provided with earphones and a transmitter to be in touch with their two tour guides.
The unique thing about the adventure is that trekkers will be able to enter the restricted areas of the park unlike other visitors. They will also get to see the animals more closely than the guests taking the Kilimanjaro safari.
The bush trail eventually will lead to the savanna where trekkers will board a specially designed open-air truck to view giraffes, gazelles, elephants and wildebeest. The trekkers might also take a break at a fancy open-air safari camp platform equipped with tables and chairs, watching animals as they munch on food.
The new Disney tour has surely been created to give visitors as real a wild African experience as possible. – Atula, Staff Writer