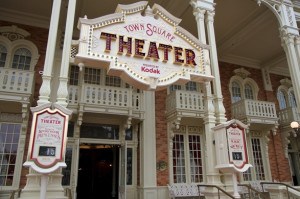 Families planning a trip to Magic Kingdom, Walt Disney World, Florida will be happy to know that Mickey Mouse and the Disney Princesses have a new home at the Town Square Theater.
The Town Square Theater, which replaces the Judges Tent, officially opened April 1st as a new space for the Disney Storybook Princesses and Mickey Mouse meet and greet.
The new theater is equipped with FASTPASS, a Disney feature that allows visitors to save a place for themselves in line rather than wait it out in person.  FASTPASS frees guests to enjoy more of the park in a single day and waste less time standing in lines.
Disney pulled out all the stops when they designed the decor for the Town Square Theater.  When you enter, Backstage Magic with Mickey Mouse is to your right and the princesses Aurora, Belle and Cinderella are to your left.  The indoor queuing area is spacious and beautifully appointed.  Don't be shocked when the wall posters jump to life, they are actually animated.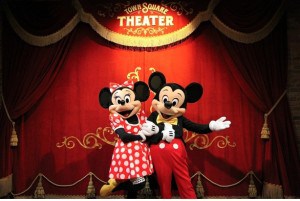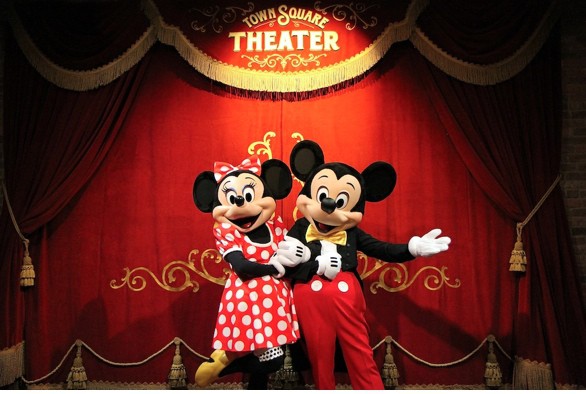 Mickey's dressing room is a masterpiece, with every detail imaginable.  It really feels as though you're getting the inside scoop, backstage at Mickey's magic show.  Photopass photos taken with this beautiful new backdrop will make treasured souvenirs for years to come.
In addition to being home to the world's most sought after mouse and three princesses, you'll find Tony's Restaurant, in the lobby and Curtain Call Collectibles at the exit to the meet and greet.  So you can grab some lunch, have your picture taken with Mickey Mouse, rub shoulders with Princess Aurora and buy your Mini Mouse ears, all in one fell swoop.
Convenience, a fantastic atmosphere, and a celebrity mouse; the Magic Kingdom has ticked all the boxes with the Town Square Theater. – Jen R, Staff Writer
PHOTOS via SOURCE