It was a scene of chaos and terror last night when the Costa Concordia ran aground and turned on it's side off the coast of Tuscany, sending water pouring through a 160-foot gash in the hull.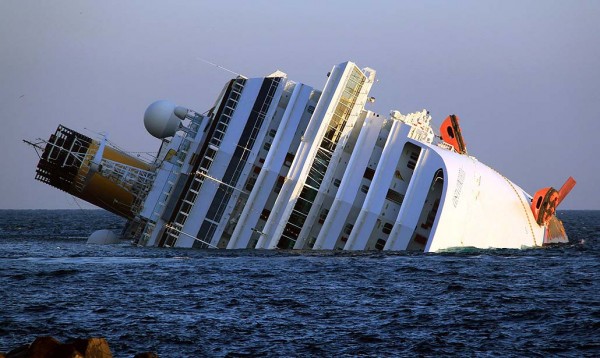 Just 3 hours after leaving  Civitavecchia, en route to its first port of call, Savona, the port captain's office in the Tuscan port of Livorno, recieved word that the ship had "hit an obstacle, ripping a gash 160 feet across" in the side of the ship, and started taking on water.  The ship's captain then tried to steer the ship toward shallow waters, near Giglio's small port, to make evacuation by lifeboat easier. The ship, however, started to list badly, which made lifeboat evacuations difficult.
While many of the ship's passengers reached land by lifeboats, some complained the crew failed to give instructions on how to evacuate and once the emergency became clear, delayed lowering the lifeboats until the ship was listing too heavily for many of them to be released.
"It was so unorganized, our evacuation drill was scheduled for 5 p.m.," said Melissa Goduti, 28, of Wallingford, Connecticut, who had set out on the cruise of the Mediterranean hours earlier. "We had joked 'What if something had happened today?"'

"Have you seen 'Titanic?' That's exactly what it was," said Valerie Ananias, 31, a schoolteacher from Los Angeles who was traveling with her sister and parents on the first of two cruises around the Mediterranean.

"We were crawling up a hallway, in the dark, with only the light from the life vest strobe flashing," her mother, Georgia Ananias, 61 said. "We could hear plates and dishes crashing, people slamming against walls."
Initially the crew reportedly told passengers that the ship was having technical problems, but the experienced cruisers grabbed their lifejackets and reported to their assigned muster stations ~ the emergency meeting point that each passenger is given if a problem arises.
At the life boat station, crew members directed passengers to go up a deck, but Alan Willits said he refused.
"I said 'no this isn't right.' And I came out and I argued 'When you get this boat stabilized, I'll go up to the fifth floor then," he said. Eventually, his lifeboat was lowered down.
Five helicopters, from the coast guard, navy and air force, were taking turns airlifting survivors still aboard and ferrying them to safely. A coast guard member was airlifted aboard the vessel to help people get aboard a small basket so they could be hoisted up to the helicopter, said Capt. Cosimo Nicastro, another Coast Guard official.
Once on land the passengers out numbered the town's population of just 1,500.  Mayor Sergio Ortelli issued an appeal for islanders  "anyone with a roof"  to open their homes to shelter the evacuees.
Now they will attempt to find their way home.
Our thoughts are with these families and our prayers are with those who have not yet been accounted for.
---
SOURCE