Located adjacent to Epcot at Walt Disney World, Orlando Port Orleans Riverside transforms guests to the South with its beautiful plantation style building and charming walkways and bridges.  We recently stayed at the resort for 4 nights – 2 nights in the Royal Room and 2 nights in the standard room.  Here is that tour!
Our room was on the main floor of the Magnolia building.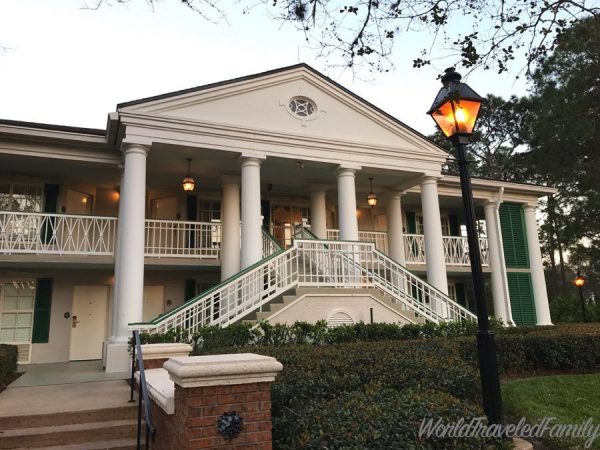 Staying in one the Royal Rooms for the first half of the trip was good because it gave us a bit of contrast between the room categories.  The Royal room was definitely over the top with the fireworks headboards and princess additions throughout.  The standard room had a cleaner, more traditional feel which my boys liked.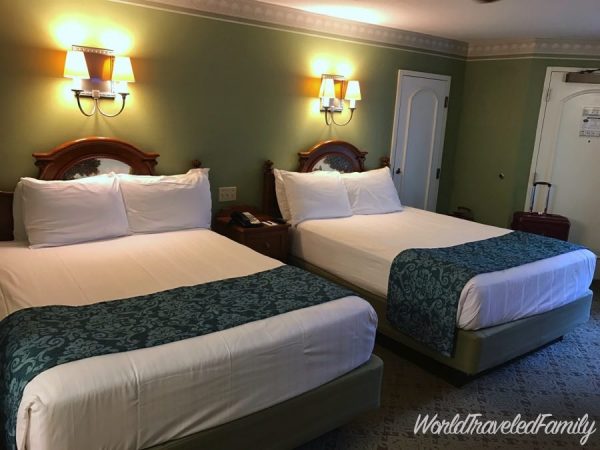 Across from the entrance is a small sitting table with two seats for quick meals.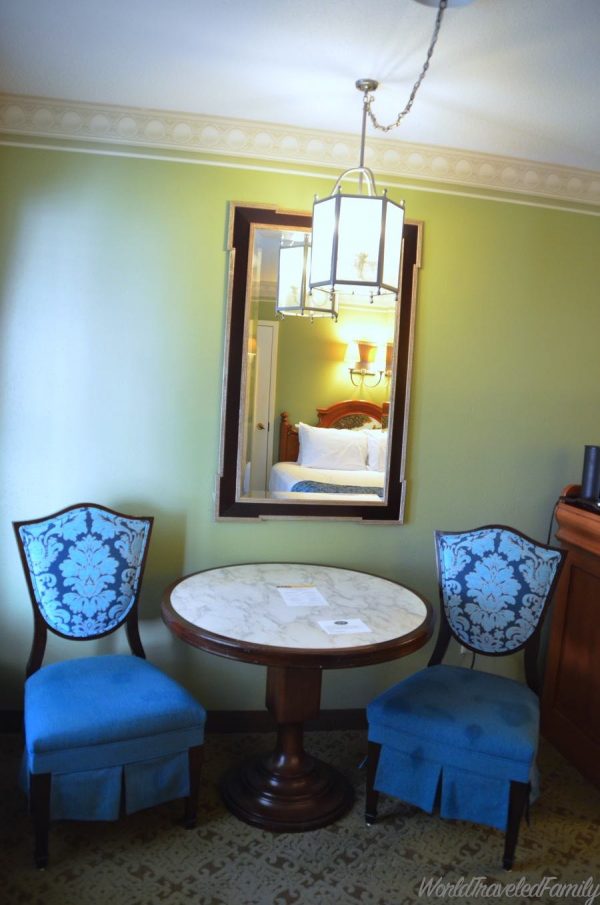 The window in the front of the room has a box in front of it that houses the air conditioning unit.  To dress it up a bit Disney has added a quartz topper that worked perfectly as a place to dock my luggage.  Because we were on the ground floor we could hear families walking by early in the morning but it wasn't too distracting.
The room itself had 2 queen beds with scenes from around the resort painted on the headboards.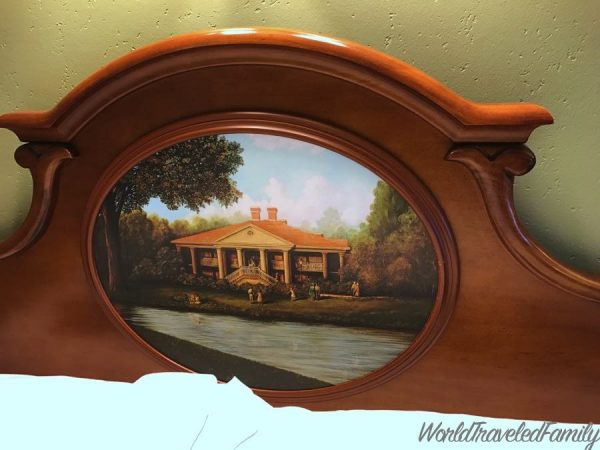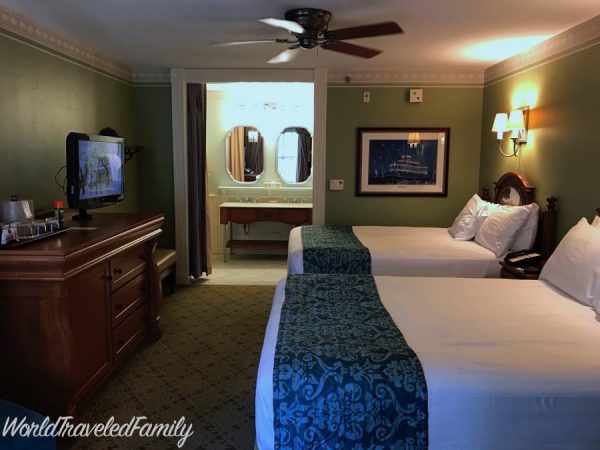 The hutch in the middle of the room holds the flat screen TV, a single serve coffee maker, ice bucket, fridge, and 3 drawers to store your clothes.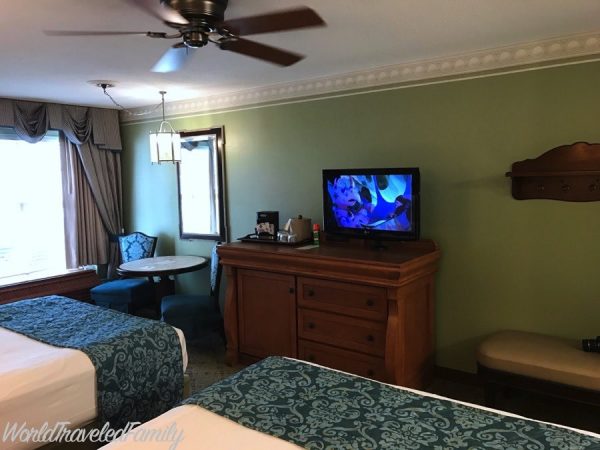 Beside that is a bench to hold a second suitcase and a rack to hang your jackets.
I love the bright and airy bathroom with its double vanity and mirrors.  This was perfect for us because my husband could shave while I did my hair in the morning.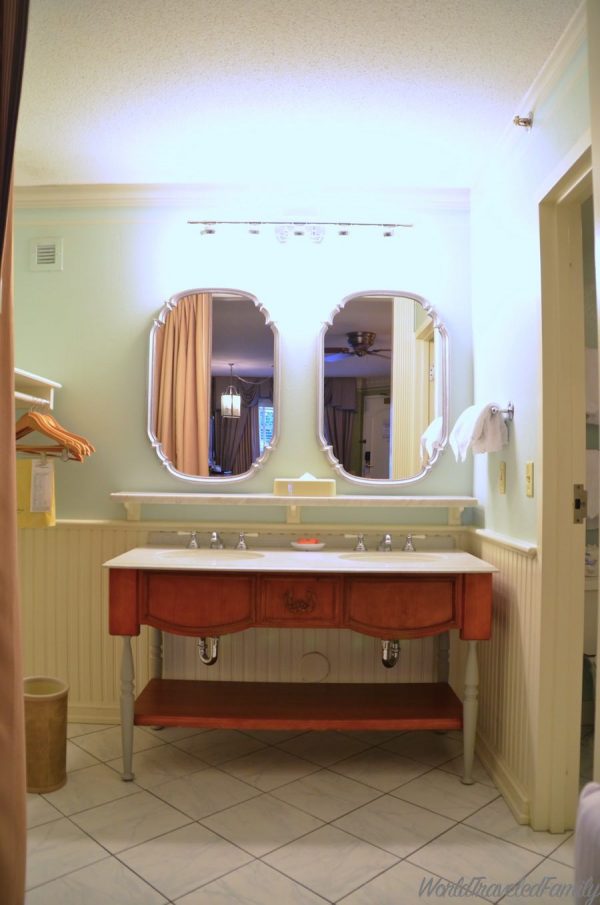 The toilet and bathtub are in the room next to the vanity – which was nice because it means 2 people can get ready while the third showers.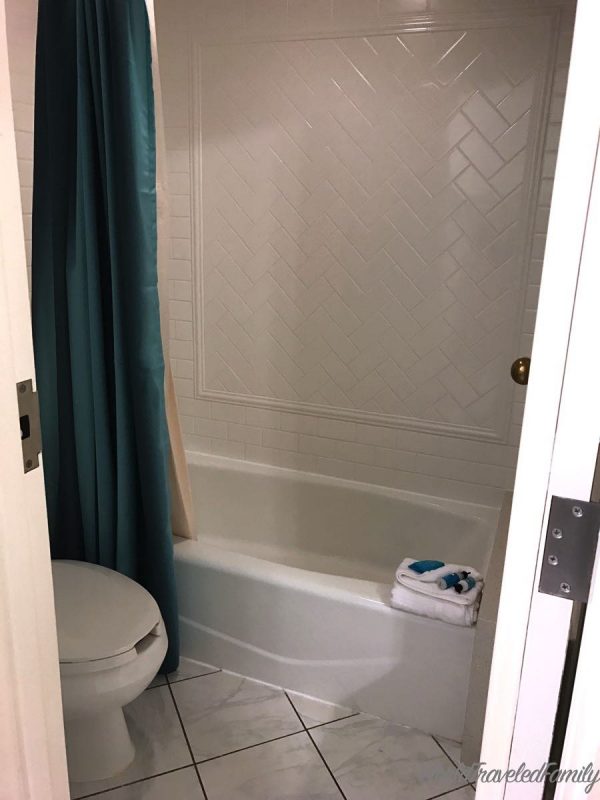 The bathroom also has a curtain that can be drawn if you're getting ready early and don't want to wake up the whole room.
In the corner of the room there is also a safe, hairdryer, iron and ironing board.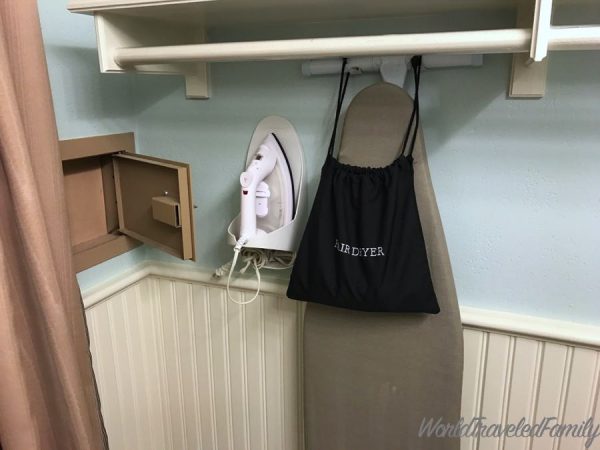 There is also enough space in that corner to allow you to iron in the vanity area so you don't have to drag the whole unit out into the middle of the room.
We loved the layout of Port Orleans Riverside and the charm of the property.  At just under $200/night it fit our budget and was located close to all the parks.