There is no denying that theme parks pull out all the stops during the holidays.
This year, the most wonderful time of the year will include one of the most immersive theme park experiences ever created. Universal Orlando Resort announced today that a new Christmas experience is coming to The Wizarding World of Harry Potter as part of its destination-wide Holiday celebration.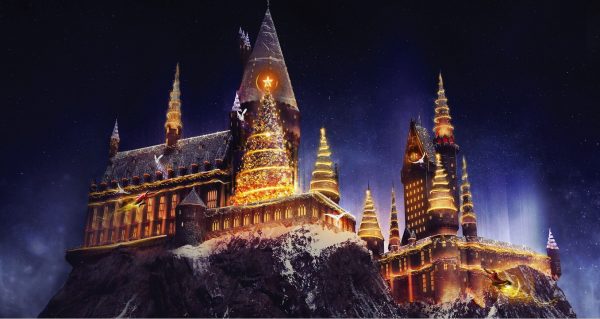 Christmas is a special time in the Harry Potter series, and fans from around the world have long wanted to enjoy that part of J.K. Rowling's compelling story for themselves. This November, the new Christmas experience in The Wizarding World of Harry Potter will give guests a special opportunity to see, feel and even taste what it's like to celebrate the magic of Christmas in J.K. Rowling's Wizarding World.
As night falls, a magical holiday transformation of Hogwarts castle will take place right before guests' eyes.  Incredible state-of-the-art projection mapping and special effects will wrap the iconic castle – bringing holiday spirit and memorable Christmas moments from the Harry Potter series to life like never before.
Festive décor like ornate garlands will line the streets of both Hogsmeade and Diagon Alley.  Each storefront will be decked out with uniquely-themed decorations, and guests will enjoy special holiday themed food, drink and entertainment.
Also look for Universal's Holiday Parade with incredibly-detailed floats and balloons, and beloved characters like the mischievous Minions from Despicable Me, popular DreamWorks characters from Madagascar and Shrek – and even Santa Claus himself.  Universal is partnering with Macy's, the global leader in balloon entertainment, to bring this new parade experience to life.
Universal Orlando's resort-wide Holidays celebration – including Christmas in The Wizarding World of Harry Potter and Universal's Holiday Parade featuring Macy's – will run daily from November 18, 2017 to January 6, 2018. Access to the festivities is included in regular admission to Universal Studios and Islands of Adventure.