Knott's Berry Farm has announced they will be renovating existing attractions and expanding their water park for next Summer!
Orange County's largest water park will debut two exciting new water slide towers that will be geared towards families and thrill seekers.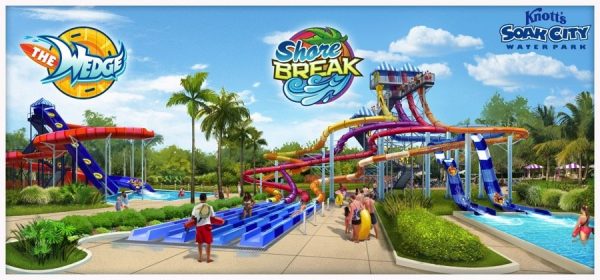 Shore Break will tower over seven stories and offer six different thrilling water slide experiences. Four of the slides on the 60-foot tall tower will start with guests climbing inside an Aqua-Launch chamber where they will wait anxiously for the floor to drop out from underneath their feet, sending them into a high-speed, almost vertical free fall through a series of flat loops and S-curves in a translucent flume. Shore Break will also feature dueling tube slides that will zip riders through an enchanting series of drops and turns. The height requirements for Shore Break slides are 48 inches.
The Wedge slide tower will take the location of the current Pacific Spin and will be an open air family raft ride. Up to six guests at a time will descend down navigating twists and turns and surprise drops. Height requirement for The Wedge is 48 inches or 40 inches when accompanied by a supervising companion.
Look for both of these rides to open in May 2017 when Knott's Soak City Water Park opens for the summer.