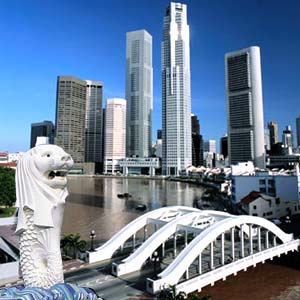 Clean, green and strikingly modern, Singapore is one of the most family-friendly destinations in Asia. Everything from the immaculate, buggy-friendly pavements to the spacious hotels in Singapore makes travelling with kids easy.  Kids can discover the cultural heritage of Straits Chinese, Indians, Malays and British as you wander through colorful neighborhoods.
Here are our top picks for things you should do with your children while visiting Singapore:
Sentosa Island- This previously deserted tropical island is now Singapore's playground and is dedicated to the pursuit of pleasure. Even getting there is fun – no need to sit in a taxi in an endless traffic jam, you can hop aboard a cable car, which also offers fantastic views of the city. Once on Sentosa, kids can go to a butterfly park, zip over the rain forest canopy, meet pink dolphins, go on theme park rides, or swim at the beach. Spend the day, and stay on until evening to see the Song of the Sea or Crane Dance shows.
Jurong Bird Park – This excellent bird park is a "must see," for kids, with a 100 different species of birds from Southeast Asia. You can see the birds up close in 24 different aviaries, and ride through the park on a monorail. Bird shows feature flamingoes, macaws and cockatoos.
Singapore Botanic Gardens – Founded by Sir Stamford Raffles, an explorer and botanist, these historic gardens are much more than collections of plants.  Be sure to visit at the Jacob Ballas Children's Garden, an adventure zone with tree house, suspension bridge and water play area (bring swimsuits or a change of clothing. Older kids will enjoy imaginative displays on topics such as local spices used in everyday foods and how plants are used to make music. Check out the ancient tree struck by lightning, a powerful example of the forces of nature.
Night Safari – Kids and adults alike will love Singapore's Night Safari, which takes visitors on a tram ride through a park containing only nocturnal animals unfettered by cages, roaming in their natural habitats. Travel through rainforest, savannah and jungle and spot a range of exotic creatures, 29% of which are threatened species that live by night.
Science Centre – Singapore's Science Centre is a museum the kids will actually love. With fourteen galleries over 20,000 square feet, the Science Centre is jam-packed with interactive exhibits so that the kids can get really hands-on.
Snow City – An indoor snow centre is something of a novelty in a country that experiences hot, sticky weather 365 days of the year, and it is therefore a great way to escape the heat. The adventurous can give snow tubing, skiing or snowboarding a go, whilst small children and those who prefer not to hurtle down a steep slope can explore an igloo and have a snowball fight in the play area.
There is so much for you to see and do with your kids in Singapore that we're sure you'll quickly fill up your vacation itinerary.