Set to officially open to the public on April 7th, 2016, the new Wizarding World Of Harry Potter attraction received a huge celebrity pre-opening on Tuesday night!
From its snow-capped roofs and cobblestone streets to the historic British sensibilities that characterize the whimsical look and feel of the land, "The Wizarding World of Harry Potter" transports guests of all ages to the very places they read about in the stories or watched on the silver screen.
Universal Studios Hollywood marked the opening of the village with legendary composer John Williams conducting the L.A. Philharmonic synchronized to a spectacularly choreographed three dimensional digital lighting projection on Hogwarts castle. A dynamic fireworks display followed to signal the much-anticipated arrival of this incredibly immersive land.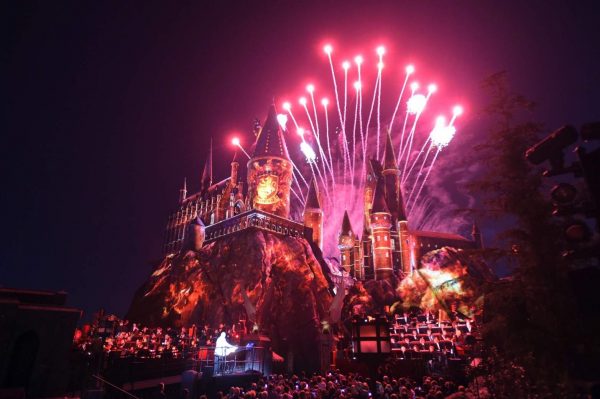 "The Wizarding World of Harry Potter" officially opens to the public on Thursday, April 7.
Joining in the celebration were Harry Potter film talent, including Tom Felton (Draco Malfoy), Evanna Lynch (Luna Lovegood), James and Oliver Phelps (Fred and George Weasley), and Warwick Davis (Professor Flitwick), as well as Stuart Craig (Production Designer, Harry Potter films and "The Wizarding World of Harry Potter").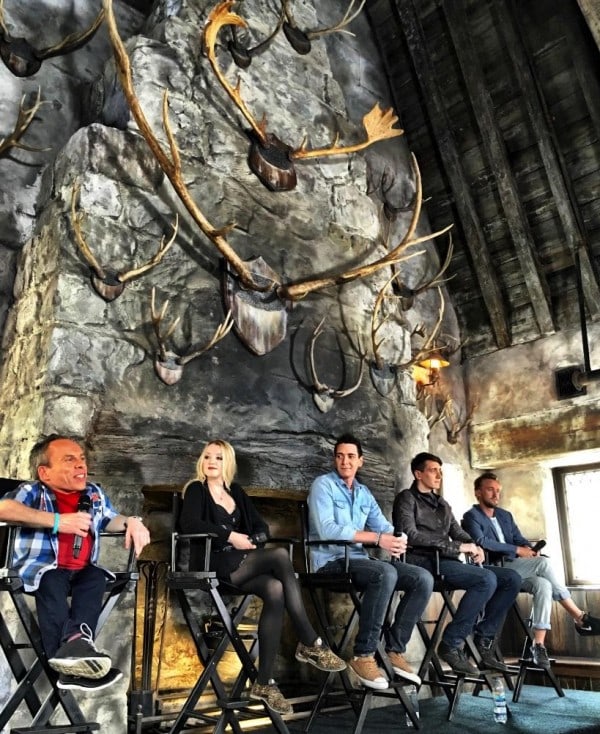 Other celebrities included Mindy Kaling ("The Mindy Project"), Thandie Newton ("Crash"), Vanessa Hudgens ("Grease Live"), Ed O'Neill ("Modern Family"), Jaime Camil ("Jane the Virgin"), Emmy Award-winner Greg Nicotero (Executive Producer, "The Walking Dead"); Emmy Award-winner Chris Hardwick (Comedian/host, "The Talking Dead"), Alanna Masterson ("The Walking Dead"), and Golden Globe-winning actor, Billy Bob Thornton, among others.
"Today is a very exciting and historically significant day for us," said Larry Kurzweil, President, Universal Studios Hollywood. "This incredible event to celebrate the opening of 'The Wizarding World of Harry Potter' marks the pinnacle of years of hard work and the beginning of a new generation of Universal Studios Hollywood. With over 75 percent completely reimagined, Universal Studios Hollywood is an entirely new theme park destination and we look forward to sharing everything that the Entertainment Capital of L.A. has to offer with visitors from around the world."
"In Los Angeles, tourism is surging. We've set records each of the last five years and we're just getting started," said Los Angeles Mayor Eric Garcetti. "'The Wizarding World of Harry Potter' at Universal Studios Hollywood is monumental in expanding our city's global reach. It sends a message to visitors from across the world that L.A. is a place you and your family have to experience. I'm proud to see this game-changing world-class attraction open. Universal Studios Hollywood's epic transformation will create new jobs, stimulate hospitality revenues and make our economy stronger."
Just like at Universal's Orlando park, "The Wizarding World of Harry Potter" has been masterfully recreated with impeccable detail as a real-world interpretation at Universal Studios Hollywood. The land is faithful to the visual landscape of the fiction and films, including Hogwarts castle which serves as its iconic focal point.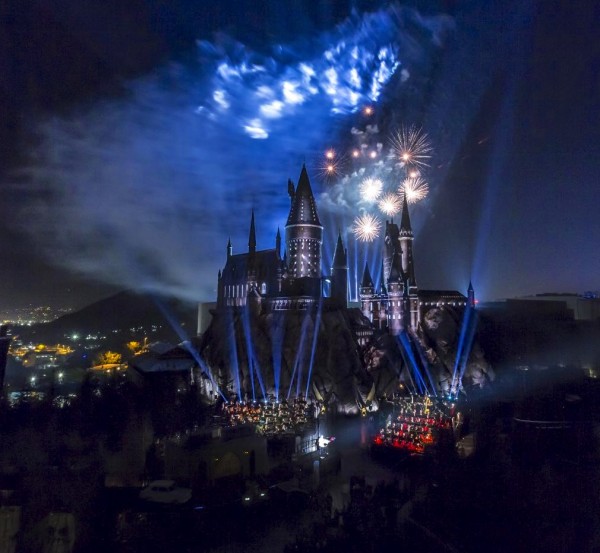 Upon entering the land through the archway, Hogsmeade bustles to life with the same vitality of a quaint local village: merchants hard at work, a train conductor welcoming new arrivals and a pub packed to the gills with hungry patrons, but with the added element of enthusiastic guests intent on experiencing them all, including the land's signature ride, "Harry Potter and the Forbidden Journey," and the family outdoor coaster, "Flight of the Hippogriff™," Universal Studios Hollywood's first outdoor roller coaster.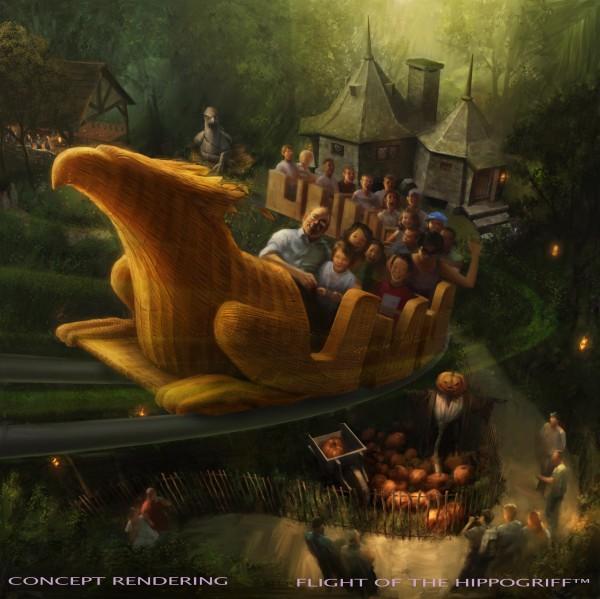 "Harry Potter and the Forbidden Journey" makes its U.S. debut at Universal Studios Hollywood in hyper-realistic 3D-HD designed to further immerse guests in an already engaging storyline. The multidimensional thrill ride features a groundbreaking robotics ride system, fused with elaborate filmed action sequences and immersive visceral effects. In this updated adaptation of the ride, guests sport Quidditch-inspired 3D goggles as they venture through journeys experienced by Harry and his friends, spiraling and pivoting 360-degrees along an elevated ride track on a whirlwind adventure of a lifetime.
In addition, guests will have the opportunity to enjoy authentic food and beverage at multiple locations, including Three Broomsticks™, and Hog's Head pub, as well as the Magic Neep and Butterbeer™ carts.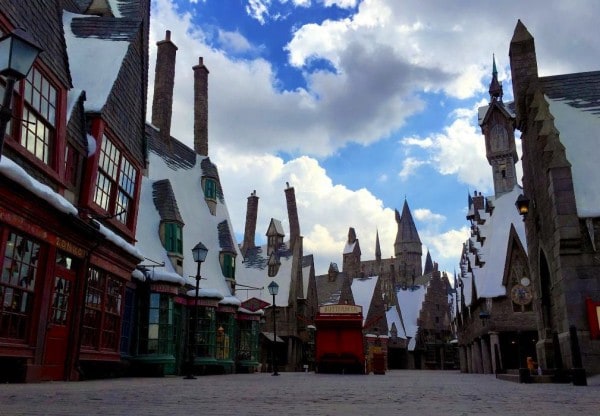 There will also be 8 retails locations including Honeydukes™, Ollivanders™, Owl Post™, Zonko's™ Joke Shop, Wiseacre's Wizarding Equipment, Dervish and Banges, Gladrags Wizardwear and Filch's Emporium of Confiscated Goods™.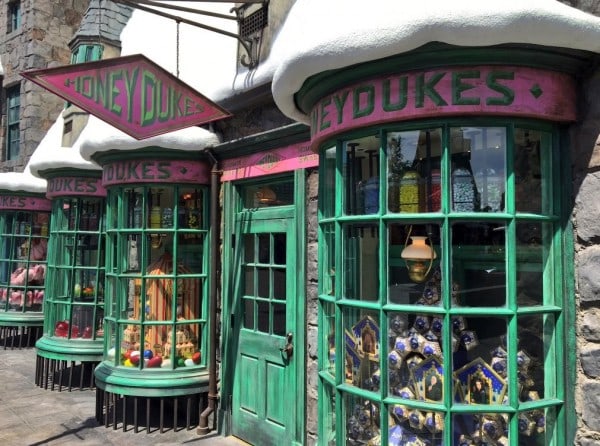 {ALL IMAGES COURTESY OF UNIVERSAL HOLLYWOOD'S TWITTER FEED}