For Cruise Operators, the private island is a haven where they can create exclusive opportunities for their vacationers. Royal Caribbean has Labadee and CocoCay, Disney has Castaway Cay, NCL has Great Stirrup Cay island, Holland America has Half Moon Cay and Princess Cruiselines has Princess Cays. Often located in the Bahamas, these exclusive destinations are only open to cruise passengers while the ship is in port, and they often have playgrounds, water parks, bars, shopping areas and nature trails that cruisers can use during their time there.
Last week MSC Cruises confirmed it is joining the club now that it has leased Ocean Cay, an island about 20 miles south of Bimini, to be used as a private cruise ship destination for its vacationers!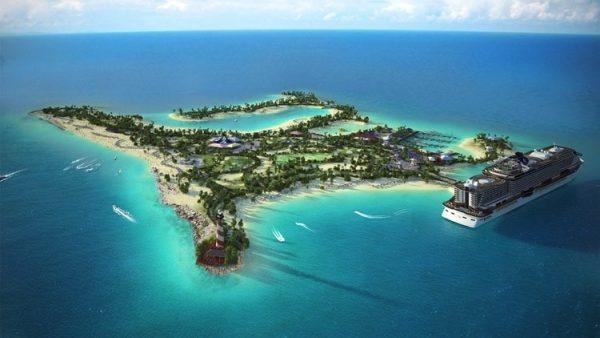 At 95-acres in size and with 11,400 feet of pristine beach front spread across six distinct beaches, Ocean Cay Marine Reserve will be – by a large margin – the biggest island development by any cruise company in the Caribbean. In addition, as the only marine reserve island experience, it will offer a multitude of key distinguishing features.
For example, a purpose-built berth and pier right on the seafront means that MSC Cruises guests will be able to step off the ship straight onto the island. Since a unique part of their visit will be the island's night life in particular live music and entertainment at the 2,000-seat amphitheatre and many restaurants and bars, guests moving at leisure between ship and island will be especially convenient. In addition, the ship and all on board services – including the casino – will stay open while berthed at Ocean Cay MSC Marine Reserve.
For MSC Yacht Club guests, an exclusive spa and wellness sanctuary with private bungalows and massage huts has been designated to the northwest corner of the island.
Also, getting around the island will be a breeze, thanks to a network of walking and running paths, bicycle rentals and other stress-free transport options.
Other highlights such as must-have water sports and beach games include:
• A family beach with kids' restaurant, play areas and other useful facilities
• A charming inland lagoon for absolute tranquillity
• A thrilling zip wire crossing the island
• A pavilion for weddings and celebrations
Construction on the island will start in March 2016 and Ocean Cay MSC Marine Reserve will open to guests in December 2017.
The cay will be used by all MSC Cruises ships serving the Caribbean region, notably MSC Divina and the under-construction ship MSC Seaside (launching December 2017, pictured below), both sailing from Miami, plus MSC Opera and MSC Armonia, sailing from Havana, Cuba.