Created by a couple who loves food and travel, Vallarta food tours(VFT) gives travellers visiting Puerto Vallarta a taste of the city. This is the best way to learn more about a destination because visitors get the best recommendations from those who know – and don't have to do the leg work.
I will fully admit that I am incredibly picky and not overly adventurous when it comes to food when I travel. This is the reason why I prefer to cruise as my mode of transportation – as the food is predictable, and more like what I eat at home. For this reason, I was a little apprehensive about this food tour. Our tour guide, Ricardo, set me at ease right away and informed me that all of the stops on our tour were highly vetted by their team. When determining a stop to add to the tour VFT looks for cleanliness, a place that is aesthetically pleasing, and local cred from the community. When you do the tour you will taste each location's house specialty for that time of day.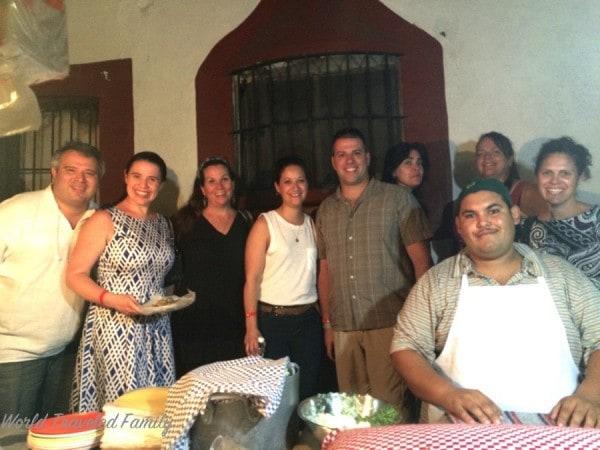 At our first stop, Cevicheria El Guero(291 Madero St.) we tried smoked marlin, ceviche, a Mahi fish taco and the Hibiscus tea. Our sampler was accompanied by some fresh taco chips and pico de gallo. Thumbs up all around. This was definitely a good way to start our night!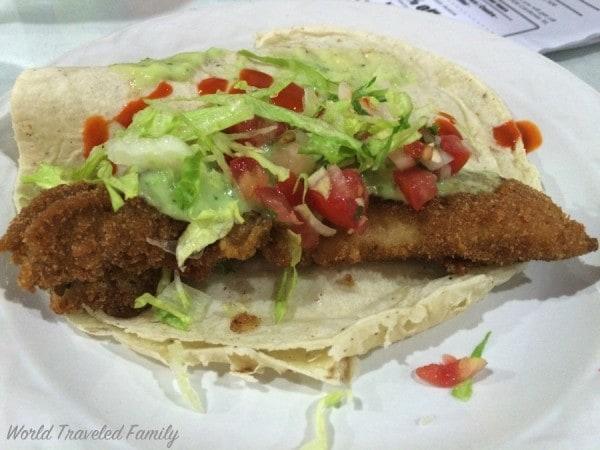 From there we headed out to our outdoor first stand, Tacos Don Juan(400 Cardenas St. and Aguacate St.). Immediately, I had my first reservation. This would be the healthiest option on our tour, and for me, the most adventurous. We would be having the beef head steamed taco. Ricardo tried to assure me that it wasn't the brain – or tongue – but I was undeterred.   Junior, the stand's operator, could see that I was apprehensive and offered me some brisket.  We were back in business.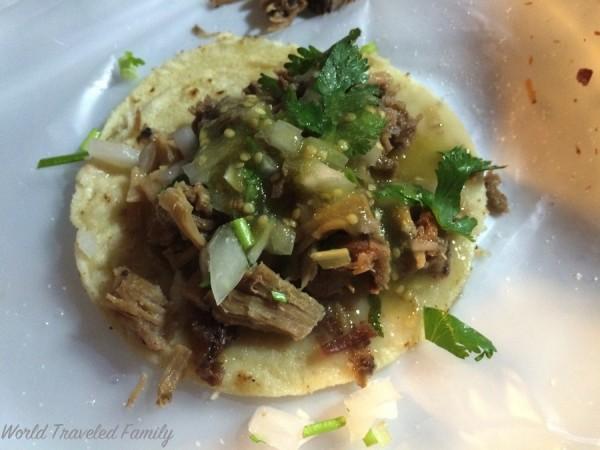 Just a couple blocks away we stopped at Tacos Memo(400 Basilio Badillo St. and Aguacate St.) where they were grilling skirt steak on a grill out back that would be sliced up and served on a steamed tortilla that was crispened on the flat top and topped with gouda, beans, beef, onions, cilantro and your choice of sauces. Called the volcano taco with Adobe beef, this one was really good. Here we also had some Maracuya tea with passion fruit that a woman was offering to the side of the stand.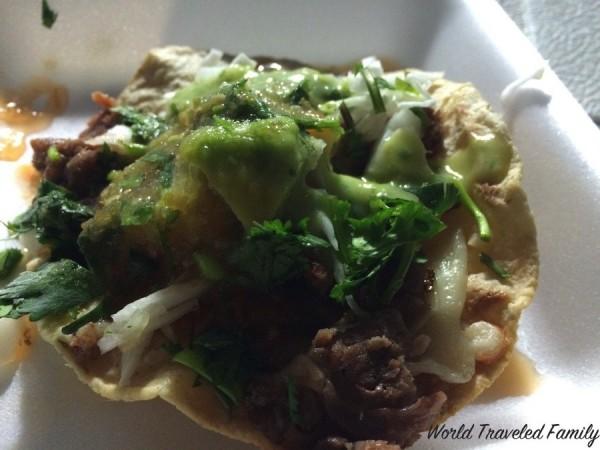 From here we stopped in to Patio De Mi Casa, a rustic stone oven Pizzeria – but not for Pizza, but to try some Mezcal, 'the cooler Uncle of Tequila.' This potent liquor is often consumed straight with an orange that has been sprinkled with paprika.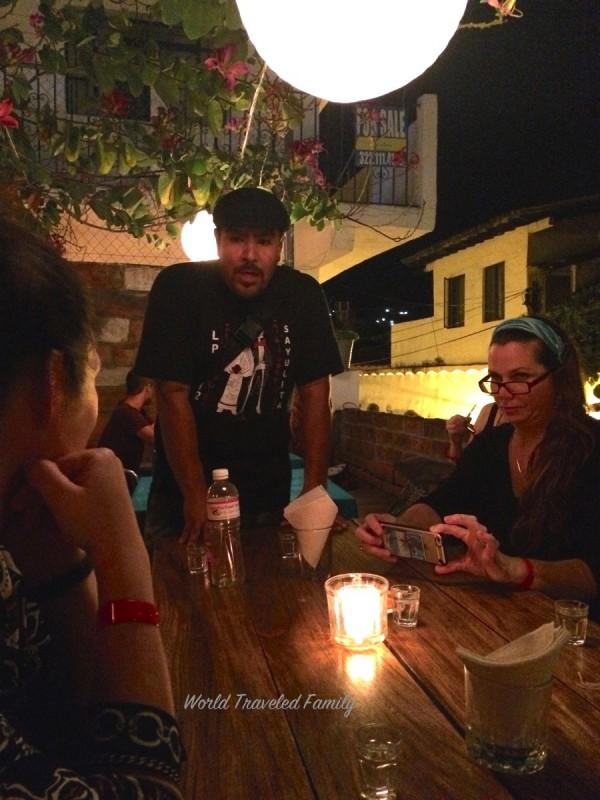 A this point our tour moved to a different part of the city so we grabbed a local bus and jetted across town.
Most of the Taco stands in Puerto Vallarta have been in the same location for decades. These stands, locations, and recipes are passed down through the family – and often the parents are still on site as the kids prepare their specialties.
From here Ricardo look us through the city showing us some of it's off the beaten path locations. We visited the former home Elizabeth Taylor shared with Richard Burton, checked out some beautiful historical buildings and meandered through the streets like locals.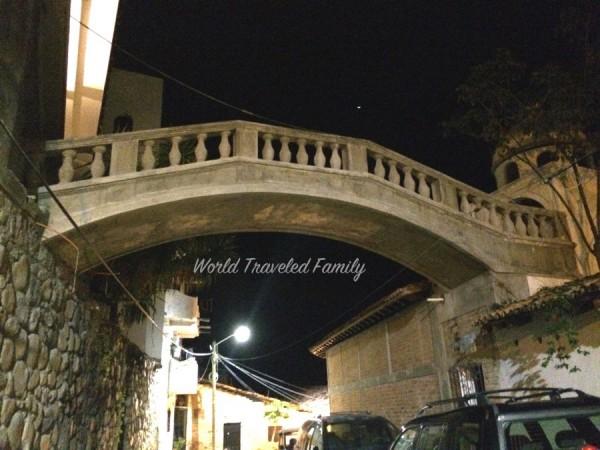 Food aside, this guy knows so much about the history of his city.
After some more sight-seeing we stopped at a stand that was making Churros! A husband and wife operation, Julio's Churros, they set up shop at 6 and serve their churros coated in cinnamon sugar until the batter is gone.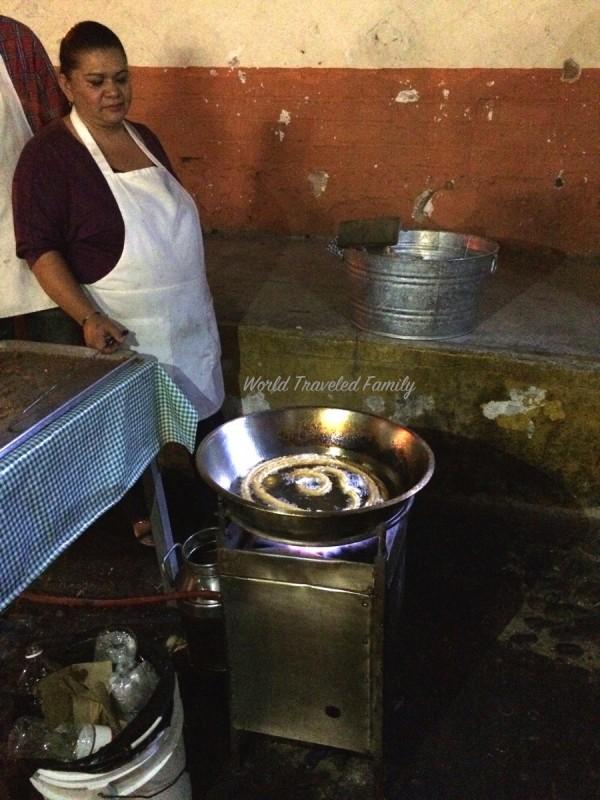 Each stick is .20 and well worth every penny! Like many of the stands the we stopped at the couple's kids were close by playing quietly while their parents worked. Tourists walking the boardwalk can find this stand easily by looking for the LEY grocery store, and the traveling just one block up to the corner of Uruguay and Peru.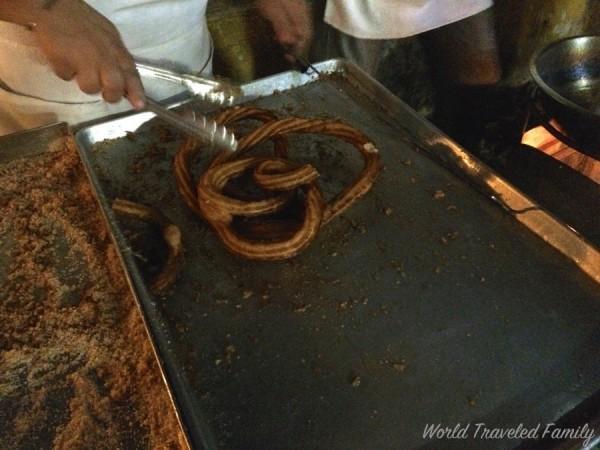 Next, we moved on to  La Tia Mariscos(235 Honduras St.) where the whole family was on hand to ensure every diner left happy. The stand's founder La Tia wasn't behind the grill, but she sitting off to the side watching her son-in-law prepare some of her specialties. Here we had a special soup that was made from shrimp broth, hot sauce, and grilled mahi. What didn't go into the soup was grilled up on the flat top with onions and placed in a tortilla. Diners can add fresh garnishes, and a variety of sauces to their taco as well. This location and menu is so popular that the family now owns 3 stands!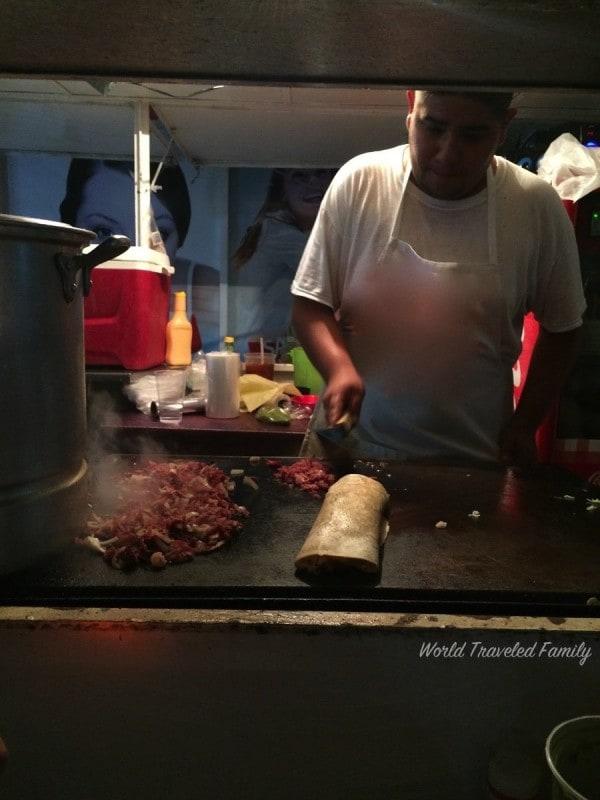 Our last location took us just a block from our hotel. At El Carboncito(137 Honduras St.) we had a pork taco that was served with a warmed grilled pineapple, onions, garnish and your choice of sauce.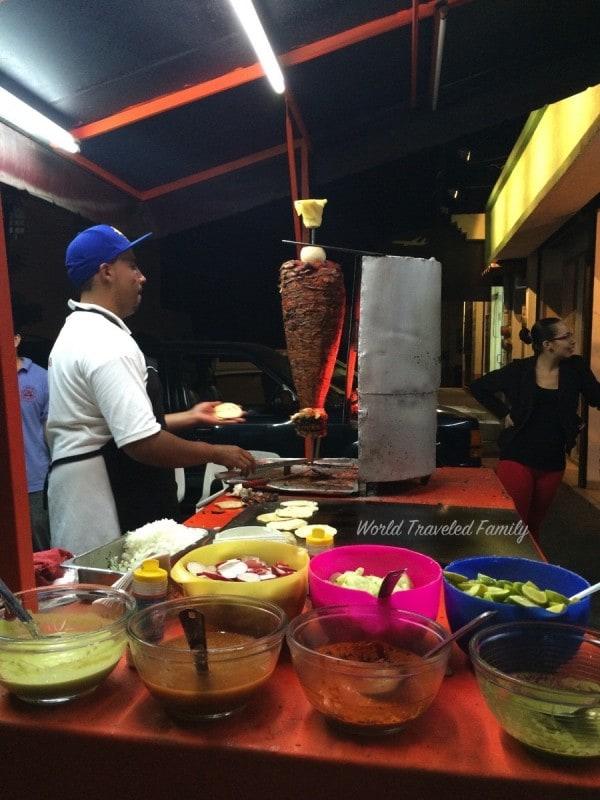 This one was one of my favorites – likely because I love pineapple. Oddly enough, with all the walking and talking that we had done I wasn't as stuffed as I thought I would be. The servings at each stop were just enough to give us a sample of the goodness.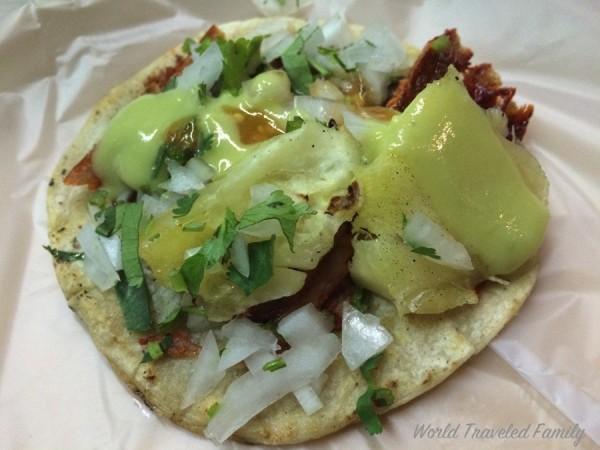 The biggest surprise? NOT one stand served chicken or ground beef! Real Mexican Tacos are not made from either one of these meats.
Because you can't always be sure of the level of cleanliness of a location and whether or not the food has been safely handled or stored, we often stick to larger establishments when we are dining on vacation. Taking the tour allowed me to try some of the local food, while removing the concern that I might get sick.
At the beginning of the tour we were told to look at the stand for a couple of things that would determine if it was safe to eat from. Cleanliness of space; boards and area, presentation of chef and whether or not there are two staff on hand – one to prepare the food and one to handle the money were a few of the indicators that Ricardo told us to look for.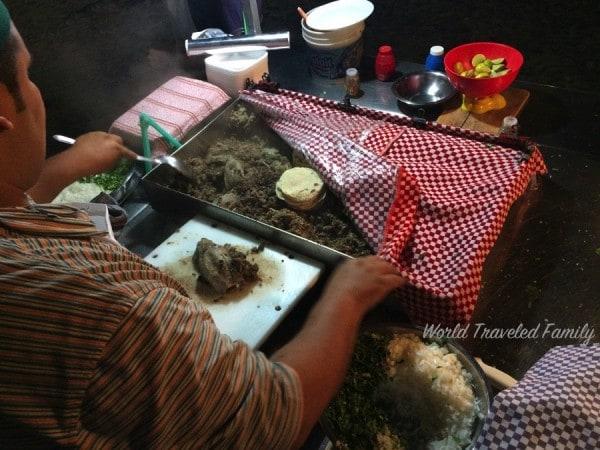 I can't recommend this tour enough. Skip the city tour – take this tour and get the benefit of a full belly when you're done. Plus, you will now have some low-cost dinner options for the rest of your vacation! No Senior Frogs. Support the community that makes the city what it is.
For the 11am tour, which is better suited for families, the guides take you to two stands, and mom and pop restaurants that are off the tourist path, and that have been in their location for more than 20 years. This tour is great because it allows kids to experience the culture and cuisine, while learning more about the city they are visiting.
Please visit Vallarta Food Tours For More Information!