New York City is not off limits to families.  You don't have to shelve your appetite for big city adventure once you have children.
Jay-Z calls it a "concrete jungle where dreams are made."  The bright lights, cacophonous honking, and bustling streets of The Big Apple are simultaneously energizing and intimidating.  The city that never sleeps has something to offer everyone who visits, and that includes children.
Just think of the landmarks!  Around every corner there is something you'll recognize.  A trip to the top of the Empire State building gives a unique perspective of the city.  Have your children look down and count the yellow taxis – impossible!
Even in the city, children need a place to run.  Let them burn off some steam in Central Park.  With long pathways and open spaces it's a wonderful place to play.  The park's beautiful design makes it a bastion of serenity amid the chaos.
If you have the energy, take a walk, jog, or stroller ride across the legendary Brooklyn Bridge, if for no other reason but to say you've done it.  It's a magnificent feat of engineering.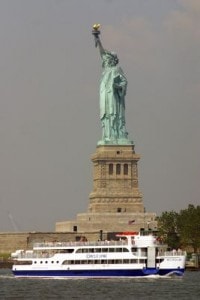 No visit to New York City would be complete without seeing 'lady liberty'.  There are a few ways to see the Statue of Liberty.  You can take a boat tour to Liberty Island.  Note that strollers are not permitted on the Promenade or Observatory Tours.  Children aged 7 to 12 can participate in a Junior Ranger program.  Admission to the statue is free for children under three.
The tour can be done in conjunction with a trip to the Ellis Island Immigration Museum.  If your family's immigration story begins at Ellis Island, it may be a meaningful stop for both you and your children.
But, if you don't have a family connection with Ellis Island and you feel no need to see the 'lady' in the flesh, you may want to do it my way – the cheap way.  The Staten Island Ferry passes right by the Statue of Liberty, every half hour, and it's absolutely free.  You heard me, free.
Cars, trucks and motorcycles are not allowed on the ferry, so it's a matter of walking on, sailing past the statue, staying on (because there's nothing to see on Staten Island – no offense) and sailing past her a second time.
After you've seen the sights, it'll be time to do a little shopping.  Believe it or not, a trip down Fifth Avenue might be the most exciting part of your child's trip to NYC.  Why?  Because, Fifth Avenue is home to the FAO Schawrtz flagship store.  Remember the dance-on piano from the movie BIG?  It's at FAO Schwartz.  This world renowned toy store is sure to be a favourite stop for young and old alike.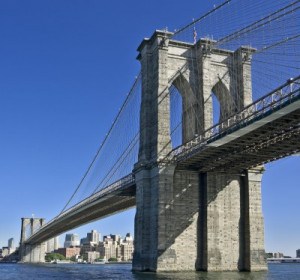 New York City is a foodie's dream-come-true.  Just choose a price point.  The Big Apple boasts delicious street food, famous delis, awesome ethic restaurants and the poshest nosh you'll find anywhere in the world.
Don't feel you need to shy away from nice places because you're with kids.  If you have the means to afford it, and your child's temper seems stable for the time being, give it a try.  On the few occasions my son has been in elegant surroundings, he has behaved surprisingly well.  Dinner at an exotic restaurant can be a wonderful way to educate a child's palate and introduce them to new foods.
I haven't even mentioned Times Square, the United Nations, Broadway or Rockefeller Center.  Even a ride on the subway is an experience.  The list goes on and on.  The more you learn about New York, the more you'll want to see.  You could probably spend a lifetime there…some people do.  It's definitely worth visiting with your kids. – Jen R, Staff Writer
---
[ad]