Last week while in NYC I stayed at the Yotel.  Located at 10th avenue and 41st street, this hotel is a great location for travelers who want to see the city.
This hotel has been on my radar for a bit as I am always looking for a reasonably priced option for quick trips to the city.  It is a little different than other hotels I have stayed at, but their whole process is definitely convenient.
When you arrive there are kiosks that will check you in.  Next a bank of elevators will take you to the 4th floor, where you can catch a second elevator to your cabin's location.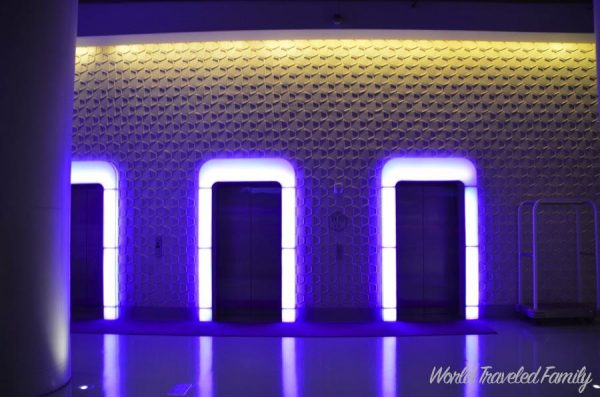 I booked my stay through Hotwire just a few days before my trip.
My 'cabin', however, was much smaller than I expected – measuring just 7 ft by 9-10 ft.  I was a little surprised by this as I could not find this particular cabin listed anywhere on their site.  In fact, the smallest room shown on their site has a queen, which my room did not and the image that was sent to me after booking was of their Premium Queen View…
When I entered there was a bathroom to the right of the door and a shower just beyond it.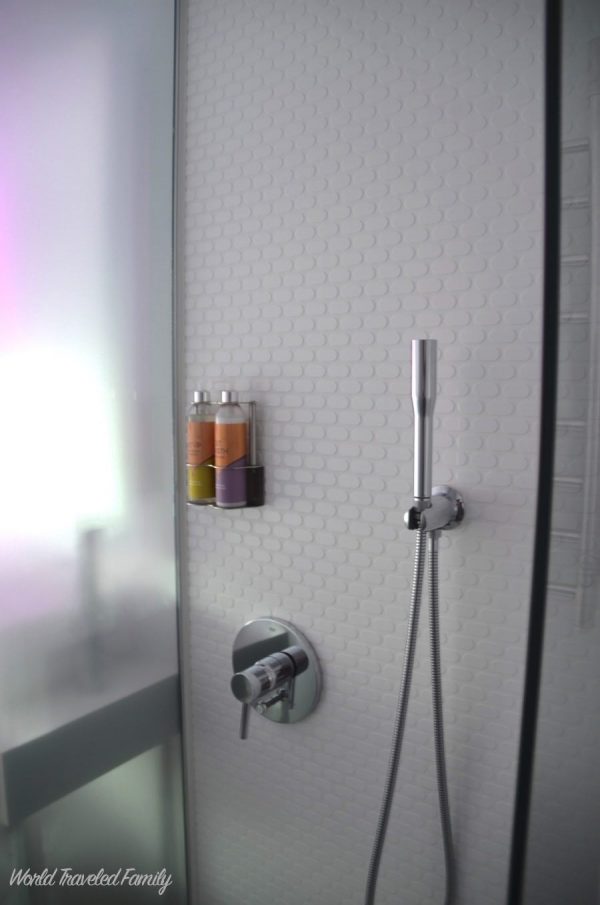 To the left of the entrance is a bank of shelves, a clothes hanger, an iron and ironing board.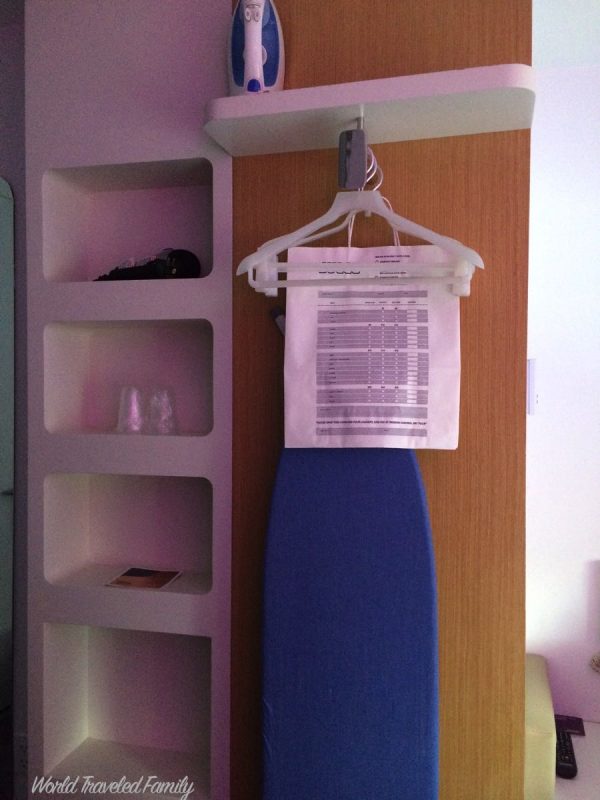 The main area of the room was equipped with a small bed that is just a bit bigger than a twin.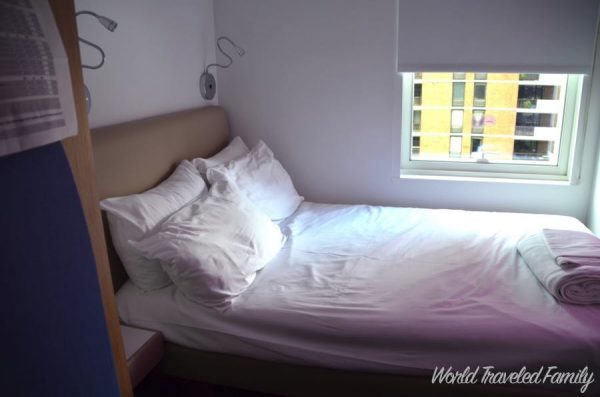 At the foot of the bed was a sink and the room's flat screen TV.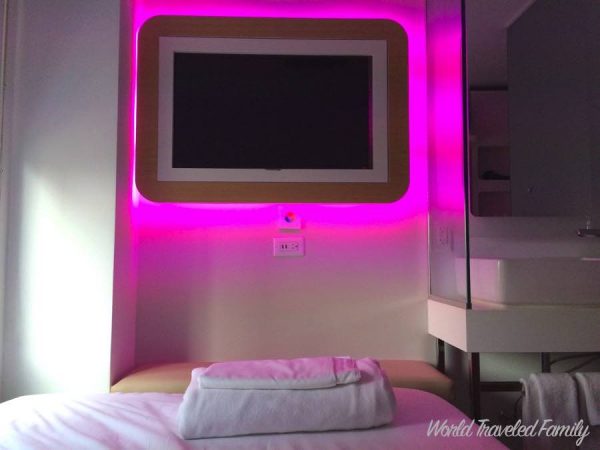 The back lighting on the tv gives the room a very modern look and can be adjusted to a large number of colors.  There is also a USB charger under the TV and a power outlet as well.  In total, there are two power outlets in the room.
The best part about the room was my view.  I've stayed at many hotels in the city and this was probably the best view I've had. Keep in mind I stay around the $250/night in NYC so there are better views out there for a higher price point.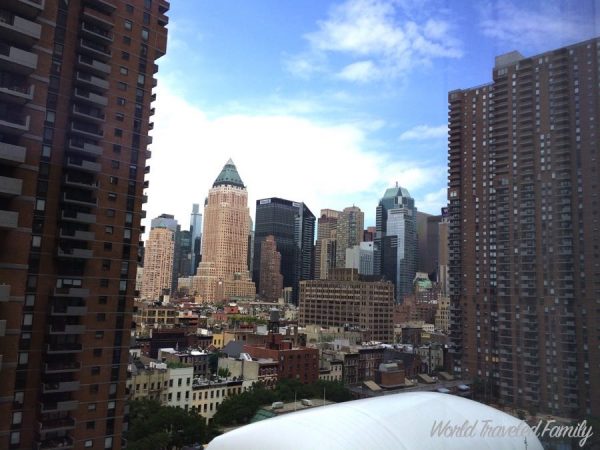 If you forget something  the hotel has a small vending machine by the elevators that sells snacks, power cords and other personal items.
On the 4th floor travelers can grab a drink at the patio bar and relax in some of the loungers.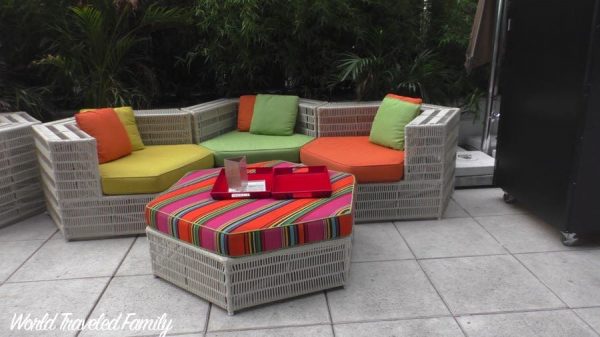 For guests looking to securely store their bags while they explore the city, there is a cool robot in the lobby that keeps them safe in a vault until you return.  This service costs $2 per bag, as does checking your bags with the concierge.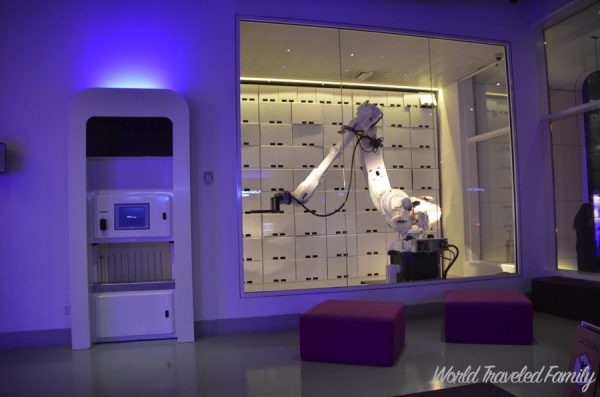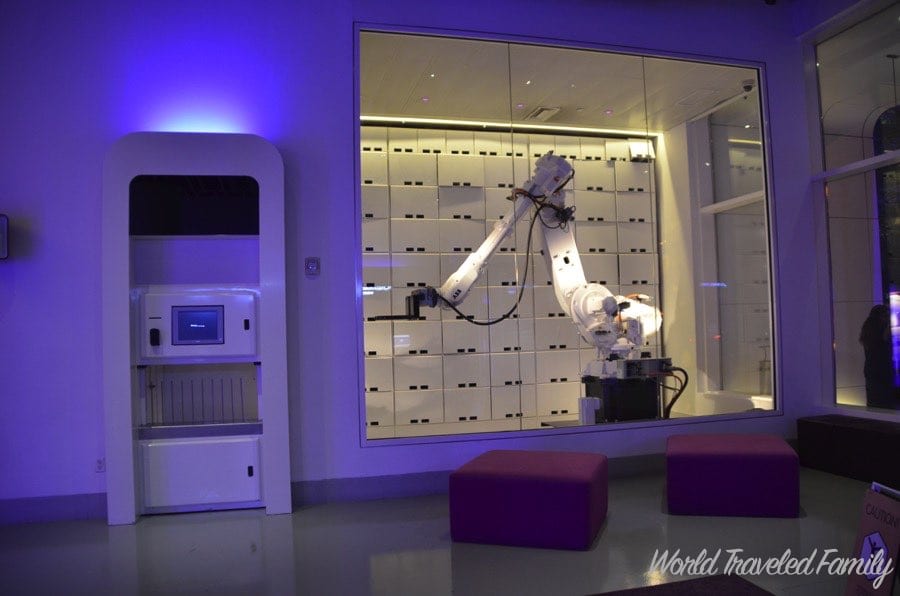 Guests who are driving in from out of town will be happy to know that there is parking in the building.  If you tell them you are staying at the Yotel the rate is $45/night.
Despite the itty bitty room, this hotel is a great destination for travelers who are just looking for a place to rest their head.  The bed fit me just fine, but I'm only 5'4″.  Had I have been taller, it would have been cramped.
This room was clearly for a single traveler, but there are more options for families who want to see the city.
Save
Save
Save