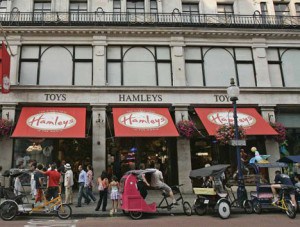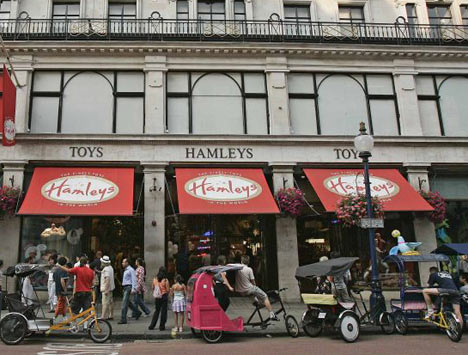 It's one of London's must-see destinations and for over 250 years Hamleys has been known as the finest toy shop in the world!
Hamleys flagship store, on Regent Street, has seven floors (54,000 square feet) of toys to explore! People come from all over the world come to visit Hamleys and buy the most wonderful toys and games, as well as to experience the magical atmosphere. The staff will often dress up in costumes to entertain, and there are always lots of toy demonstrations, so you can try before you buy.
Frequented by celebrities, the flagship store contains toys from the much loved brands, to more traditional and nostalgic toys as well as quirky and unusual products.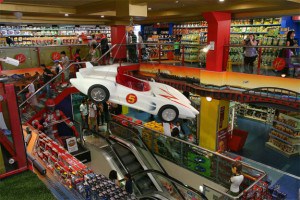 Each floor at Hamleys is devoted to playthings, with different categories of toy on each floor. The ground floor is traditionally for soft toys, and decked out with a remarkably diverse array of stuffed animals, from regular teddy bears to more exotic ones such as turtles, dolphins and even two enormous life-sized giraffes and elephants.  The other floors include:
5th floor: Boys — Action figures, vehicles, and an open cafe.
4th floor: Hobbies — Model kits, remote-controlled vehicles, model railways, etc.
3rd floor: Girls — Dolls, Arts & Crafts, Hello Kitty, Dress up etc.
2nd floor: Preschool — Toys for young children.
1st floor: Games — Board games, science, jigsaws; also a Build-A-Bear Workshop and Sweet Shop.
Ground floor: Soft toys — a wide variety of stuffed animals, and also a Marvin's Magic section.
Basement: Interactive — Lego, construction toys, Red 5, novelties and GAME (retailer).
Being one of the greatest toy shops in the world, makes Hamleys one of our 5 must see locations in London!