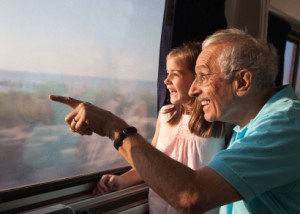 Family travel has take a whole new meaning according to a recent estimate by US Travel Industry Association that says more grandparents are now planning their vacations with their kids and grandkids.
As many as 5 million travel vacations in the US have involved families spanning three generations with the grandparents paying the bill most often.
While in 2007 only about 22 percent of grandparents traveled with their grandchildren, the trend has grown to 32 percent last year called as multi- generation travel.  The good news for the travel industry is that these travelers are bringing business to cruise lines, hotels and theme parks.
According to travel guru Peter Yesawich the trend will only see a rise in the future as US population in general ages and grandparents get eager to spend time with their grandkids.
Cruise liners have especially started marketing their holidays based on the multi generation travelers. From emphasizing on activities for all ages, included meals, preset packaged price to group discounts, the deals are becoming better for the travelers.
Jeff Sherota, senior vice president in Fort Lauderdale for cruisesonly.com says, "Before, cruise lines tended to cater more to one group: Carnival or Disney to families with kids or for seniors, Celebrity or luxury lines. Now, ships appeal to a larger spectrum."
Even all inclusive resorts and vacation rentals are an option more and more groups are looking at for their family vacations.
"An all-inclusive is better for kids, because they're going to want snacks two or three times a day. And a la carte at a hotel, that can run you an extra $100 or $200 a day," said Weiss, co-owner of Happy Trails Travel of Boca Raton, Fla.who often books all-inclusives in the Dominican Republic.
As adults work more, even at night and weekends, the vacation times are now doubling as family times as well.
"So if you have three or four days off, and you have kids and grandkids, there's a higher probability they'll come along with you on vacation," said Yesawich, who heads The Y Partnership in Orlando.
Family travel specialist Suzanne Rowan Kelleher thinks the trend has also risen because present generation grandparents are more accustomed to travel, physically fit and more able to afford vacations.
"Many see their children struggling in two-income households to meet rising costs, when they recall days with greater job security. To cope, it's a common set-up for Grandma and Grandpa to pay for that family trip to Disney World," says Suzanne
According to Yesawich, more travel business should tap at the trend. Traditional hotels could offer multi-unit pricing where each extra room booked costs less for the family and some freebies like allowing kids to eat and drink free. This will only help larger groups getting booked.
"The family traveler puts a premium not just on family time but value," Yesawich said. "The cruise lines have that figured out."
If travel businesses do take the hint, more grandparents could be globetrotting to spend quality time with their grandkids and family.  – Atula, Staff Writer