Walt Disney Imagineering unveiled details of the planned Fantasyland expansion, during the D23 fan club event, celebrating the 40th anniversary of Walt Disney World Resort.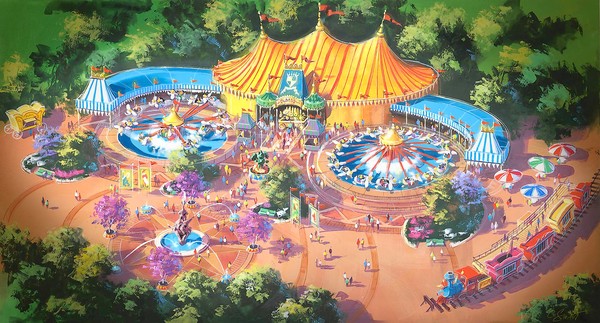 The expansion has come at the expense of most of Mickey's Toontown Fair, which had to be removed to make room.
Adjustments were made, to the expansion plans, after early proposals were criticized for being too feminine.  They ramped up the testosterone, just a bit, and feel that the revised expansion, announced in January, will offer a well rounded, family experience.
Under the Sea, the new dark ride, will take passengers into the Little Mermaid's world.  Travelling through Ursula's Lair and Ariel's Grotto, guests will hear "Poor Unfortunate Souls" and "Part of Your World."  The contours of the landscape will establish a unique feel to the environment, "Water and trees and slopes are extremely important," said Chris Beatty, the creative director of the expansion.
Beauty and the Beast will set the theme for dining in the new and improved Fantasyland.  The Be Our Guest restaurant will accommodate 550 patrons in three very different atmospheres.  The opulent ballroom will seat 300.  Additional seating will be in the Beast's art gallery and in his "foreboding," west wing.
Tales with Belle will, "give you a 40-minute immersive experience," and an innovative new way to meet characters, said Beatty.  He predicts the exhibit will be, "the sleeper attraction of the expansion."
Gaston's Tavern will be, "all about Gaston," Beatty said.  Our favourite strapping young man will feature himself in the artwork inside and out.  And, yes, he'll use antlers in all of his decorating.
After some refreshments, it's back to work on the Seven Dwarfs Mine Train.  The cars on this roller coaster will rock from side to side as it goes over hills and through a dark ride in the middle.
The renovation will result in a revamp of the Dumbo ride, doubling its size, and the Barnstormer, which will now feature the Great Goofini.  Throughout, Fantasyland will have a more up-to-date, re-imagined look.
Features of the expanded Fantasyland will start to open next year.  The whole renovation should be complete by 2013. – Jen R, Staff Writer