Parents of young children know how tough it is to feed their little one while away from home.  Carrying jars and utensils can be difficult while traveling as they can add a lot of weight your bags and are sometimes hard to find if you are visiting a foreign country.
After having 2 kids that were raised on homemade food, I have a list of must-haves for feeding on the go.  A couple of the items on this list will help you make due with 'adult' food, while the rest help make feeding purees a cinch!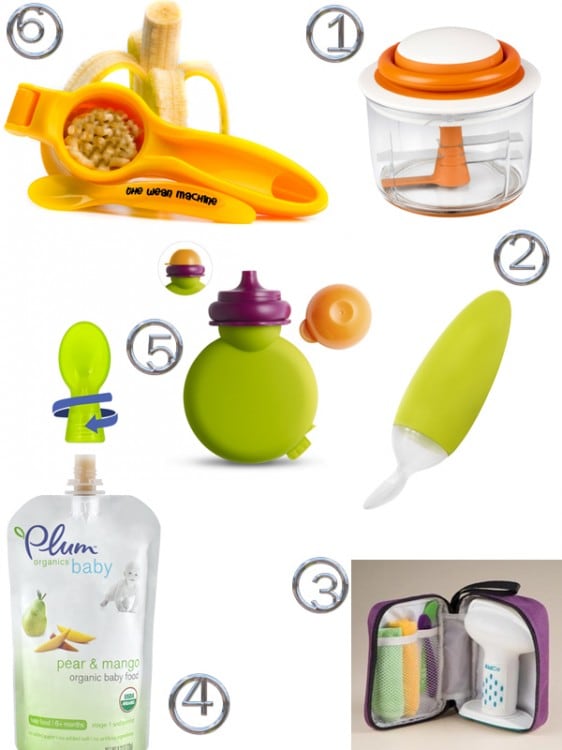 1. Boon's MUSH ($25) – Perfect for a week away, this human-powered chopper turns fruit, veggies, and boneless meats into magnificent meals. No need for batteries or plugs, just pull the handle to make the blades spin.
2. Boon's SQUIRT ($10) – Don't worry about fumbling with bottles while on the plane or at the restaurant. Just fill squirt beforehand, squeeze and GO. You get easy, one-handed feeding. Pop on the cap to seal food on-the-go.
3. KidCo BabySteps Deluxe Food Mill ($20) – Every parent should have a mill for quick and easy meals for their baby. KidCo's BabySteps Deluxe Food Mill comes in a convenient travel bag that also includes a snap-on lid and a 4-oz. feeding cup.
4.  Plum Organics Pouch with Dispensing Spoon($5) – Last year Plum Organics teamed up with Boon inc to create an easy twist on spoon that makes feeding with their pouches a dream.  Firstly, Plum Organics has a fabulous line of baby food that on it's own is perfect for travel, but once you add Boon's dispensing spoon you have an item that allows for easy one-handed feeding. LOVE it!
5.  Beaba's babypote($15) – Made of easy-to-squeeze soft silicone with a removable, snap on lid, Beaba's babypote is perfect for homemade purees and yogurts.  The large neck allows for easy filling and cleaning, while the narrow spout ensures that your child doesn't get their snack all over.  It's squeeze and go design is convenient for planes or trips in the vehicle. PLUS it's BPA-free and dishwasher safe.
6.  Wean Machine($19) – When my son was 6 months old I carried the Wean Machine with me everywhere.  It's easy to use design made feeds while we were out a cinch.  All you need to do is place what you want 'smushed' in the hopper and press.  The fruit and veg comes through like play-doh and you can feed the baby directly from it.  The unit comes with 2 different grills. One with small hole for infants just being introduced to solids and a second with bigger holes for older babies who can chew.