A trip of a lifetime for me would be a safari in Africa. Being that close to so many incredible animals would definitely cross a few biggies off my bucket list.
A close second would be this incredible experience, which is located in Kenya just 12 miles outside of Nairobi.
Built in 1932, Giraffe Manor is a luxury boutique hotel that offers much more than you would get at your standard vacation lodging! Situated on 12 acres of private land and 140 acres of indigenous forest this charming mansion is home to a herd of Rothschild Giraffes.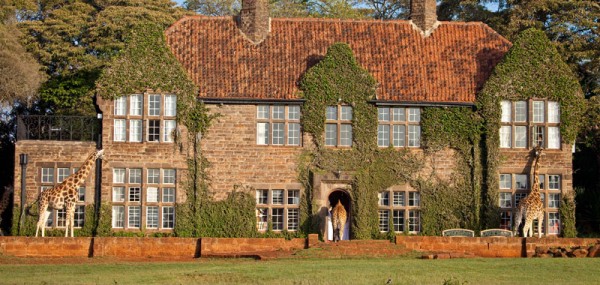 Picture yourself enjoying breakfast, while joined by some long neck friends.  It's almost unbelievable but that is what happens at this one-of-a-kind destination.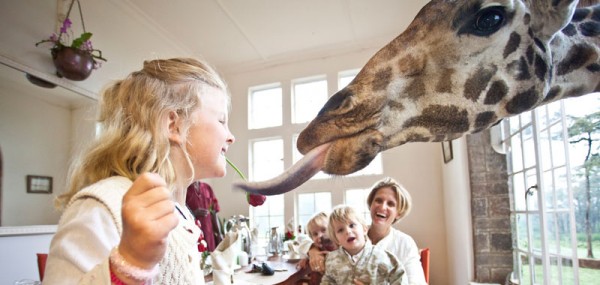 The website explains that the Giraffe Center, located on the Manor grounds "was set up by AFEW (African Fund for Endangered Wildlife) as a breeding centre for the endangered Rothschild Giraffe, and has now evolved to operate conservation and educational programs for Kenyan school children. Giraffe Centre has preserved the original habitat intact for the giraffes and a variety of birds and animals including warthogs, hyenas and sometimes a leopard."
Not cheap, this vacation will run you $1000/night if you can get a booking.  It is booked almost solid until October, where it appears there is more availability closer to the end of the month.  There are only six en suite rooms, with the sixth room being the Karen Blixen suite, ideal for your perfect family holiday.

Your stay includes home made Muesli, Kenya's finest tea or coffee and freshly baked muffins for breakfast and three course meals for lunch and dinner.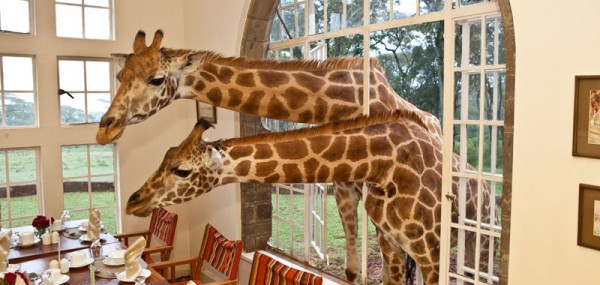 Families or couples who would like to pair their giraffe adventure with a safari and some time visiting near by areas can book a 5,7 or 12 day tour with Tamini, the company that operates Giraffe Manor, and 3 other luxury camps close by.
---
VIA
MY MODERN MET