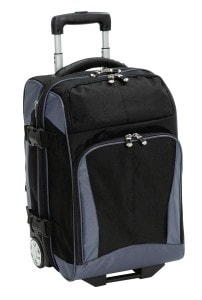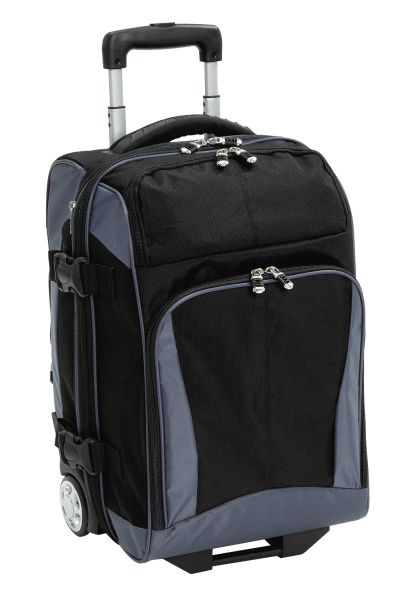 I've always been a backpack girl. I've had a love affair with backpacks for years. They're cool, practical and, if you get the right one, it'll last forever.
Best of all, traveling with a backpack entitles you to refer to yourself as a "backpacker." Even once you've traded up from the youth hostel to the Waldorf Astoria and even when you've morphed from a solo traveler to a stroller pusher – if you've got a backpack, you're a backpacker.
But, in recent years, I've had to concede that carrying my world on my shoulders is not always a heap of fun. I'm tired and my back hurts and it is really hard to be graceful when you're trying to carry your purse, your backpack, someone else's backpack and hold a four-year-old's hand all at the same time.
I need to put something down!
So I was ecstatic when I received my new Bugatti Urbin travel bag. Wheels! It has wheels!
The Urbin's 13 x 19 x 10/12" size makes it ideal for weekend travel or as a carryon bag. It offers sturdy construction, resilient polyester fabric, and heavy duty zippers that aren't going to snap off a week from now.
The bag is quality through and through. The telescopic handle and padded straps feel strong and comfortable in the hand. The in line skate wheels make the case stable as it rolls over the smooth
floors of a train station or as it trundles down the sidewalk.
The black and blue details make the exterior of the bag stylish enough that I feel like one of those fancy ladies clip clopping through the airport, in a designer suit, with her travel bag rolling effortlessly behind her. Yet, there is no pretence about the Urbin. It is incredibly practical.
The case has multiple access points. The first is a nice deep compartment at the top front, providing handy storage of the goodies you need, while in transit. A flap on the front opens to allow access to the first compartment of the bag's interior. That first compartment can also be accessed from the inside, or the partition can be rolled back to allow for one large open space.
The case is expandable too. My family of three was able to pack for a recent overnight getaway using only this bag; and that included our jammies, fresh cloths, swimsuits and beach towels.
Now, I can hear you saying, "That's all well and good to have a cool wheely bag Jen, but sometimes I need both hands and can't be pulling my luggage around."
Well, times like that are when this bag goes from good to great. My son thinks of the Urbin as a Transformer (backpacks in disguise). Thanks to a compartment in the back, that conceals the shoulder straps, the bag easily converts from a conventional suite case, into a backpack, in mere moments.
Listen! Do you hear it? It's a choir singing hallelujah. This is the perfect bag.
The Urbin retails for just under $130 and can be purchased through the Bugatti website.– Jen R, Staff Writer