This morning the world was watching as The Duchess of Cambridge, Catherine(Kate) Middleton named the new Royal Princess Cruise ship in Southampton.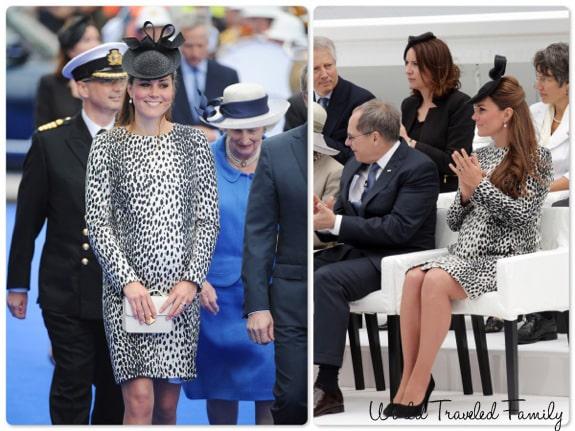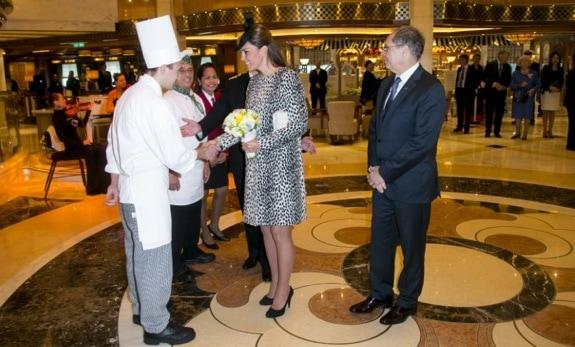 The Royal Princess encompasses the class and sophistication Princess Cruise lines has been long known for. The highly anticipated ship is 131 feet longer that the Crown Princess at 1,082ft. It weighs a 141,000 Gross Tonnes and is able to carry 3600 passengers.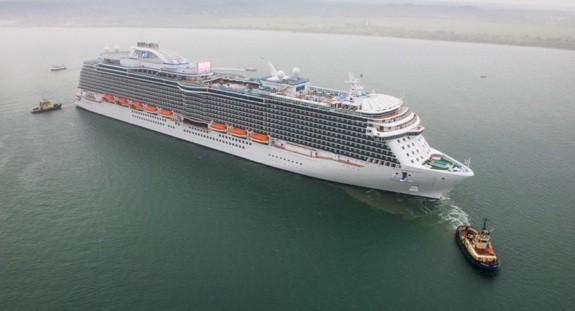 A complete departure from the Grand-class cruise ships that have been the go-to for the cruise line for the last 15 years, the Royal Princess is completely re-designed from the bow up to feature many incredible spaces for vacationers.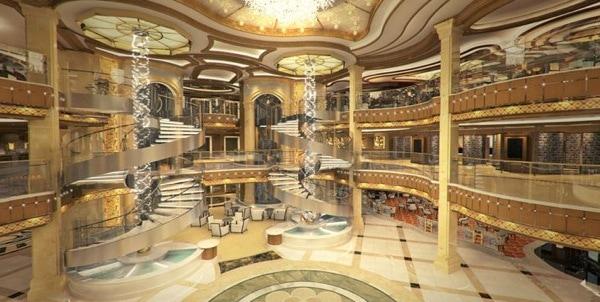 Among the special features found on board is a dramatic multi-story atrium serving as the social hub of the ship, offering a host of dining and entertainment options; an over-water SeaWalk, a top-deck glass-bottomed walkway extending 28 feet beyond the edge of the ship; plush private poolside cabanas that appear to be floating on water; the new Princess Live! television studio; the largest pastry shop at sea; a special Chef's Table Lumiere, a private dining experience that surrounds diners in a curtain of light; and balconies on all outside staterooms.
As mentioned above, the outside cabin category has been removed on the Royal Princess.  Cruisers can chose from an inside cabin(175 sq. ft), balcony(222 sq. ft), deluxe balcony(233 sq. ft), mini suite(299 sq. ft) or a bevvy of full suite cabins including the owner's suite, which is 680 sq. ft.(below).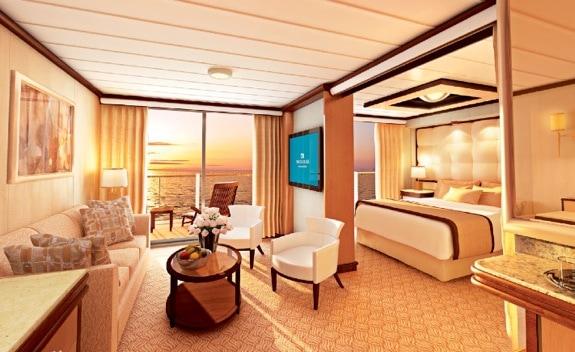 Parents will also be happy to know that there are a large number of the kid friendly spaces on board including:
Pelicans (Ages 3-7) – There's an exciting toddler area, a mini air hockey table, great arts and crafts stations, plus a space for group activities like movie nights.
Shockwaves (Ages 8-12) – Offering games and activities like air hockey, skeeball, and video game stations – not to mention a dedicated lounge with a giant TV and arts and crafts tables.
Remix (Ages 13-17) – Featuring a new lounge area, perfect for meeting new friends, with skeeball, foosball, and great video games.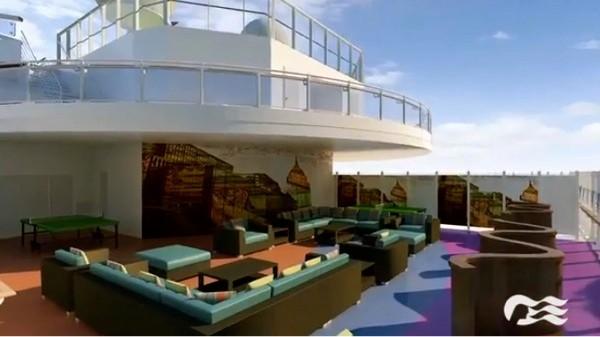 The Royal Princess' maiden voyage will sail to Barcelona from Southampton with stops in Vigo (for Santiago de Compostela), Lisbon, Gibraltar and Málaga (for Granada) on June 16. This Summer it will offer 12 day Mediterranean itineraries from Spain to Italy before it crosses the Atlantic in October to cruise the Caribbean out of Ft. Lauderdale in November.
My family has been lucky enough to sail on the Grand Princess, Crown Princess, Star Princess, Ruby Princess, Caribbean Princess and Emerald Princess so we are looking forward to meeting the Royal and seeing what she has to offer!