Looking for a family-friendly, conveniently located hotel for our recent weekend getaway to explore, dine, shop and rejuvenate pre-holiday hustle and bustle took us to the elegant Westin Southfield hotel in Southfield Michigan.  Chosen for its close proximity to the freeway to make getting to the different areas we were headed easy, the heated indoor pool to keep the kids happy while at the hotel and because we have always enjoyed our stays at any Starwood brand hotels, we soon found many other reasons this was an excellent choice.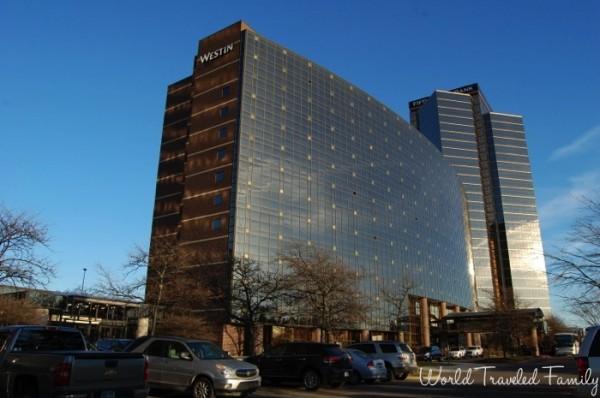 The hotel offers free lot or covered parking garage self parking as well as valet service for a fee.  We chose to self-park after unloading luggage, and although the lots were quite busy we always managed to find a close enough spot indoors or out.  Upon arriving to the beautifully holiday decorated lobby we were greeted with Westin's signature Heavenly scent of White Tea – my absolute favorite – coming from a trio of candles on one of the coffee tables.  The friendly front desk staff that checked us in even chatted with our two boys and made them feel very welcome.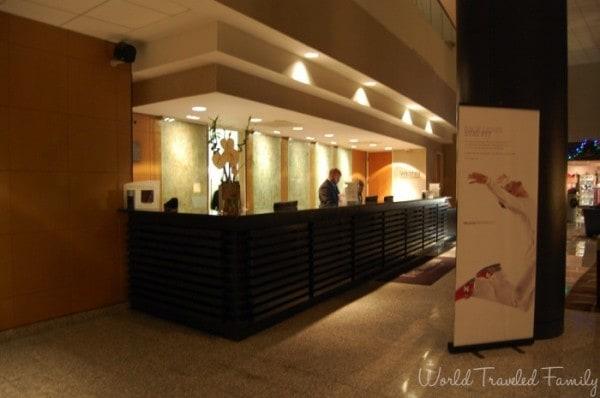 The oldest of our boys was happy to see a bowl of apples on the front desk (it is his favorite bedtime snack and because we crossed the border we were not able to bring any with us) –  when the staff realized how excited he was to get one she gave him a couple more.  It is the little touches like that that make hotels memorable.
The hotel lobby has ample lounging areas, a gorgeous winding staircase to the second floor and free WiFi.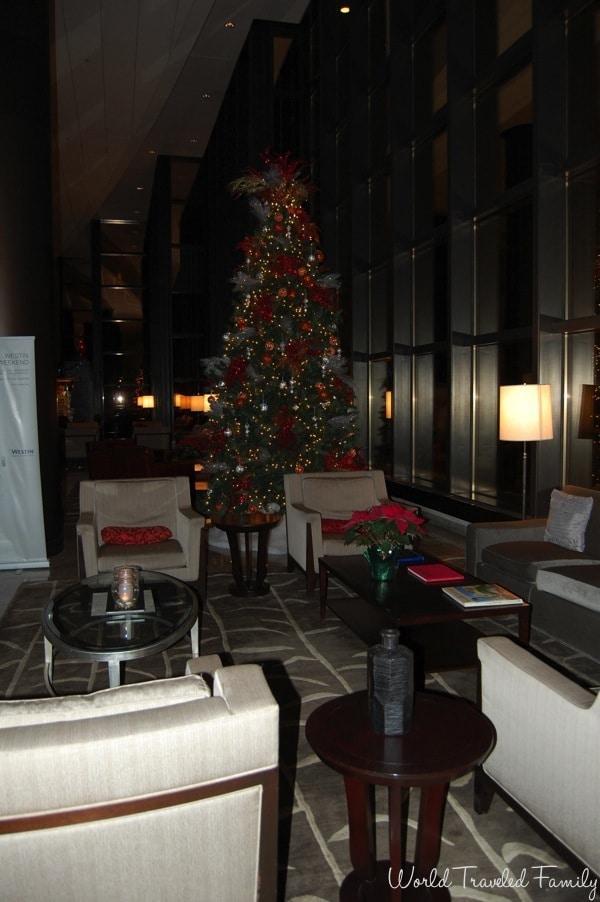 There was an indoor water fountain the kids loved and the concierge even shared some pennies with them to make a wish or two.  Just past the reception desk was a gift shop to purchase snacks, souvenirs and any toiletries or necessities you may have forgot to bring along.
Our Rooms
Westin rooms are quite spacious and can easily accommodate a family of four like us, however, for this trip, we had adjoining rooms.  A classic double and a classic king made for more room for the kids to spread out and for a nice way to split up the early risers from the sleepyheads while still being together.
All 388 guest rooms at the Westin Southfield are non-smoking, feature a stocked mini-bar, windows that open, a 32 inch LCD flat screen TV, Heavenly® Shower/Bath, sitting area, desk with data port, Starbucks coffee and tea and the signature Heavenly® Beds, and 15 of the hotels rooms offer the PURE Allergy Friendly Rooms for those with seasonal or environmental allergies or asthma.
Our rooms faced the freeway which was perfect for the boys to watch the traffic zooming by and it surprisingly made for a nice view, especially at night.  The sounds from the cars were only a dull hum and not loud at all from the 11th floor.  The window coverings kept the room well insulated and nice and dark, which made for a very peaceful sleep.
Classic Double
This 312 sq ft room was tastefully decorated with neutral wall, window and floor coverings, mahogany coloured wood with some red accents and 'Motor City' fitting framed prints. The long desk had ample drawer space if you were staying a long time or chose not to live out of suitcases like we did.  The TV was adjustable to easily be viewed from either of the double beds or lounge chair.
Classic King
This room was slightly larger than the double at 351 sq ft but was essentially the same layout.  It also had the long desk, flat screen TV and same decor.  Instead of two beds and one side table it had one bed and two side tables and in place of the lounge-chair, a pullout love seat.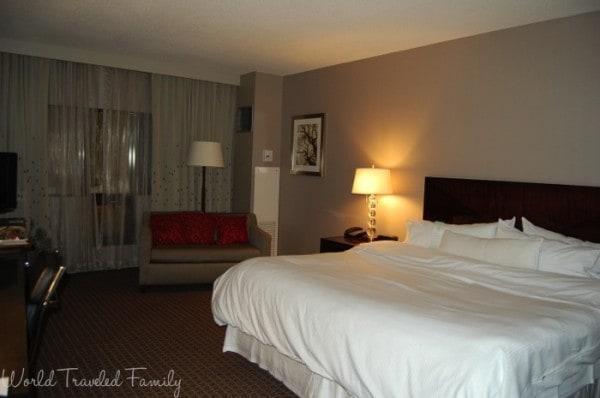 Both rooms had a regular sized closet and spacious bathroom complete with the Heavenly two-headed shower and two different lighting options (dimmer for a more relaxing bedtime bath for the kids).  Our youngest loved the wide ledge against the bath wall to play with bath toys and do shampoo experiments.
Bathroom amenities included use of a hairdryer, magnified mirror, and Heavenly White Tea items: green leaf shaped soaps, shampoo, conditioner, body wash and lotion, Nourish mouthwash, shower cap, shoe shining cloth, sewing kit, emery board. cotton balls and swabs. I liked that the bathroom was well stocked with towels and facecloths.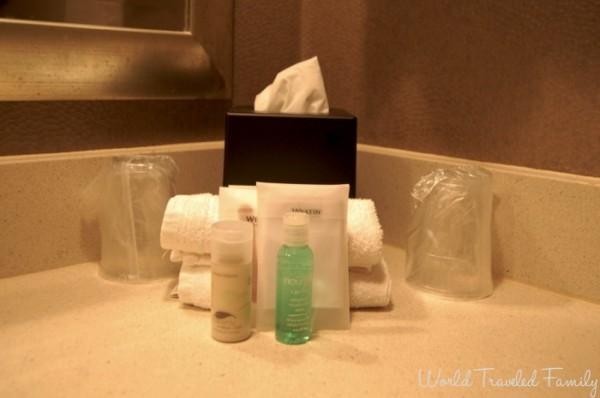 Like all Westin beds they were covered in lush layers of white linens.  I would never dare replicate that at home with kids around but there is something so crisp, clean and soothing about sinking into a bed in a sea of white.  The Heavenly bed lives up to its name and is by far the most comfortable bed I have ever slept in and I have never seen my three-year-old sleep so soundly.  It is 10 layers of pure comfort including firm and fluffy pillows so you can take your pick.  The best part is you can experience the same sleep at home if you wish by purchasing from the Westin Home Collection – I plan on buying some of the White Tea products myself.
An in-room coffee maker complete with complimentary Starbucks coffees and Tazo teas helped me start my mornings.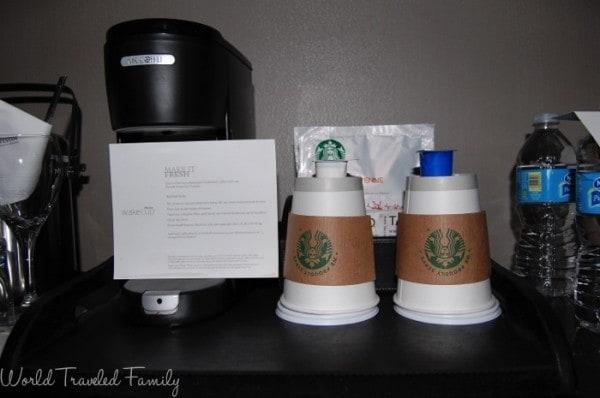 They also included bottles of water on the desk upon arrival the first day and in the locked mini bar subsequent days (we were not aware of this until checkout so be sure to get the mini bar key to enjoy the free bottled water or if you have items you wish to keep chilled).
Westin Green Initiatives
Like most hotels the Westin Southfield offers green initiatives that help protect the earth.  One thing that I have not personally seen before was an incentive to opt out of housekeeping. We did not partake in it as a family because kids can be messy and we needed items replenished. However if you put the 'opt out' card on your door by 2 am you could receive either 500 SPG (Starwood Preferred Guest) points or a $5 voucher for a local food or beverage outlet.  I think this is a great way to remind guests to make a green choice. The Heavenly two-headed shower head also had a note that using only one of the shower heads at a time helps to conserve water.
Pool and Fitness Centre
The 3rd floor was my youngest son's favourite part of the hotel as it housed the indoor heated pool and whirlpool and was a great way to start off our mornings (less busy) and even a nice place to unwind after a day of shopping and sightseeing, although it did tend to get busier later on.
The fitness centre managed to pack all the essentials into a compact area and had an impressive wall of dumbbells for a hotel gym and was open 24hrs a day.
Westin has a Pack Light Stay Fit program for those with limited luggage space where you can borrow New Balance fitness wear and running shoes.
This hotel is surrounded by nice trails and the concierge offers Runners World Maps featuring three and five mile jogging and walking routes for all to enjoy.
Dining
Westin has teamed up with doctors and nutritionists to create healthy food options while on vacation.  Their Eat Well SuperFoodsRx™ in-room dining menu was loaded with healthy food options like steel-cut oats, egg white omelets and kale salad. In addition to the extensive in-room dining options the Westin Southfield has the following restaurants:
Level 1 Lounge – to relax with a cocktail. Open 7 days a week
Tango – the main hotel restaurant serving breakfast, lunch and dinner a la carte as well as a breakfast buffet complete with made to order omelets. Open 7 days a week
Jamocha's Coffee Shop – to grab oatmeal, breakfast sandwiches, fruit, pastries or a specialty coffee. Serves Starbucks.  Open Monday – Friday
Our favorite meal was the in-room breakfast we ordered.  Eggs Benedict for the adults and Golden Buttermilk pancakes for the kids.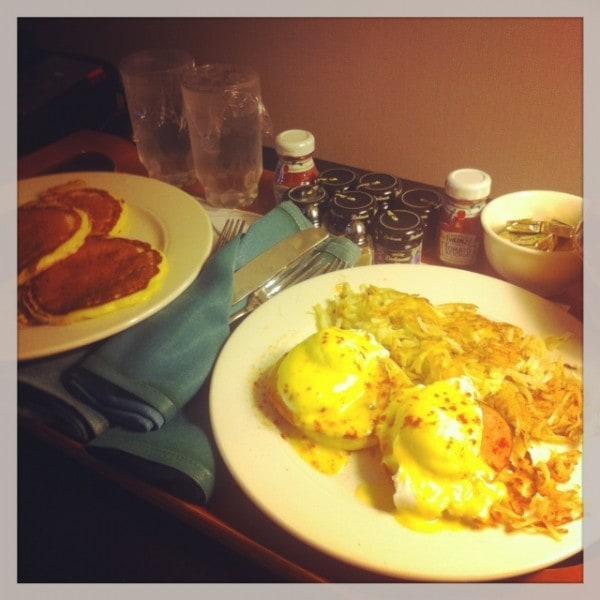 The Eggs Benedict includes: two poached eggs on toasted English muffins, peameal bacon (we opted out as we are vegetarians), Hollandaise sauce and the most scrumptious shredded rosti potatoes, toast and fine jams.$12
The Kids menu Golden Buttermilk pancakes were the largest, fluffiest pancakes and included butter, whip cream and real maple syrup. $7.50
What is Nearby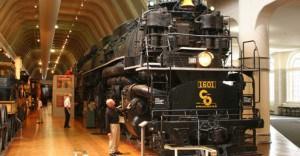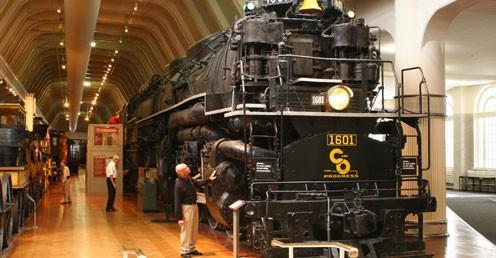 Being right beside the freeway made this hotel convenient to any of the Detroit area attractions as it took just minutes to get to whatever freeway or Interstate we needed.
Detroit Zoo 10 min
Henry Ford Museum & Greenfield Village 17 min
Detroit Science Centre 15 min
Fairlane Town Centre 15 min
Royal Oak 12 min
Somerset Collection 18 min
Motown Historical Museum 15 min
Ford Field 18 min
Joe Louis Arena 17 min
Comerica Park 18 min
Always Christmas Store in Olde World Canterbury Village 30 min
Things to note
While the hotel website and in-room information booklet mentions they have Westin Kids Club amenities we found out this is not the case at this location.
In order to access room floors by elevator you must insert your room key into panel so make sure you always have it with you.
For expectant mothers the Spa offers a Mom2Be prenatal massage.
Westin Weekends means a later check-out time of 3pm on Sundays and extended breakfast hours for room service.
Free WiFi in the lobby and in-room internet connections for a fee