I am obsessive about my luggage.  I travel a lot and nothing is worse that arriving at your final destination with a broken, wet or missing suitcase.  For this reason I switched to hard case luggage a couple years ago, and for the most part – well up until last month – my suitcase has always arrived in one shiny piece.
For many people travel is their life, and their suitcase is their 'home'.  For this reason, the team at Planet Traveler is introducing the true next generation of luggage. Designed to specifically balance technology, style, and function, the Space Case 1 luggage line is engineered to be the ultimate travel companion.
Planet Traveler is launching the Space Case 1 on Kickstarter June 1st to fund the first orders. The campaign will offer both carry-on and check-in sized cases in a variety of exterior colors and textures. Early crowdfunding supporters can take advantage of significant discounts off the retail prices starting at $199.

"Consumers are reacting positively to an emerging trend of building luggage around tech," said Planet Traveler CEO Harry Sheikh. "We have actually been working on the Space Case 1 for over four years, and believe we have finally perfected the integration of tech into our beautifully designed luggage. We didn't set out to just design a smart suitcase. Our goal was to be the first to offer a full line of attractive smart luggage."
To begin, Space Case 1 offers a variety of sizes, exterior colors, exclusive designs, and unique virtually indestructible textures, just as you might find with a premium suitcase. However, upon closer inspection you will find these cases have a surprising array of more technological functionality than any other luggage currently offered, making Space Case 1 the undeniable leader in consolidated smart travel technology. Here is a summary of the tech conveniences: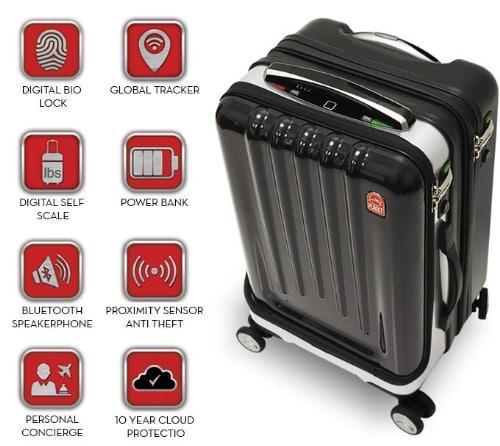 Smartphone app control (IOS, Android) of all functionality. Smartwatch interface.
Biometric fingerprint locking for up to 5 travelers. State of the art security.
Free worldwide GPS Tracking.
Digital scale integrated into the wheels. No lifting necessary.
Bluetooth speaker and microphone – Play music. Make hands-free calls.
Anti-theft proximity security. When the app moves beyond 40 feet from your case the phone is notified, and an alarm can sound through the case speaker.
Triple USB 12 Amp charging ports (Dual external, third internal in carry-on laptop compartment only).
Personal Concierge – On demand information for departure and arrival times & gates, book flights, hotels, car rentals and more.
10 Year Warranty with 24 hour repair worldwide.
The Space Case 1 line of smart luggage is currently comprised of both a carry-on (19.5″/49.5cm) and check-in sized (29″/73.6cm) suitcase. More sizes and profiles are being introduced periodically, and will offer a complete suite of luggage utility in 2015.
What do you think?  Is this a product you would buy?  After my little mishap coming home from Mexico, I'm in the market for another suitcase.  I like the features Planet Traveler has packed into this bag.  I also like that the 29″ bag is only $249 on the KickStarter early bird campaign.  Being able to track your bag – is a huge bonus straight off the top. Because no one wants to be half way around the world and not know where their belongings are.