The ground is rumbling.  Could it be the distant roar of engines?  There are tremors and murmurings that Disneyland Resort in California is preparing to open Cars Land, at last.
The twelve-acre attraction, built to replicate Radiator Springs, has been hotly anticipated by young and old alike, but the wait will soon be over.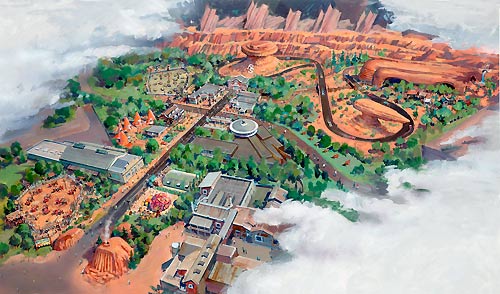 Opening this Summer, Cars Land will boast new rides and revamped attractions, dining options and retail space for souvenirs.
Old-school Disney fans are excited to take a spin on Luigi's Flying Tires.  This ride is a reimagining and vast improvement on TomorrowLand's Flying Saucer, from the 1960s.  I wasn't around in the 60s, but apparently the Flying Saucer ride was a bit of a letdown.  With today's technology and new innovations, however, it should be smooth sailing as riders glide and spin across a cushion of air.
Mater's Junkyard Jamboree will be loads of fun for little ones, as they are pulled around the junkyard, in a trailer towed by a rusty farm tractor, while familiar tunes from the movie soundtrack play.
Of course, the pièce de résistance of Cars Land will be the Radiator Springs Racers.  In this attraction, the folks at Disney took the former Autopia ride and cranked it up to make it bigger and then cranked it up again to make it faster.  This one attraction alone takes up half of the twelve acre facility.  It should be incredible to experience.
I, for one, can't wait! – Jen R, Staff Writer
*Post updated with current images after Cars Land opened.*
---