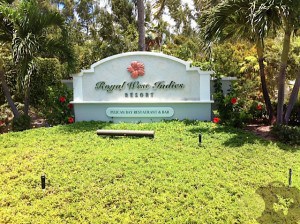 The Royal West Indies Resort is located on the south end of Providenciales Turks & Caicos in the Leeward area of the island.
Nestled between Club Med and the Grace Bay Club, this property features 8 Residence buildings with 15 suites each.
Last week our family traveled to Providenciales for a relaxing getaway and we chose the Royal West Indies as our destination for the 7 day vacation.
This was our third time to RWI.  When we visited 3 years ago, it was our first time to TCI and we were impressed.  We have stayed at many resorts in our time and we love the quaint feel on this property.  During our numerous visits we have stayed in both the one-bedroom suite and also the studio suite for a quick couples getaway.
While it was not as big as the one-bedroom unit, the Studio suite still offered many of the amenities of home like a small kitchen (fridge, microwave and coffee maker), a 42″ flat screen television and laundry facilities.  Also provided were dishes, silverware and beauty basics like soap, body wash and shampoo.
For family vacations the one-bedroom suite meets all of our needs while away.  This well appointed 1000 sq. ft. condo is equipped with a bedroom, bathroom, laundry facilities, a generously sized full kitchen and a living room. We love that the suites are always clean, comfortable and nicely decorated.  You could definitely live here.
RWI is the perfect resort for families because everything is close.  The pool was just outside our doorway, the restaurant only a few steps past that and the beach only a minute walk from our room.  In past years we have stayed at big resorts that have to offer transportation to get you from your room to the beach or restaurant and that can be too much when you have little ones.  The Royal West Indies is nice because everything you need is almost within sight.
For meals we enjoyed the food at the Pelican restaurant.  Set on one of the resort's 2 pools, this open-aired restaurant offers service from 7:30 am to 10:00pm.  Whether you want something casual or a formal night out the Pelican has everything from finger foods to Filet Mignon.  For our first dinner we went formal, but then we returned the next night and ordered pizza and quesadillas at 9:00pm. Both were great and we were pleased that we could have such a selection so close.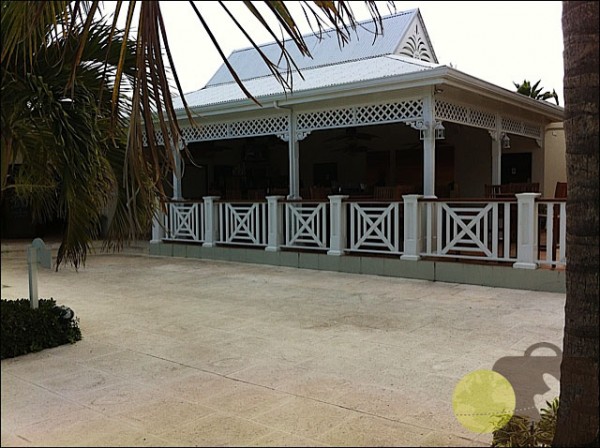 For us, however, the beach is really what makes Turks and the Royal West Indies our favourite destination.  Situated right on Grace Bay, this powder sand beach is post card worthy.  We have traveled to over 20 Caribbean islands and Grace Bay is definitely, one of, if not our #1 favourite beach.  The water is warm, calm and a colour of turquoise that is so pretty is almost doesn't look real.
For vacationers who like to just lounge poolside there are 2 pools to chose from.  The main pool in nestled in the vegetation and it features a waterfall and hot tub.  Three of the residence buildings (5,7 & 8) overlook this pool and have balconies that open up just feet from the water's edge.
The second pool, which sits directly in front of the restaurant, is bigger and has a toddler wading area.
For your comfort the RWI offers chairs, and umbrellas for all of their guests.  They also have some watersports available like Hobie Cats, Kayaks and snorkelling gear.  There are also pedal bicycles at the front entrance for use to go into town or wander around the island.  They are, however,  in need of upgrading because my husband borrowed one to go to the store and said it didn't ride very well. This didn't stop other vacationers from using them though.  They are a hot commodity and are often all out.
Royal West Indies Resort suits travelers of all ages.  It doesn't have any special amenities that make it a family hotel.  There aren't any climbers or kid's clubs, but we like it because of the practical suites and slow pace. Judging by the number of families visiting the resort we aren't alone in our high opinion of this property.
If you are traveling to Turks and Caicos the Royal West Indies Resort is definitely worth a look.
Pros:
Clean, spacious rooms
right on the beach
Easy to get around
Cons:
Pool can be cold – which is weird since the weather is so beautiful
There aren't any elevators
No room service for food delivery
No fitness facilities
No entertainment
With that being said this property doesn't offer any of these ammenities because it is more of a condo property as opposed to a resort like many travelers are used to.
---