After a 21-day dry-dock, Royal Caribbean International's Radiance of the Seas reemerged from one of the most extensive revitalizations of the cruise line's approximately $70 million Royal Advantage enhancements program for 2011.  The new variety of dining concepts, entertainment options, children's programming and technology advancements originally introduced to industry-wide acclaim aboard Royal Caribbean's new Oasis-class ships, debuts onboard Radiance of the Seas.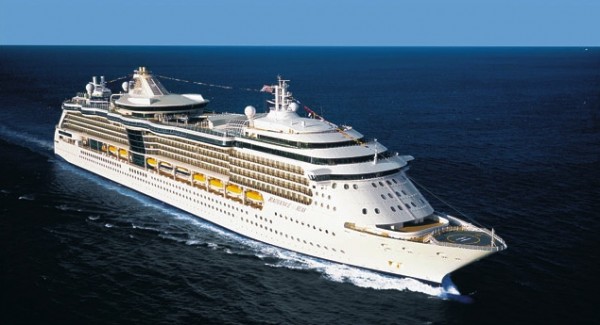 "Radiance of the Seas' drydock is part of Royal Caribbean's multi-ship enhancement and revitalization strategy to deliver the Royal Advantage to our guests," said Lisa Bauer, senior vice president, Hotel Operations, Royal Caribbean International. "The Royal Advantage comprises some of the industry's most innovative onboard amenities, programs and Gold Anchor Service that make up the most contemporary cruise vacation. By introducing almost all of the same specialty restaurants that can currently be found onboard Allure of the Seas as well some of the Oasis-class ships' most popular concepts to Radiance of the Seas, guests can enjoy a variety of brand new onboard experiences."
The enhancements to Radiance of the Seas introduces a range of amenities and experiences from the Royal Babies and Tots Nursery designed for children, 6 – 36 months old, to 12 newly added accommodations – one family, five interior and six exterior staterooms – and technology enhancements that include Wi-Fi availability throughout the ship and flat-panel interactive televisions in all staterooms.
The ship also features a new Concierge Lounge for suite guests, a Diamond Lounge for Crown & Anchor Society loyalty program members, the Quill and Compass Pub and an outdoor LED video wall overlooking the main pool area where families, friends and couples can enjoy movies under the stars and entertainment programs during the day.
Dining options onboard Radiance of the Seas have nearly doubled with the addition of seven of the most highly acclaimed dining concepts in the fleet, including Samba Grill a Brazilian steakhouse, the Asian Izumi restaurant, the Mexican-themed Rita's Cantina and the Italian family-style restaurant Giovanni's Table, as well as the Boardwalk Dog House hotdog stand, Park Cafe deli-style restaurant and the exclusive Chef's Table dining experience.  Concept overviews and pricing are as follows:
Boardwalk Dog House: Guests can choose from traditional hot dogs, wieners, brats, sausages and other delicious linked meats and a variety of toppings to split a long bun (open for lunch and dinner, complimentary)
Giovanni's Table: An Italian trattoria featuring Italian classics served family-style (open for lunch, $15, and dinner, $20)
Izumi: Featuring mouthwatering flavors and a sushi bar with hot-rock cooking, the pan Asian cuisine restaurant is a no-hassle, authentic dining experience (open for lunch and dinner, $3.00 cover charge for lunch and $5.00 for dinner plus a la carte menu pricing)
Park Cafe: An indoor/outdoor gourmet market featuring salads, sandwiches, soups and pastries (open for breakfast, lunch and dinner, complimentary)
Rita's Cantina: A casual yet vibrant indoor/outdoor restaurant, catering to families by day, and adults by night; offering traditional Mexican fare, a comprehensive selection of margaritas and live guitar music and dancing for evening entertainment (open for lunch and dinner, $3 cover charge and a la carte menu pricing)
Samba Grill: Styled after popular Brazilian steakhouses, the churrascaria is an interactive experience where guests choose from a variety of meats, chicken and seafood brought table-side by servers, ready to slice and serve upon request (open for dinner, $25 per person)
Chef's Table: An exclusive and private experience co-hosted by the executive Chef and Sommelier for a wine pairing dinner of five courses (open for dinner, $95 per person).
This summer Radiance of the Seas sails alternating, seven-night Southbound and Northbound Alaska itineraries before repositioning for its first winter 2011 season to Australia and New Zealand.
Four ships are undergoing revitalizations in 2011 including Liberty of the Seas (January), Freedom of the Seas (March), Radiance of the Seas, and Splendour of the Seas (October).  Each ship will reemerge outfitted with the most highly guest-rated features introduced on Royal Caribbean's new Oasis-class ships. Even Oasis of the Seas, the first Oasis-class ship, now boasts new features with the recent addition of the DreamWorks Experience and 3-D movies which first debuted on Allure of the Seas.