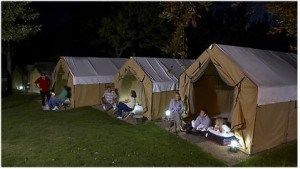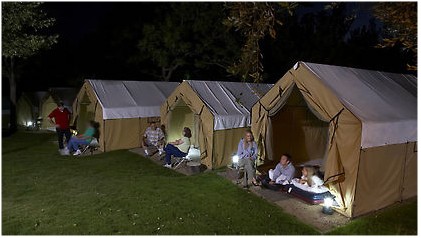 A trip to the zoo is a fun day out for the family, but what goes on through the night? There's only one way to find out – sleepover!
Wait…what?
SLEEPOVER!
I didn't know you could do that! Did you know you can do that? Well, you can. Most major zoos, in Canada and the U.S. have an overnight program, of one kind or another.
Understandably, coordinating a zoo sleepover takes some planning, so don't imagine that you can simply turn up and spend the night like you would at a Super 8. Overnight programs typically run on specific dates and require reservations. Some zoos have a minimum group size to consider when reserving.
Accommodation varies from zoo to zoo. Some provide a facility for sleepovers, while others provide tents for camping out. A few require participants to supply their own tent and gear, but they are in the minority.
Themes for zoo sleepovers are usually geared to unique events or exhibits, at the particular zoo in question. For example, several zoos are planning to host a Father's day campout for dads and kids. The San Diego Zoo is promoting a Black and White Overnight, featuring their pandas. The Pittsburgh Zoo offers an Ocean Exploration Overnight that focuses on the unique exhibits in the PPG Aquarium.
The highlights of a zoo sleepover include exclusive exhibit tours, interaction with various animals and special guides, keepers or narrators who can spend the time to answer all of your questions. Because these experiences are designed to entertain youngsters, they often include fun activities, scavenger hunts and crafts. Breakfast, dinner and snacks will usually be provided.
A zoo sleepover can be a fantastic and memorable experience. Be sure to read the information, provided by the zoo, so you know what to expect from the night. If you don't fancy sleeping on the floor of an exhibit, some of these overnights may not be your cup of tea. If you don't currently own a sleeping bag, you may need to borrow one, before you arrive.
A night at the zoo can be a memorable alternative to a night in a hotel for road-tripping families. Even those planning to stay-cation, this year, may find that their local zoo can provide the highlight of their holiday. – Jen R, Staff Writer
The following, is a list of links, to some of the zoos hosting overnight programs this year:
If you zoo isn't on the list and you have a sleepover program – add a link in the comment section!