In its debut flight Air Canadas first 787 Dreamliner already succeeded in becoming the talk of the town. Toronto's Pearson airport saw the aircraft land on its tarmac this Sunday carrying 100 of the airline's employees on its maiden voyage.
Here is a sneak-peak before the dream aircraft is officially displayed to media and public.
Air Canada is the first Canadian airline to fly the new aircraft, and is expected to play an important role in the airlines expansion strategy internationally. AC7008 is the first of the 37 Boeing 787 aircrafts that Air Canada plans to have in its fleet.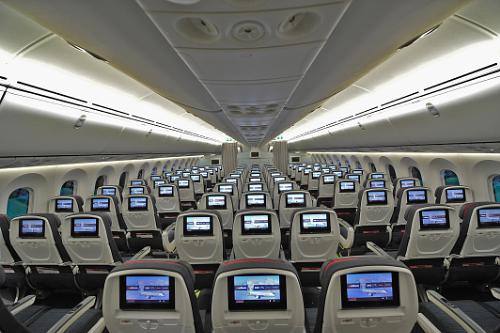 Calin Rovinescu, President and Chief Executive Officer of Air Canada said,
"This is an exciting day for all of us at Air Canada as we bring home our first Dreamliner. With the introduction of the 787 into the Air Canada fleet, we are set to further strengthen our position as one of the world's leading global carriers."
He added,
"The Boeing 787 Dreamliner with its range, passenger capacity and operating efficiencies is virtually custom-designed to allow us to grow in international markets on a cost-competitive basis, and our new on-board product will enhance our position as North America's leading airline.
Benjamin Smith, Executive Vice President and Chief Commercial Officer also said that with this aircraft they were premiering their new three cabin interior.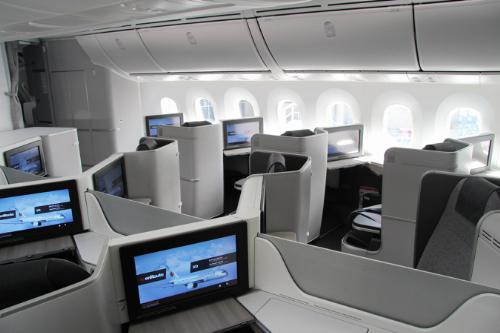 "With the Dreamliner we are premiering our new three-cabin interior. It features the next generation lie-flat pod in International Business Class, a new Premium Economy cabin and our redesigned Economy cabin with our upgraded In-Flight Entertainment system available free at every seat."
The carbon-fibre wings have a supreme flexibility that helps the aircraft give higher fuel efficiency. The wings flexed up on take-off from Washington as well as on landing at Toronto airport, mimicking a birds flight action more closely.
If the wing aerodynamics are to marvel, the windows are what could make the in-flight experience spectacular. The windows are 30 percent larger on a Dreamliner than on a similar sized plane and an LED switch can darken or lighten the window when needed by the passenger. According to Air Canada, these windows are the largest of any present aircraft and thus can give a much wider outside view.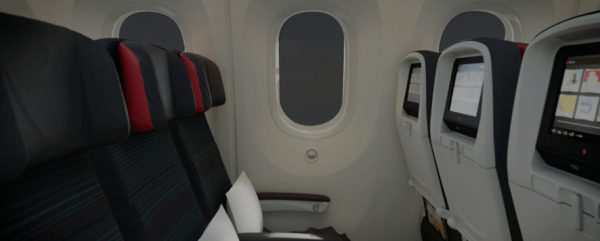 There are 251 seats – 210 in economy, 21 in premium economy and 20 in business class. Guests in the luxurious business class cabin will be seated in lie-flat Executive Pods.  The personal entertainment screen with touch handset, at 18 inches, is the largest offered by a North American airline in business class. Universal power and USB outlets are available at each seat, as is a new espresso and cappuccino service.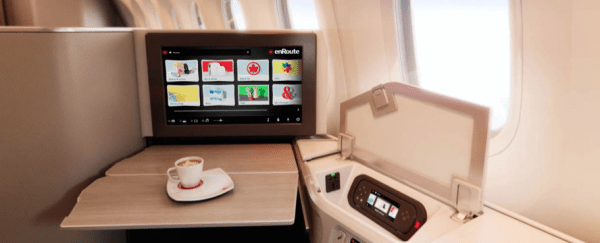 Less padding and small variations in the designs of the seats has helped give more leg space to the traveller. In business class, lie-flat pods can be extended into a fully flat sleeping position 80 inches in length.  Air Canada has also added an adjustable pneumatic cushion headrest offers a massage feature, unique for an airline in business class.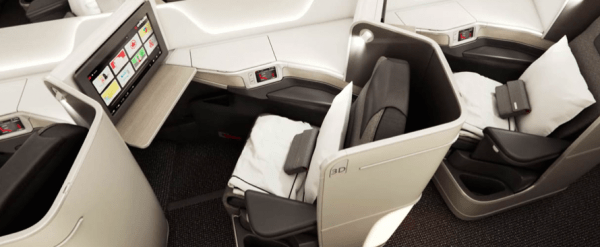 Air Canada's Premium Economy cabin on the 787 Dreamliner has 21 seats in a 2-3-2 configuration providing 38-inch legroom and generous 19.5-inch seat width and 7-inch recline.  Each seat is equipped with a 9- or 11-inch enhanced definition intuitive touch personal entertainment screen, as well as universal power and USB outlets. Air Canada's Premium Economy cabin service, unique in North America, offers premium meals, complimentary bar service and priority check-in and baggage delivery at the airport.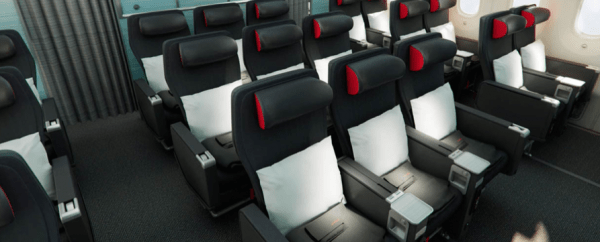 Air Canada's Economy cabin has 210 slimline seats in a 3-3-3 configuration providing personal space consistent with the comfort of Air Canada's current Economy cabin. Each seat is equipped with a 9-inch enhanced definition intuitive touch personal entertainment screen with USB outlet and a universal power outlet available at arm's reach.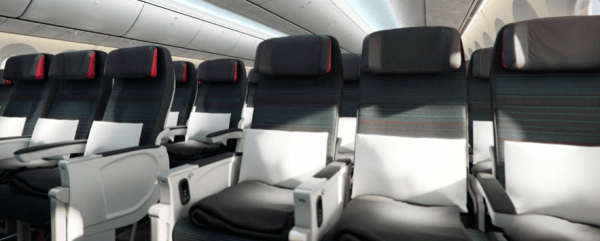 Re-designing of the overhead bins has given more headroom and it is surely goodbye to adjusting, turning and twisting luggage because a standard size carry on luggage can be easily put in the cabin, even with the wheel-side first.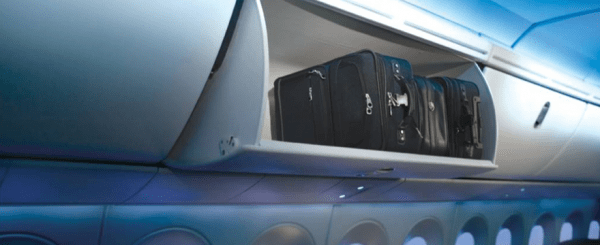 Interestingly, Air Canada says that the cabin air will make passengers feel less jet-lagged and that seems to be the case. It is because of a system called gaseous filtration according to Boeing and also because the atmosphere on the plane is the equivalent of 6,000 feet above sea level. In older planes this was 8,000 feet above sea level. The Dreamliner actually cruises at an altitude of 43,000 feet but inside you will feel like you are flying at a much lower level.

The Cabin lighting is another feature that might jazz up the Dreamliner experience. It has been designed and planned in such a way that it makes transition to new time zones during a long hour flight much easier and comfortable when you sleep or wake up in-flight.
The new 787 Dreamliner will be operated from Toronto-Haneda in July, and the first existing route to be converted to 787 Dreamliner operation will be Toronto-Tel Aviv scheduled for Summer 2014. Air Canada will announce its plans for additional deployment of the 787 at a later date.