While staying in Hilton Head at the end of the Summer we decided to do a day trip to Savannah, Georgia.  A city that has been on my bucket list for a very long time, Savannah is known for its cobblestone streets, horse-drawn carriages and  architectural treasures.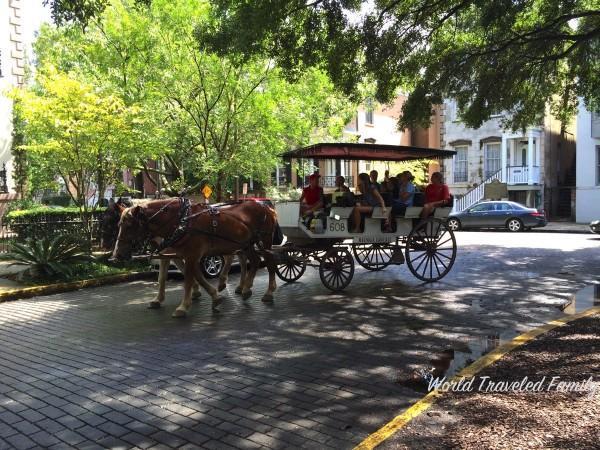 Just an hour from our hotel, I was a little bummed to find it raining when we arrived.  Undeterred, we stepped into a shop to check out some shells and the sun was shining wen we came out!  How often does that happen?  Never.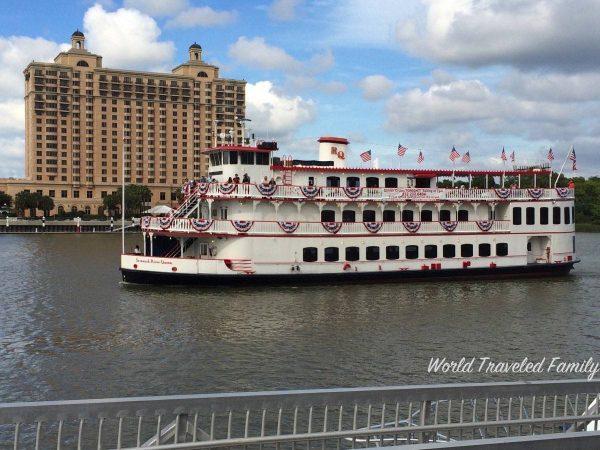 We parked at the bottom of the city on East River Street and decided to walk up to Forsyth Park.  The nice people at Old Town Trolley Tours gave us a free map and we were off.
Our plan was to see as much as we could so we headed up Abercorn Street towards The Cathedral of Saint John the Baptist.
Savannah is pretty much a grid so it's very easy to navigate.  One thing we noticed right away were the squares – little parks within a city block.  These quaint spaces were originally intended to provide colonists space for military exercises, but today they are named in honor or in memory of a person, persons or historical event, and many contain monuments, markers, memorials, statues, plaques, and other tributes.  Twenty-two in total, I think we managed to visit almost half.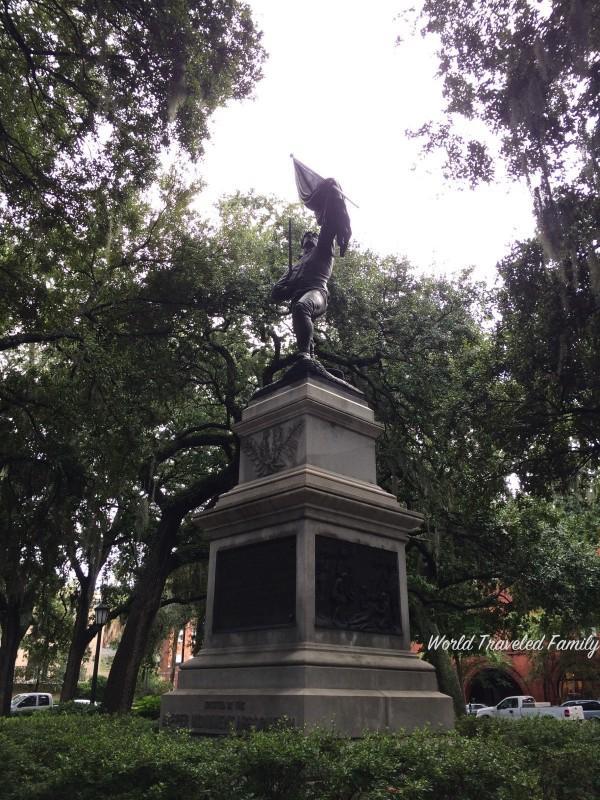 Each square sits at the center of a ward, which often shares its name with its square. The lots to the east and west of the squares, flanking the major east-west axis, were considered "trust lots" in the original city plan and intended for large public buildings such as churches, schools, or markets. The remainder of the ward was divided into four areas, called tythings, each of which was further divided into ten residential lots.
The homes in the squares were some of the prettiest I have ever seen.  Many have been converted into businesses or Bed & Breakfasts, but there are still some single family homes. Many of the homes that run on the side streets are town homes that are joined together.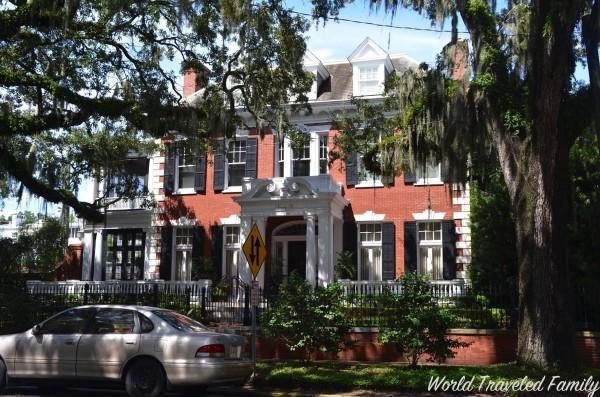 As we continued our stroll through the city we spotted the Colonial Park Cemetery.  The final resting place for many of Savannah's earliest citizens, it served as the primary public cemetery from 1750 to 1853.  Within the 6 acres of property that makes up Colonial Park Cemetery there are about 12,000 people buried, despite the fact that there are only about 700 grave markers. Many people were buried in mass graves. Others had their grave marker knocked over or destroyed.  
Along the back of the cemetery wall hundreds of grave stones were placed there because they were damaged and/or falling apart.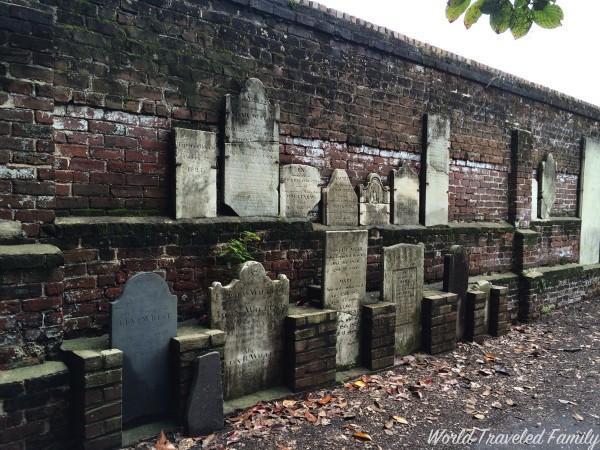 My kids enjoyed walking through the cemetery looking at the head stones and seeing the families who are buried together in the large brick tombs.  Every new experience is a learning opportunity, so it was important for them to learn about the different ways that families chose to stay together – even after they've passed.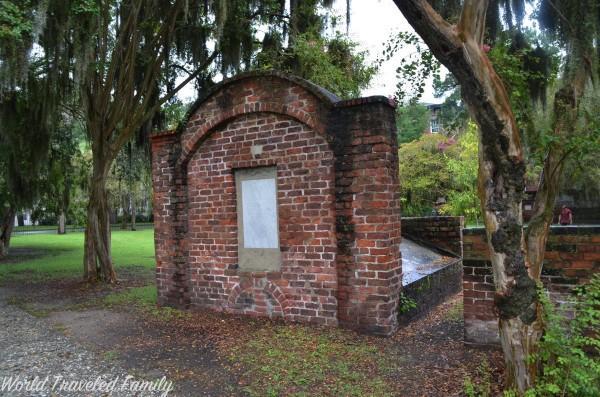 As we through the second gate of the cemetery we spotted the Cathedral of Saint John the Baptist.  There is a boulevard like road that divides the two, but you certainly can't miss the steeples towering 207 feet in the air. The church is also pristine white, that will catch your eye from many streets over.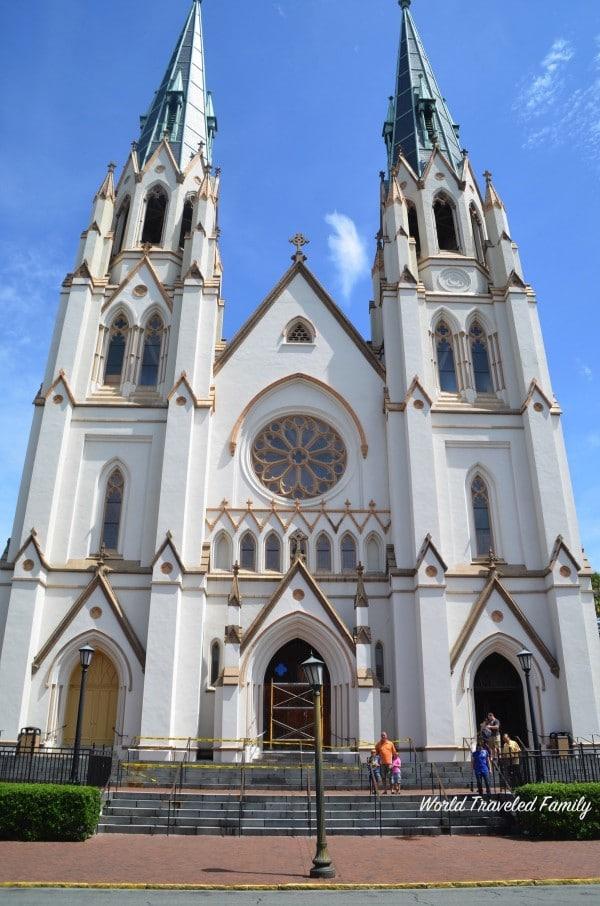 This was the first time my boys have been inside such a grand cathedral and they were in awe. I will write a whole article just for this church because it's beauty deserves its own feature.
Just past the Cathedral is Lafayette Square. It is here that you can find the Hamilton-Turner Inn. Constructed in 1873, this gorgeous Victorian mansion was the height of luxury at that time. It was designed with everything from talking pipes in the walls to a dumb waiter and even skylights. Lafayette Square features a fountain that my boys made wishes into, but I just sat in awe of how beautifully the homes in this area had been taken care of.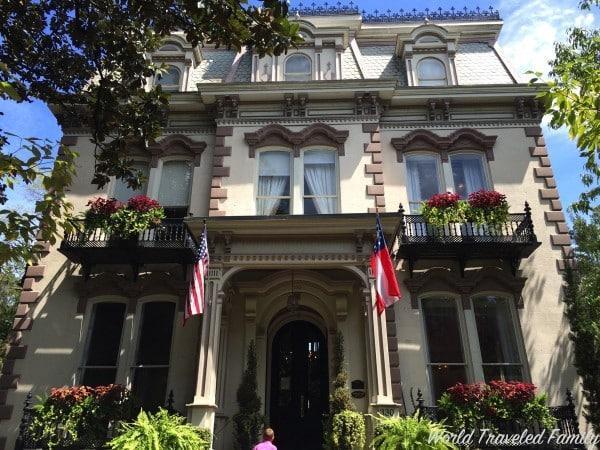 Across the square sits The Andrew Low House. The house was built in 1849 for Andrew Low II, a cotton merchant that immigrated to Savannah from Scotland. Mr. Low's daughter-in-law Juliette Gordon Low founded the Girl Scouts and when she passed away, she bequeathed the carriage house on the property to the Savannah Girls Scouts, who still use it presently.  Tours of the house are offered on the hour and half-hour daily.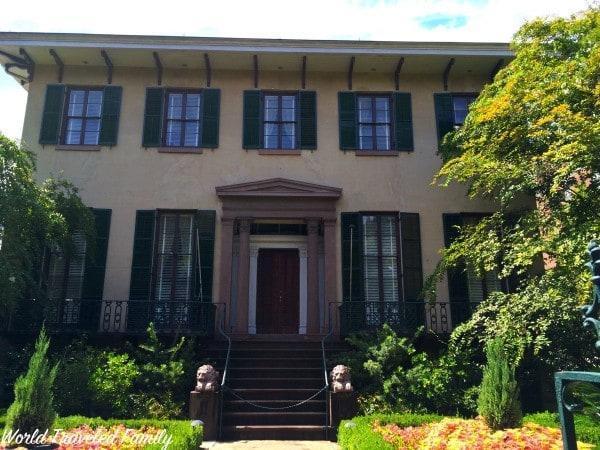 From there we ventured up a couple more blocks to see the Forsyth Fountain. The ornate fountain sits right in the middle of one of Savannah's most beloved landmarks.
Inside the park is a Confederate monument, the fountain, which is reminiscent of fountains in the Place de la Concorde in Paris, and an American-Spanish war statue.  The sun was incredibly hot so the mist coming off the fountain was welcome.  We really enjoyed just sitting in the middle of the park watching people wander around.  There were a couple artists playing music along the side and a lot of people were strolling through with their dogs.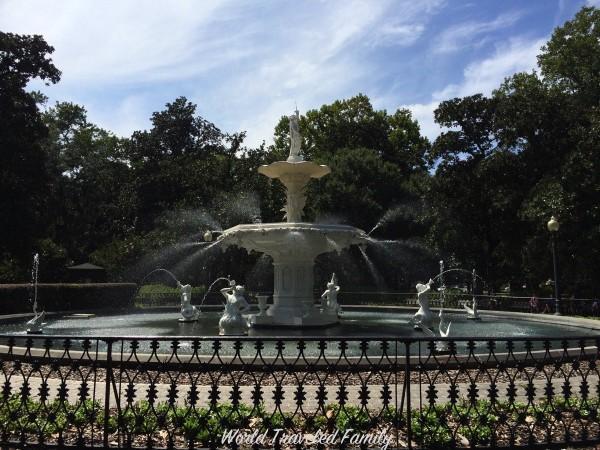 As we walked back towards the Savannah River we checked out some of the shops and stopped for snacks at a very cool cafe that had a 'Central Perk' feeling with its miss matched furniture and laid back setting.
There is definitely no hustle or bustle in Savannah.  The relaxed atmosphere is really nice.
We passed through 5 more squares before coming up to Savannah's City Hall.   Opened in 1906, it has served continuously in this role for since that time.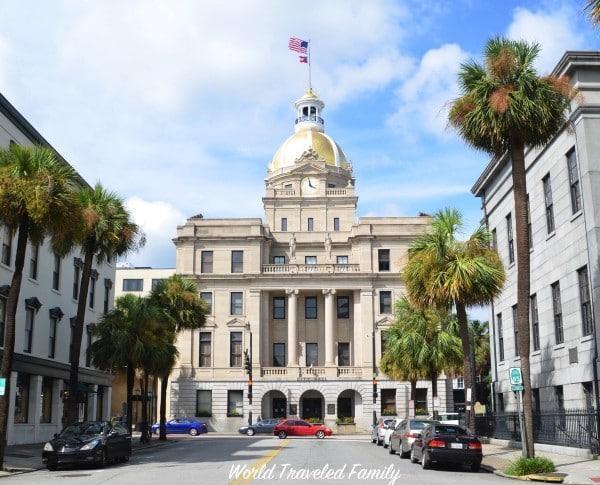 Just beside it sits the Cotton Exchange, which housed the custom house, a post office, and newspaper offices.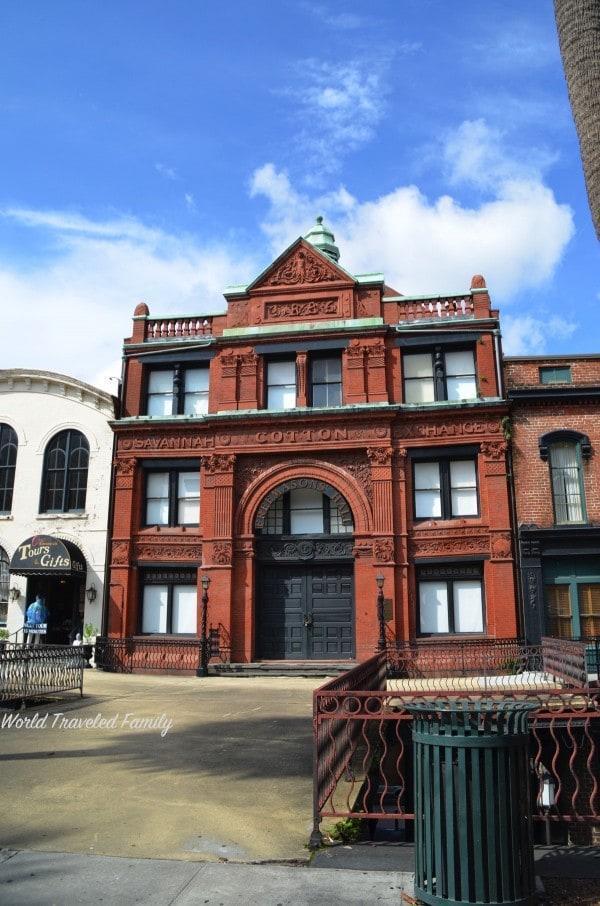 Savannah is home to almost 140,000 people, but it feels like a small town.  There are lots of places where you can sit and enjoy the city or learn about its incredible history.  Almost every building in the city has a story to tell.
East Bay and East River both have great places to shop or grab a bite to eat.  Savannah's Candy kitchen is a must visit to grab some of their famous Pralines, taffy or fudge.  I also loved The Peanut shop.  If you love to snack on peanuts, their selection is out of this world!