Even though I have been to New York City more than a couple dozen times, I often book on price so I don't stay at the same hotel each time. Lately I have lucked out and booked hotels that are right on the subway line, which is very convenient if you don't want to use expensive taxis to get around the city.  During this trip to the Big Apple, I was thankful the Staybridge Suites Times Square hotel was located just a few steps from the 40th/8th avenue 'E line' subway staircase.   To save money I have been taking the subway into the city from JFK so it is nice when you find a place to stay that is close to some of the stops.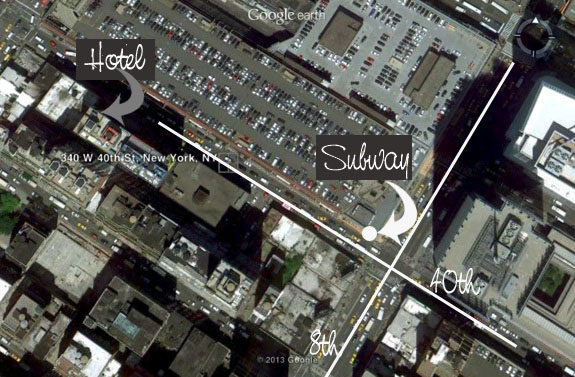 Situated beside the Four Points Sheraton and Fairfield Inn & Suites, the Staybridge Suites Hotel Times Square is also located just a few blocks from the Javits Convention Center and within close proximity to Times Square.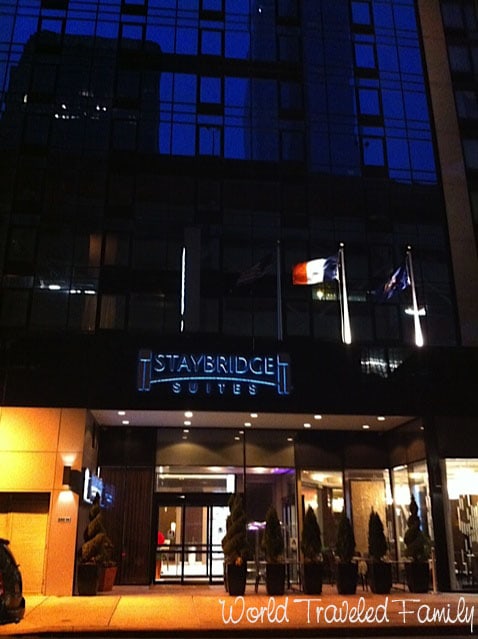 This Staybridge Suites is a new type of lodging that I have seen popping up all over NYC.  When an older 3 or 4 story building becomes inhabitable, it is taken down and a very slim, high hotel is erected in its place.  This location had 32 floors with 10 rooms on each floor.
I actually prefer this setup to some of the more classic hotels that are sprinkled around the city because the price is normally good, the rooms are modern and everything is up-to-date. My view wasn't spectacular, but I was only on the 10th floor so it might be better on higher floors.
The rooms aren't big, but they are have a lot of features – especially for traveling families.  Travellers can choose between a studio with a King Bed, Queen Bed or Two Double Beds. Their site says the maximum occupancy for King and Queen Studios is two people, Double/Double Studios is four people.  (Due to the size of the room cots and pull outs are not available).
Equipped with a full sized fridge, stove, microwave and coffee maker, you will have all of the amenities of home if you are visiting the city for a few days.  I actually met a gentleman in the elevator that has been living at the hotel for the last few months while in NYC for work and he told me he loves having the kitchen because it allows him to make meals for himself.
Breakfast, however, is covered by the hotel.  Every morning the Staybridge Suites offers an great expanded continental breakfast that is complete with eggs, sausage, pastries, cereal and fresh fruit.  They also offer free drinks and snacks between 5-7 on Tuesday, Wednesday and Thursday nights.  The hotel has 3 elevators but they are slow in the morning while people are grabbing breakfast and heading out.  I used the stairs both mornings are found it faster.
I stayed at the Staybridge Suites for 2 nights and was happy with the location, accommodations and proximity to all of my favorite big apple locals.  I was able to get a reduced rate of $219/night through the trade show I was attending, but would definitely stay there again if the price matched my budget, which is about $200-$250 for NYC.
---